June marked a significant month for the mobile market, with a trio of real-life events incorporated into LiveOps strategies for some of the biggest mobile games. Fortnite invited players to celebrate the world's biggest tennis tournament with the Race to Wimbledon, rainbow trails brightened up the world of League of Legends: Wild Rift as part of Pride Month, and wedding dresses graced Japan's biggest titles to mark Bride Season.
The halfway point of the year was a major milestone for several other popular games too, including Diablo Immortal, which celebrated its first anniversary by collaborating with Diablo 4. Harry Potter: Magic Awakened finally made its way over to the US and Japan after a strong reception in China, with initial figures suggesting a strong launch. It remains to be seen how the game will fare long-term, especially given that the game has been on a slow decline in China following its solid opening period.
Fans of IP-based games got plenty of treats, too. Marvel Snap added a new game mode for the first time since its launch last October, while Dragon Ball Legends celebrated iconic characters old and new with a five-year anniversary event which caused daily revenue to spike by almost 500% on iOS.
You can find more information about these games and updates, as well as many others from across the US, China, and Japanese markets, in our June Mobile Game Market review.
US Market Overview
Almost eight months after its full release, Marvel Snap added its first new game mode. Conquest lets players face off in a ruthless single-elimination tournament where they climb tiers by beating their opponents one at a time. If you lose to even one opponent, your run ends. Players who complete their conquest will earn medals, which can be spent in a new in-game store featuring various resources and rewards. Players can claim an exclusive card after they've bought nine items.
Conquest mode is split into four increasingly difficult tiers: Proving Grounds, Silver Conquest, Gold Conquest, and Infinity Conquest. The higher tiers provide better rewards but demand players build a longer win streak. Only the Proving Grounds are free to enter; the others require a specific Entrance Ticket or Gold for admission. Entrance Tickets can be acquired by winning the Proving Grounds Conquest or from the Medal Shop.
The highest-tier conquest, Infinity Conquest, is only available during the final week of the four-week conquest season. Players who win the Infinity Conquest get an Infinity-framed copy of the avatar they used when they won.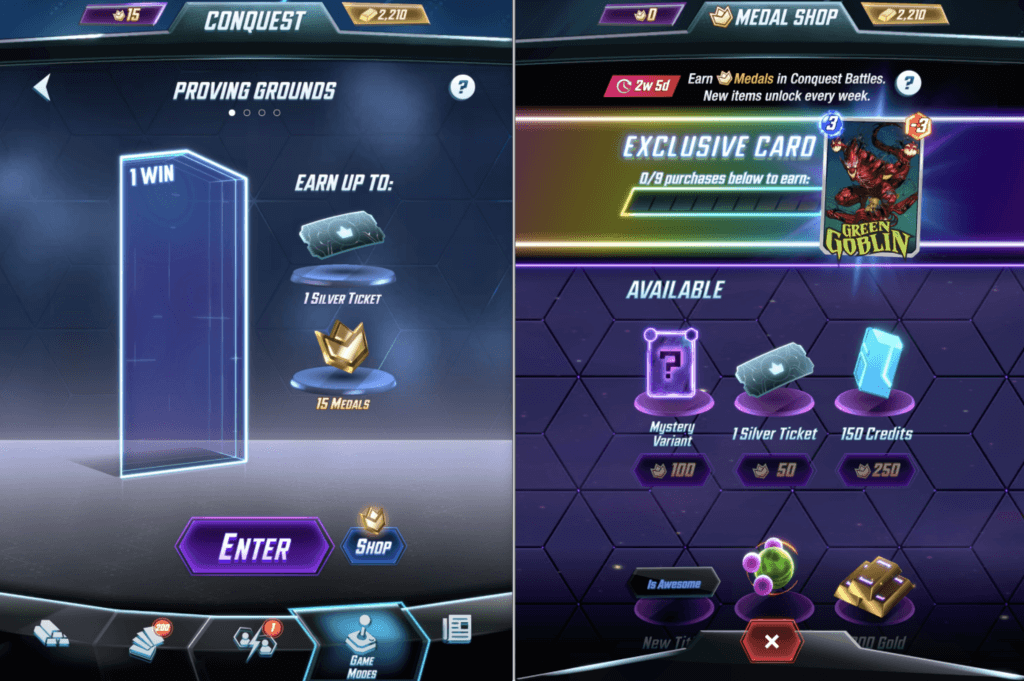 Candy Crush Soda Saga introduced tiers to its latest battle pass iteration, highlighting the growing focus from studios on the diversification of battle passes as a monetization mechanic. The Rewards Pass gives players three options to personalize their experience: the Big Pass, Medium Pass and Small Pass.
Players with limited time can choose a smaller pass that won't take as long to progress through, while more dedicated players can opt for a larger pass that is more demanding but provides better rewards. These players can take this even further by purchasing an additional reward track for the pass, earning premium currency and boosters.
Royal Match put a new spin on the match3 genre with its Hidden Temple event, which saw players using pickaxes to dig out gems from grids. After finding all the gems in a grid, players are rewarded with a gift package (containing boosters, collections cards and coins), and are invited to take on a larger, tougher grid. Players can obtain pickaxes by completing levels or grabbing them through an IAP bundle.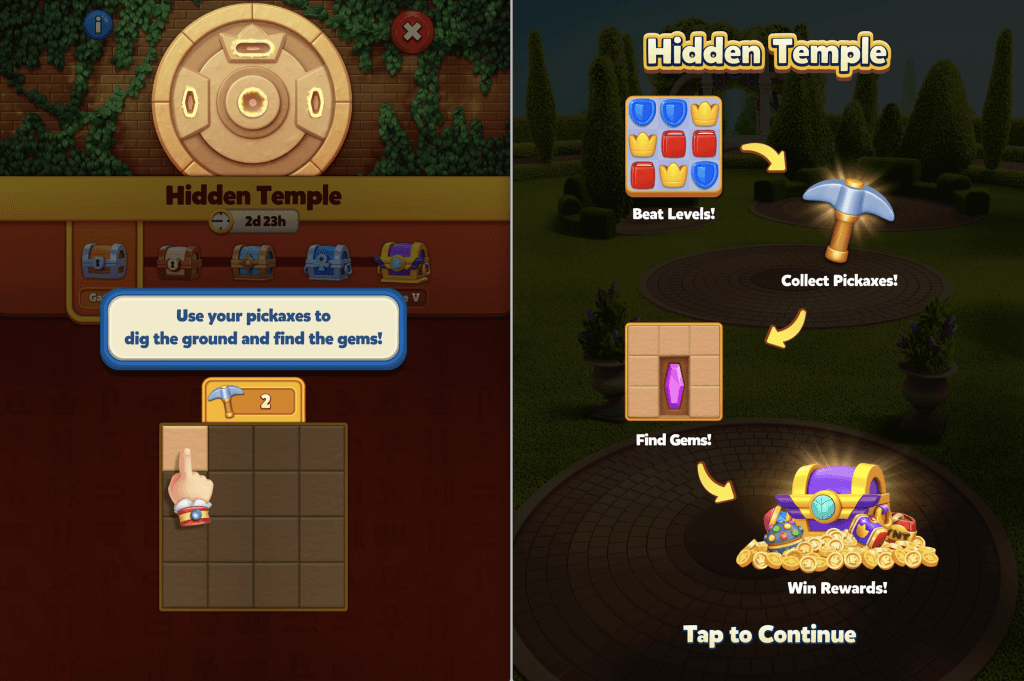 Pride Month takes place in June, and there are plenty of examples of mobile games celebrating Pride with special events. One of the highlights is League of Legends: Wild Rift, whose free Pride event was split into two simple halves.
Players first had to complete a single match to win some Pride-themed decorative items, including rainbow footsteps. The second part saw players completing ten more games to win Pride emotes; all they had to do was wear their Pride decorative items as they took part, encouraging players to show their support for Pride by simply playing the game.
June also marked the start of the Wimbledon tennis tournament in the UK. Similar to how mobile games embraced the World Cup last year, several mobile games got into the sporting spirit by hosting events inspired by Wimbledon. These included Fortnite's Race to Wimbledon, which sees players racing through London to reach Wimbledon, and a "Wimbleworld experience" in Roblox which has been visited more than 12 million times.
Tennis Clash has also launched a new season to coincide with the event, featuring a unique match kit players can use on Wimbledon's Centre Court.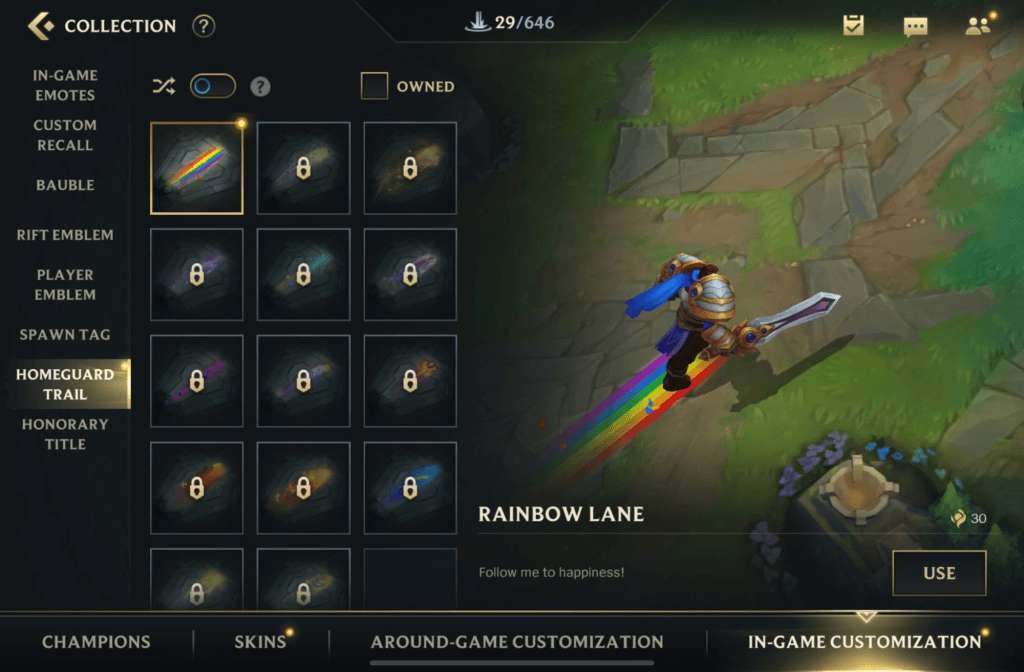 Last but not least, Diablo Immortal celebrated the hugely successful launch of Diablo 4 on PC and consoles, as well as its one-year anniversary, with a special crossover event consisting of a series of events.
The Merciless Monstrosity event had players teaming up against a world boss from Diablo 4, while the Dread Pilgrimage event consisted of several tasks, revealing an upcoming new class. The monetized content included exclusive Lilith-themed cosmetics and items through the Battle Pass, limited-time special gacha, and limited-time offers – including a subscription deal. The first anniversary celebrations of Diablo Immortal also started with events such as Justinian's Favor. Combined, these events caused daily revenue and downloads in the mobile game to spike by over 500% on iOS (US).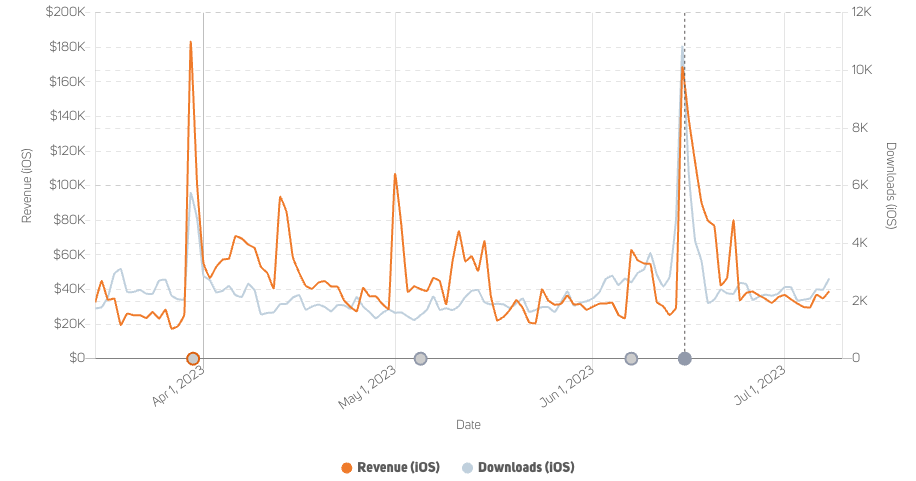 Interesting top-200 grossing entrants on the market
Wizarding fans in the US (and Japan) finally got their hands on Harry Potter: Magic Awakened at the end of June, which has been thriving in China for quite some time. The title has ranked high in the download charts (top three in the US) and is steadily rising to become of the highest-grossing titles on the market. The IP-based game combines MMO and RPG elements with a card-based Tactical Battler core gameplay.
Chrome Valley Customs, a unique car-themed match3 decorating game from Space Ape, launched onto the market last month and has been slowly scaling in revenue, hovering around at the time of writing around 130 in the top grossing charts. It is currently one of the top 20 most downloaded games in the US.
While not a new title on the market, Monopoly GO has cemented its pole position, consistently ranking as the most downloaded mobile game since launching three months ago.
China Market Overview
The panda-themed match3 puzzle game, Anipop(开心消消乐), added a new event, Medal of Honour Book, that saw players completing select tasks (such as completing levels a specific number of times, or with a particular grade) to acquire album stars. Players highly lauded these stars as they determined the likelihood of a player being selected to win real-life prizes, including an educational science experience at the Panda National Park.
During the event, players could also obtain a special currency known as "material items" used in an exclusive event shop to redeem in-game decorative items and other real-life prizes – including soft toys and clothing.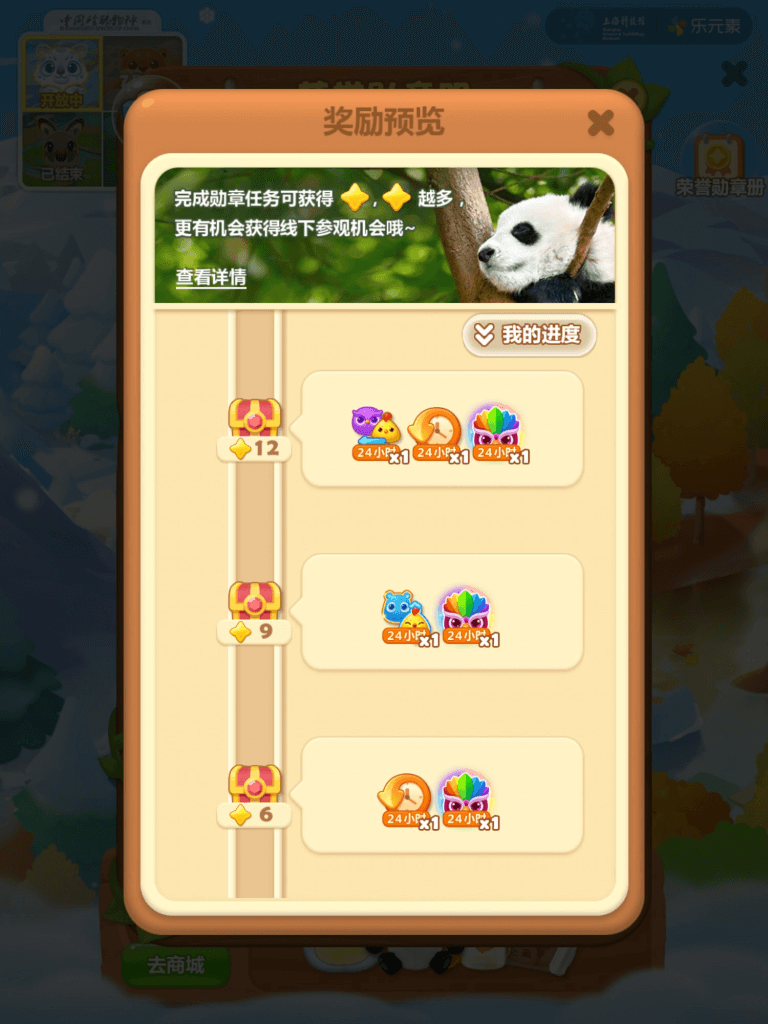 Interesting top 200 grossing entrants on the market
A new realistic driving game from NetEase, 巅峰极速 (Racing Master), is currently ranking fourth in revenue and downloads at the time of publication.
The third-person shooter game T3 Arena (火力苏打) was published in China last month. It holds a top grossing 142 position, although it initially hit the top 50.
Japan Market Overview
Dragon Ball Legends celebrated its fifth anniversary by releasing a ton of new content, alongside the rerelease of older (but popular) content, to keep players engaged. For example, the update featured a new tag-team character, Goku and Final Form Frieza, acquired through gacha. It also featured four additional anniversary-themed gacha, which brought back some of the most popular and powerful characters released over the past five years.
Unlocking these gacha requires gacha tickets acquired through the main playable story event, A Miraculous Alliance: An Unbelievable Final Bout. The mode, featuring Goku and Final Form Frieza, sees players progressing through levels defeating various enemies to earn exclusive equipment items and anniversary currency, 5th Anniversary Medals. These medals can be used in an event shop that sells gacha tickets and other rewards.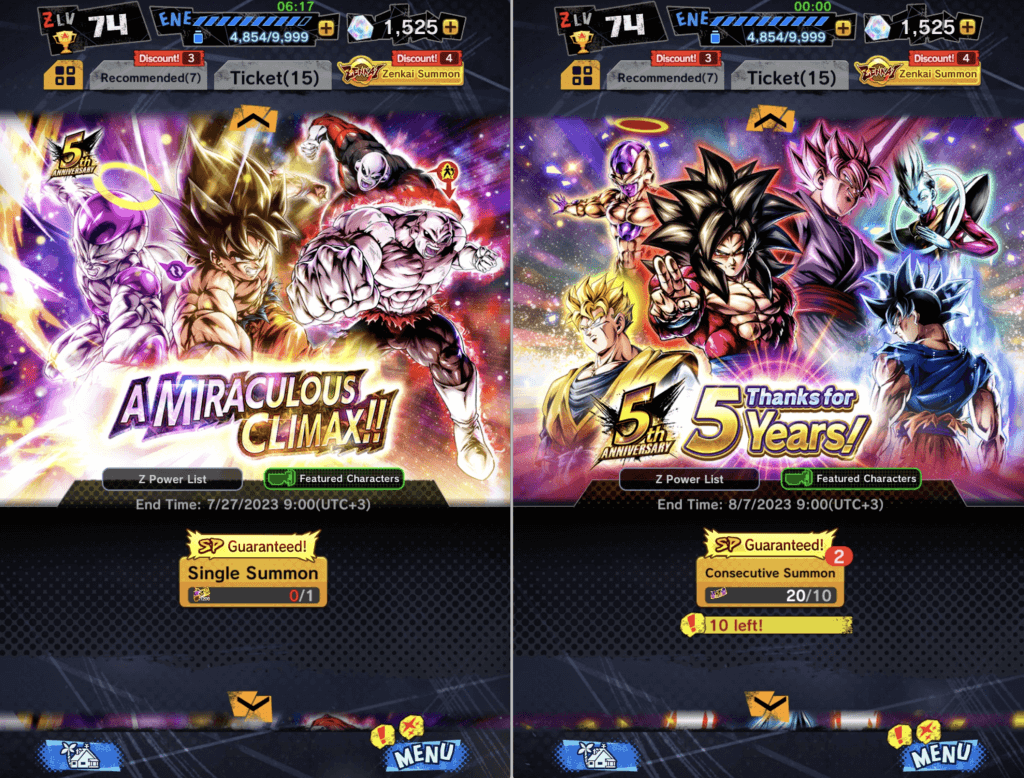 With June marking the start of Japan's Bride season, some of the highest-grossing mobile games launched events to celebrate. Uma Musume: Pretty Derby added a new story event that saw players helping a fashion designer in a slump to find her inspiration to create wedding dress-racing outfits for the Beauty Dream Cup. The event also introduced wedding dress-clad characters obtained from limited-time gachas.
Similarly, That Time I Reincarnated as a Slime launched a wedding-themed story event, which included two characters in wedding attire that could be collected by completing Panel Missions and collection milestones. The game also added two gachas featuring three characters in wedding dresses, with two of the characters gaining extra benefits when used as part of a team in the story event.
Puzzle & Dragons added a limited-time gacha highlighting characters dressed in wedding attire. It also introduced special bride-themed dungeons for players to explore and several IAP bundles with bridal gacha freebies.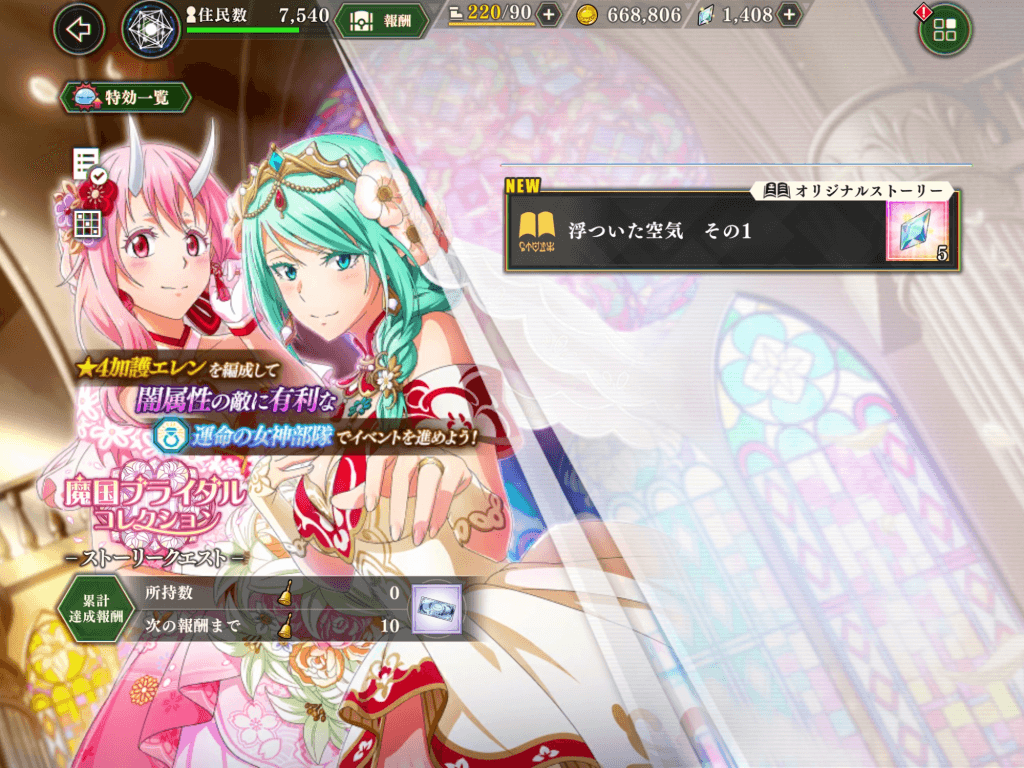 Interesting top 200 grossing entrants on the market
A new TBRPG title from the popular Square Enix series, DragonQuest Champions, has stayed within the top 50 since its launch on 12 June.
Based on a popular anime series, Laid-Back Camp All-in-one!! is a casual 3D anime-style game which focuses on crafting and decorating a campsite, and interaction between chibi characters from the anime. It got off to a strong start after its launch on 15 June but has steadily declined.
A new survival shooter from Level Infinite, Undawn, launched globally with different ID's on 13 June. It has not been as successful elsewhere, but has since launch mostly stayed in the top 100 grossing in the JP market.