A common way to monetize freemium mobile games is through in-app advertising, where ad placements are sold to generate profit from the entire player base. Freemium games reach wider audiences, but the risk of churn is always looming.
Statista's Market Insights show that 48% of the revenue in casual games in 2022 came from in-game ads, with the share of IAA revenue increasing each year. This shows that careful planning and choosing the right ad formats are effective ways to monetize non-paying players. 
Non-paying players generate more costs for the developers, and growing the user base requires constant investment to attract new users through UA practices. This is why it's crucial to plan the monetization model tailored to the game's genre, which is where rewarded in-game ads can help!
The most popular format in the US mobile game market is the rewarded video ads, with 74% of mobile players preferring the format over forced ads and banners. Opt-in incentivized ads have higher player engagement and completion rates. All parties benefit from providing rewards, earning revenue, and achieving higher click-through rates.
In this blog post, we will explore how game developers are incorporating unique in-game ad features into the game design or, in some cases, have made ads an integral part of the game to enhance the user experience and drive revenue.
Progressive gachas
In Legend of Slime, everything is interconnected, including the ads. The game has several power progression vectors. Almost everything is upgradeable, from characters to gear, with the upgrading materials found in the side modes. Each side mode has specific upgrading materials, level progression, and replenishing Dungeon Keys per day. With this in mind, developers have taken a step ahead in monetizing the F2P player base with progressive gachas.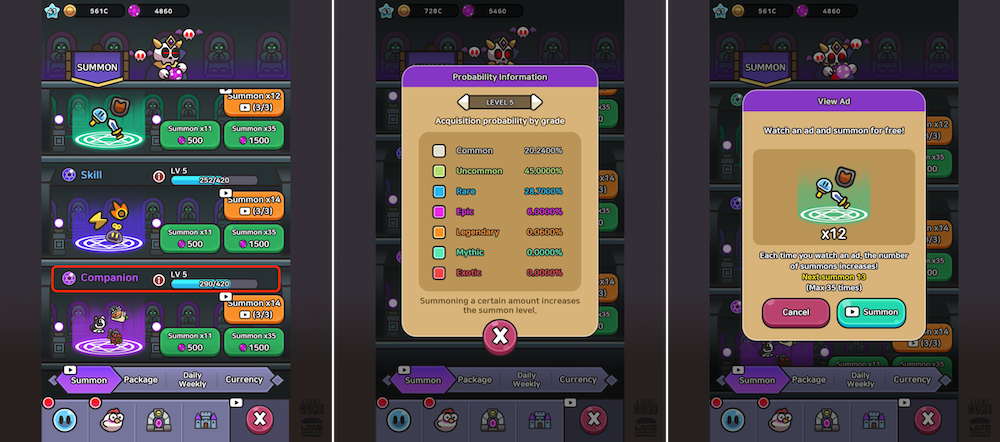 The progression mechanic is based on watching ads, with each ad increasing the number of rewards for the next pull. The gachas are upgradeable by watching ads, and players can improve the prize pool drop rates this way.
Purposeful game mechanisms built around ads are a genius way to increase CTR rates and create a positive user experience that adds to retention.
Permanent and temporary boosts
As a midcore idle RPG, Legend of Slime utilizes the standard temporary buff feature with rewarded video ads. By watching ads, the boost is triggered for a fixed time. However, the developers give a new spin to this feature; the 'Blessings boosts' have a progressive element that's upgraded by doing nothing but watching ads to increase their effectiveness.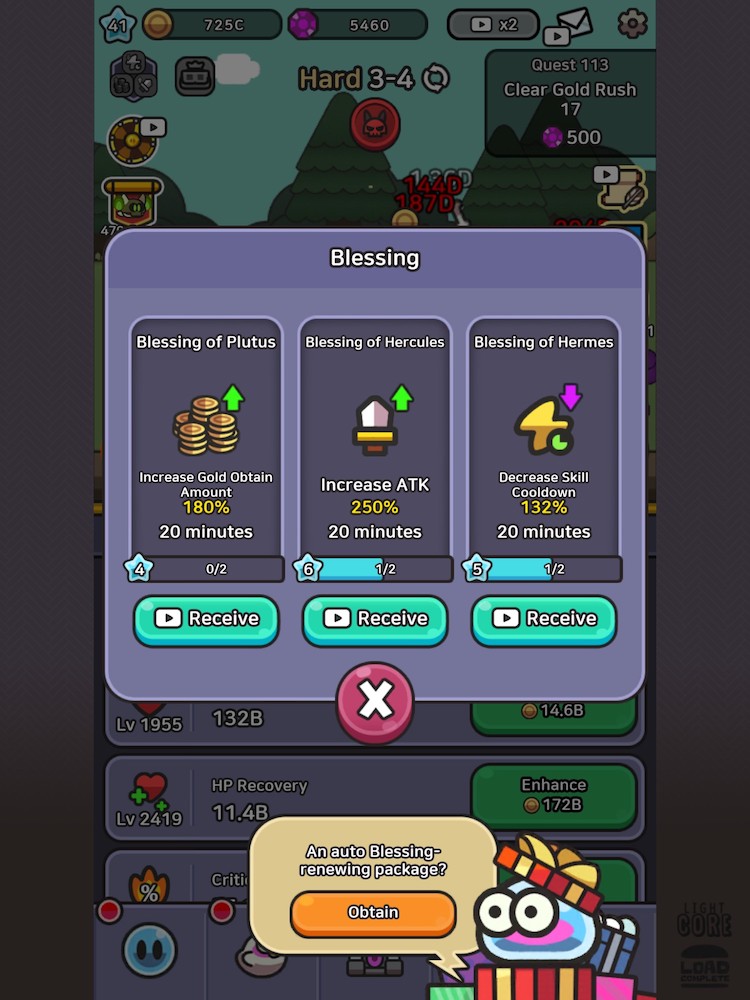 A permanent 'Best Subscriber' boost is activated when a certain number of ads have been watched as the game tracks the view count, increasing essential player stats in the game and making it the ultimate reward for players who watch ads.
Legend of Slime uses a hybrid monetization model, and the IAA solely utilizes the rewarded video ad placements. The game primarily relies on a delayed feedback loop to create a greater impact. 
Legend of Slime has impressively included the ads as a part of the core game's power progression vectors. Watching ads feels meaningful as players get increasingly better rewards with little progression iterations that aid the core gameplay. The game has also been steadily adding new power progression vectors (gear, upgrade types) and other features this year, with increased ad opportunities leading to higher revenue.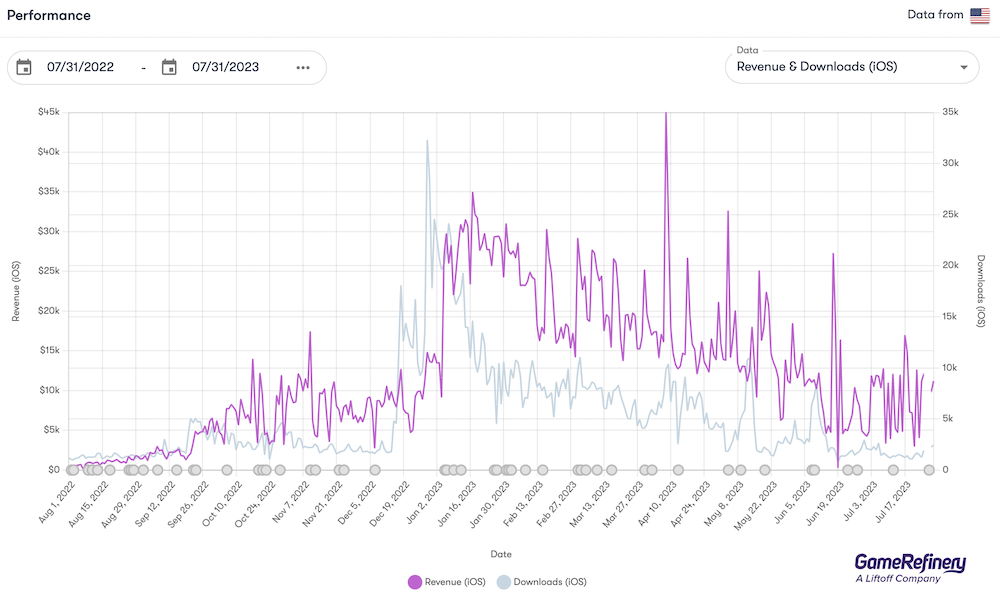 The hybrid casual idler game Build Car Manager Tycoon has also developed an innovative feature to incorporate ads using a hybrid monetization model. The game has idle yield rewards that generate over time and is the main resource used to progress in the game.
The Offline Income Ad Rewards is a boost upgraded with a special currency. This will raise the amount of the offline idle yield rewards by upwards of 20%. The other type of permanent upgradeable boost is called the Double Level Up Reward. This activates when players level up in the game and receive an incentivized ad prompt to double the level-up rewards. As the game requires growing amounts of generated resources to upgrade permanent buildings, the double reward boost becomes handy.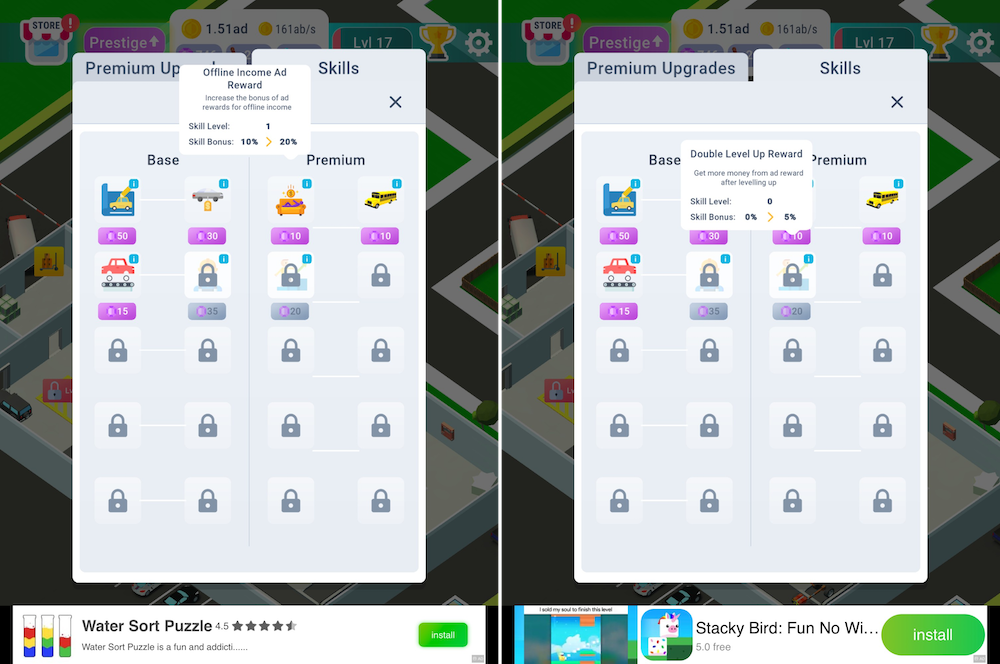 Occasional rewards in the game levels
A simple but interesting way to implement an ad feature is to place occasional rewards as prompts appearing in the game's user interface or game levels. This ad implementation method is usually found in exploration games with tycoon core mechanics.

In Family Island and Klondike Adventures, these reward prompts are spread across the exploration map, which can only be claimed by watching an ad. Tapping the prompt triggers it; the rewards can be anything from stamina to premium currency.

Similarly, Dragonscapes Adventure utilizes this sort of ad mechanic, too, by having floating gift packages instead of static placements. The design behind the ad feature is well thought out, as it fits the tycoon exploration genre, and players can randomly find the reward prompts during the gameplay. Keeping the games' genre and target audience in mind helps to strategize the rewarded ad placements for maximum impact.
Ad-related tasks and Other Special Mechanics
Dragonscapes Adventure and Dragon City Mobile use a task system with reward milestones unlocked exclusively by watching video ads. Each watched ad earns a small prize, such as stamina or food. Unlocking all milestones rewards players with minor valuable items regarding the games' economies. 
The ad-related task system is a simple and great showcase for utilizing the delayed feedback loop, which requires engaging with the ads to receive a milestone reward. The rewards offered in the mobile game should contribute to the game's progress and have greater value.


Why should I consider incorporating rewarded ad features into my mobile game?
A carefully crafted ad strategy is vital for UA and revenue, especially for freemium games. Researching the game audience also helps in this case as well; which player archetypes users likely identify with, what they need to keep them coming back to the game, and how ads could cater to their needs. When it comes to incentivized rewards, it's important to consider both delayed and instant feedback loops to avoid cannibalizing in-app purchases.
Rewarded ads are favored because they lessen the negative impact of ads that are thought to disrupt the gameplay experience. Designing a rewarded ad feature that players will ultimately benefit from in both long and short-term progression drives user engagement and motivates players to spend more time watching ads.
By providing a sense of gratification, rewarded ads improve the flow of the game by giving an option for all players, not just non-paying players, to overcome obstacles in the game. Lastly, ad features do not need to be complex; it all comes down to when and what is being offered.
Find out how developers use incentivized ad placements from hundreds of implementation examples in our service! Be sure also to check out some of our other articles to learn more about in-game ads: