It may be the shortest month of the year, but February was an excellent time for developers to boost game revenue and player numbers thanks to seasonal event opportunities from Chinese New Year and Valentine's Day. Alongside a busy calendar of events, there were plenty of big updates and game launches, too. Here are the biggest highlights of the month.
In the US, a seasonal event in Merge Mansion helped the merge game's daily revenue reach a new all-time-high ($84k). In Japan, Animal Crossing Pocket's popular flower event returned with a Valentine's Day theme, while Fate/Grand Order, Ensemble Stars!! Music, Guardian Tales and State of Survival joined the festivities with a variety of events that included everything seasonal from event quests and daily log-in rewards to themed currencies and new features such as buddy mechanics.
Chinese New Year celebrations continued to dominate in China, where Tencent's arcade kart racer, Popkart Racer, got one of its biggest updates yet with limited-time IAP offers, recurring events and new PVP modes.
February was also a big month for collaborative events as big brands explore opportunities in mobile games and the metaverse. The Chinese battle royale game, Sausage Man, collaborated with Pizza Hut for a limited-time event based on…sausage-stuff-crust pizzas, while The Brit Awards showcase in Roblox featured a live performance from the artist PinkPanthress along with social hangouts and even a screen where players could watch the awards together. One of our favorite events was a PUMA X Minecraft collaboration, which introduced new gameplay elements with its PUMA-themed sprint levels.
Other highlights include Final Fantasy VII: The First Soldier celebrating the original FF VII's 25th anniversary with old-school polygon versions of characters, and the launch of turn-based RPG based on the anime My Hero Ultra Impact, and an idler game based on the hit TV sitcom, The Office. Japan saw some major new entries too, with the turn-based RPG Heaven Burns Red staying within the top-grossing 15 since launch and Attack on Titan Brave Order peaking at 36.
This is just a topline summary of what you'll find in this month's mobile game update, so keep reading for the full rundown.
US Market Overview
Royal Match turned its Save the King ad creatives into a daily "side mission" game mode called King's Nightmare, whose "minigame" levels are timed puzzle levels where players need to complete a puzzle in a limited time to save the King. The actual core mechanic is the same as usual, but in this mode, the number of moves is unlimited and the main focus is completing the level in time. Players can see the "King in trouble" on the top of the screen, but he gets rescued if the level is completed in time.

Dream Games has been using these "King in trouble" settings in many of their UA campaigns, which is most likely the reason why they've been now added into the game itself (this is similar to what Playrix has done before with their "UA campaigns turned into in-game minigames.")
Previously, these King's Nightmare levels have been popping up to players quite randomly (targeted to only some and not after any specific level number, etc.). However, at least in our game analyst's case, King's Nightmare is now permanently on the main menu screen, and there's a new level to beat once a day.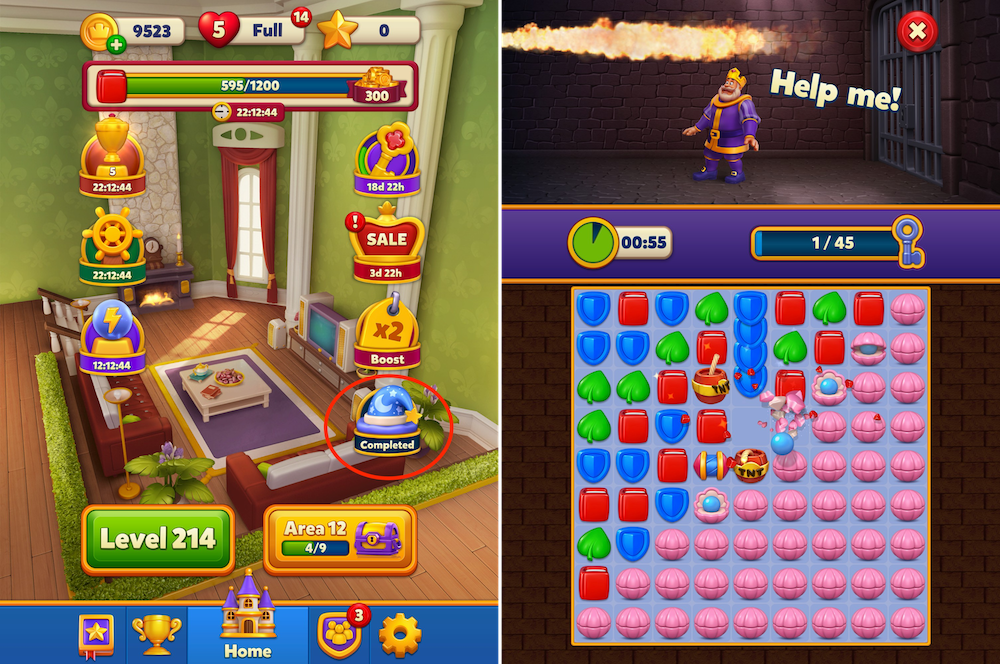 With the latest update, Garena Free Fire's ​Creative Mode, which lets users create their own maps, now has its own game mode on the mode selection screen.

The mode pits the player against others in a randomly selected user-created map from the most popular maps. These maps include, for example, Parkour races or Team Deathmatch modes.

Events
PUBG Mobile's February update presented a big crossover event with the popular manga/anime series Jujutsu Kaisen. In the main gameplay mode, players needed to find Cursed Object Crates to collect Sukuna's Fingers. Once the player had collected all Cycle Memories items (fingers), they unlocked a story alongside a commemorative title. In addition, the collaboration included a log-in event where players gathered Cursed Energy to exercise Cursed Spirits to earn rewards.
During the Jujutsu Discovery event, players collected Exploration Points to reach milestones by completing matches in Classic Mode. Milestones rewarded special prizes, like the Nobara Kugisaki Set. To turn limited-time cosmetics into permanent, players needed to upgrade the limited-time cosmetics with premium currency. After the final milestone, points could be spent on a gacha for rare items like event-exclusive companion Cathy.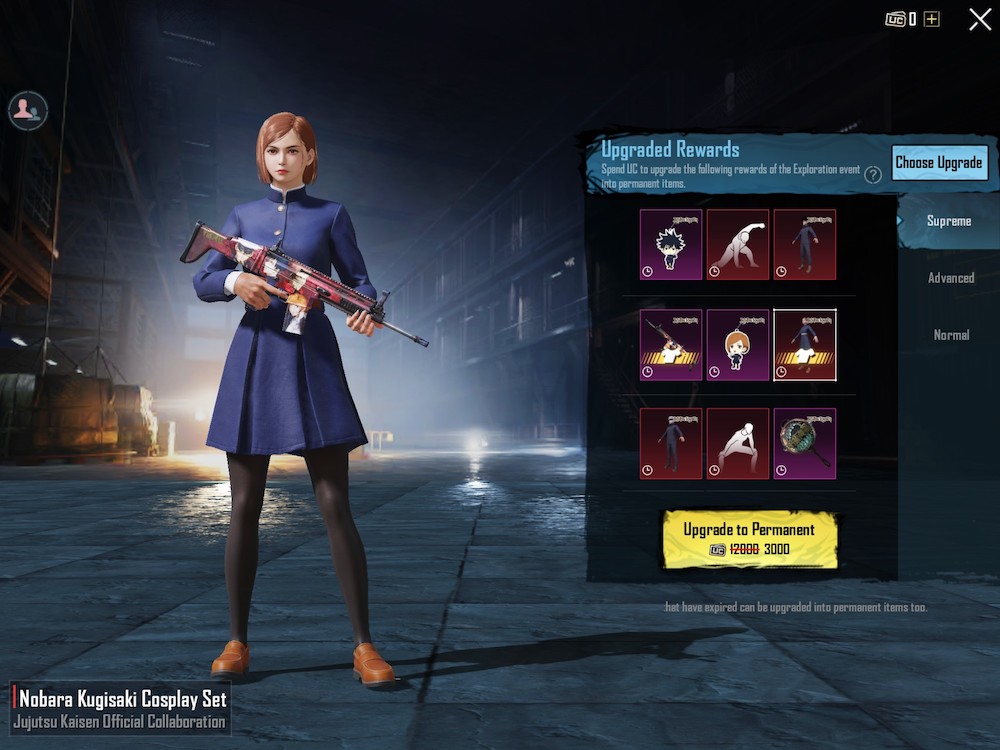 Fishdom introduced a new recurring event, Carnival of Gifts. The players' goal is to beat levels on the first try to grow their reward pool, and the more levels they manage to beat, the bigger their pool gets. After every reward gained, the player can choose to keep the accumulated pool of rewards and quit or continue playing to get even more rewards. If they lose, they will lose everything that's in the collected reward pool.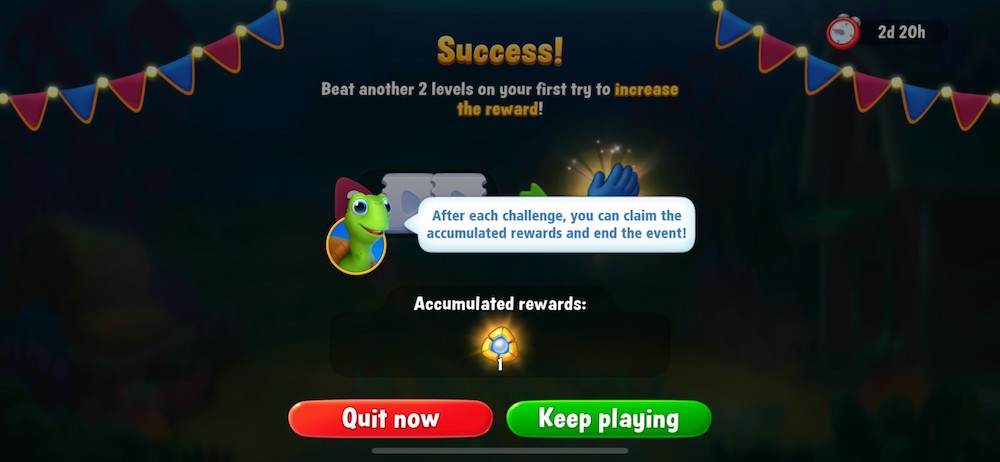 Even though Merge Mansion's Valentine's Day event followed a similar format from previous seasonal events, this time, the seasonal event boosted the game's revenue (iOS, US) to new heights!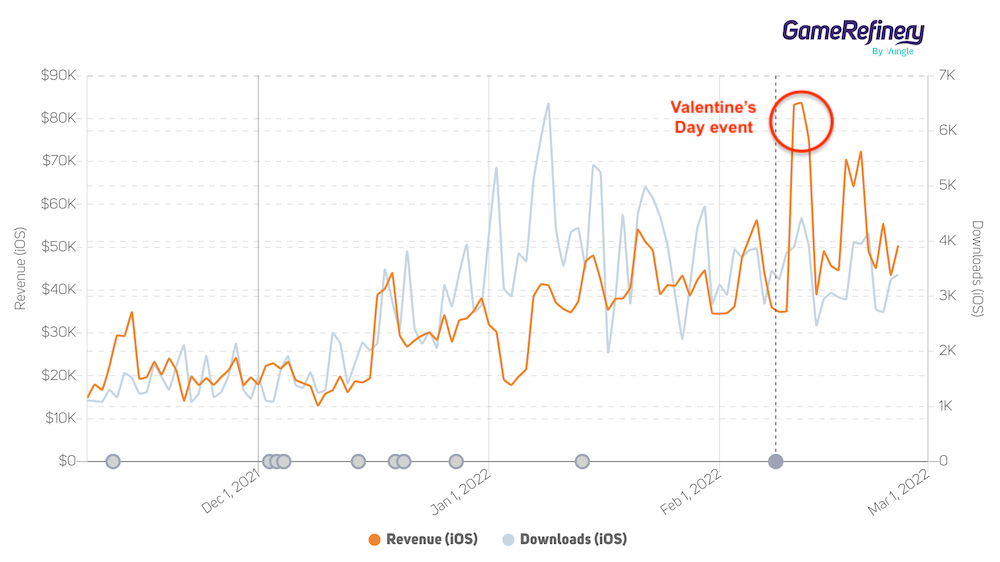 Digging further into the Final Fantasy VII fans' nostalgia, FFVII: The First Soldier collaborated with the original release of Final Fantasy VII to celebrate its 25th anniversary.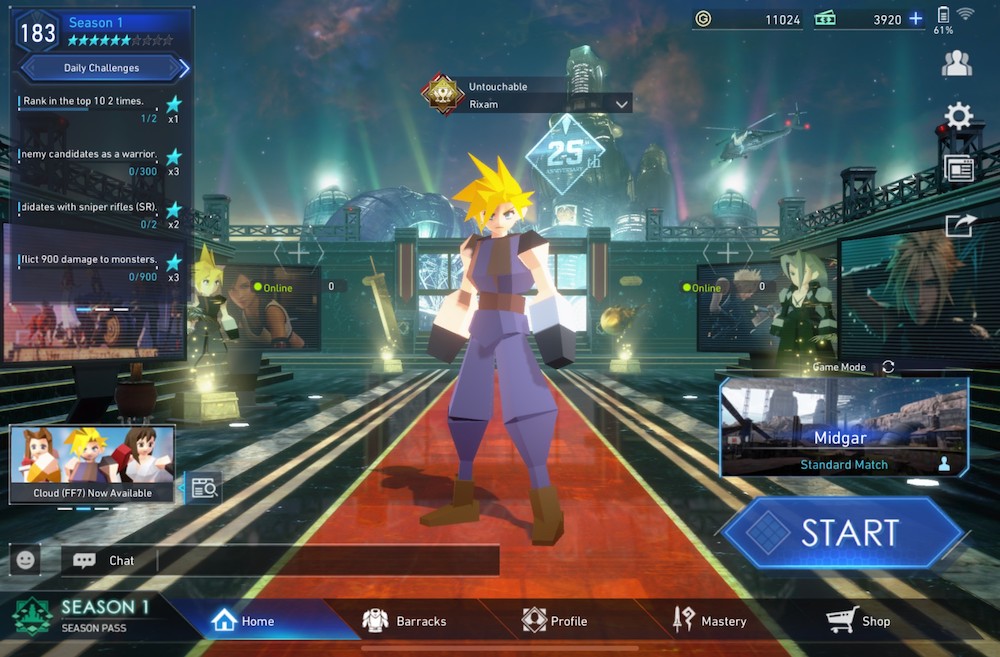 An interesting, more general US market observation from our game analysts is that they are more and more often seeing big brands partnering with mobile games, like Puma with Minecraft, McLaren with Roblox, PUBG Mobile, and Garena Free Fire, and Gucci, Nike and Ralph Lauren with Roblox. This market change likely stems from big brands seeing mobile games as profitable channels to reach consumers and as a way to gain visibility in the gaming world and maybe even in the metaverse in the future.
New top 200 grossing entrants on the market
China Market Overview
February meant tons of big Chinese New Year's events in the mobile gaming market. Popkart Mobile (跑跑卡丁车) celebrated the CNY with a massive update that included events opening on consecutive days. The CNY event content included, for example, limited-time IAP offers, rewards, Hongbao (red envelope event, limited-time gacha, and much more.

In addition to CNY content, Popkart Mobile introduced two new recurring events: 赏金对决​ (Bounty PK), a 1v1 and 2v2 recurring event with seasons and rewards, and 能源竞技场 (Energy arena) asynchronous PvP mode, where the player can challenge others for a match to get rewards. By racing against others, players collect currency, which can be used for a randomized equipable boost.
Moreover, the update included a separate collaboration event with a computer game 冒险岛2 (Maple Story 2) that featured characters, accessories, and other rewards, as well as quests for currency, which was used for getting rewards.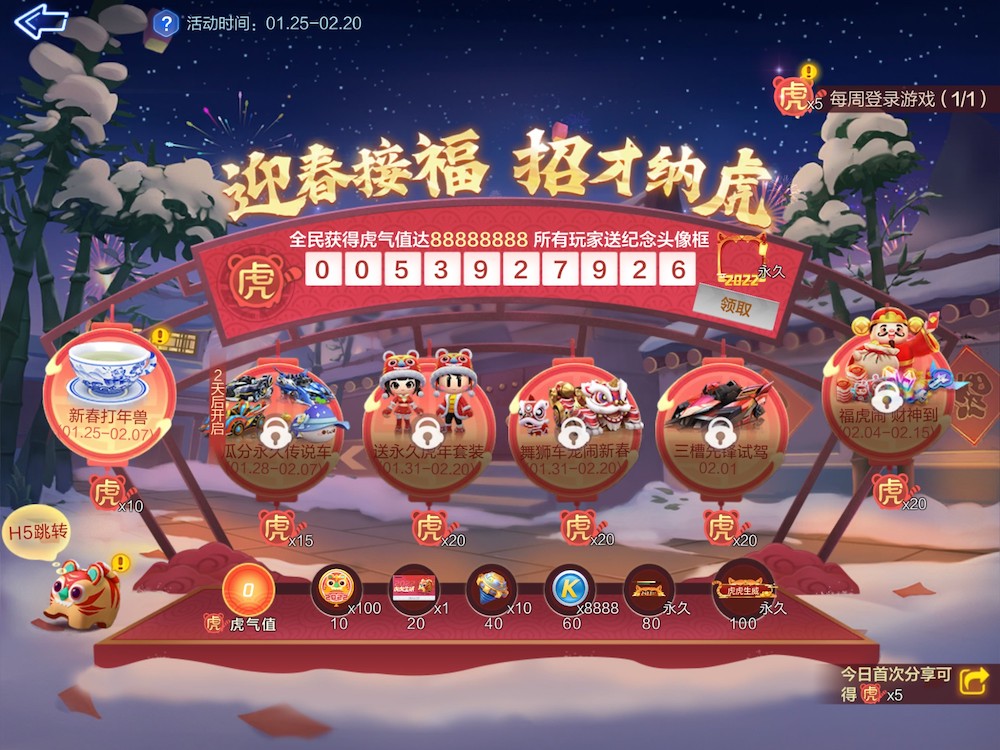 Along with other major CNY celebrations, a Battle Royale game Sausage Man (香肠派对) featured a collaboration event with Pizza Hut. The idea of the event was that if the player bought a special meal (incl. sausage crust pizza, and yes, that is a thing…) in an actual Pizza Hut, they got special in-game cosmetics for free. In addition, if players collected pizzas in the game, they unlocked event rewards like a Pizza Hut avatar and Pizza Hut delivery scooter skin and in-game clothing accessories.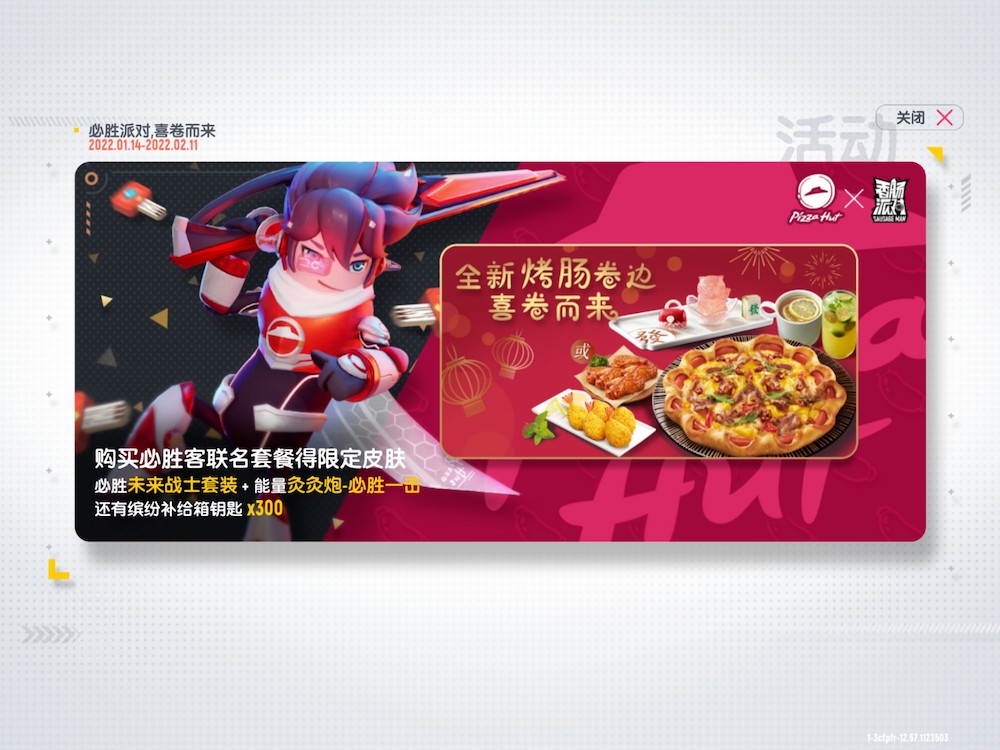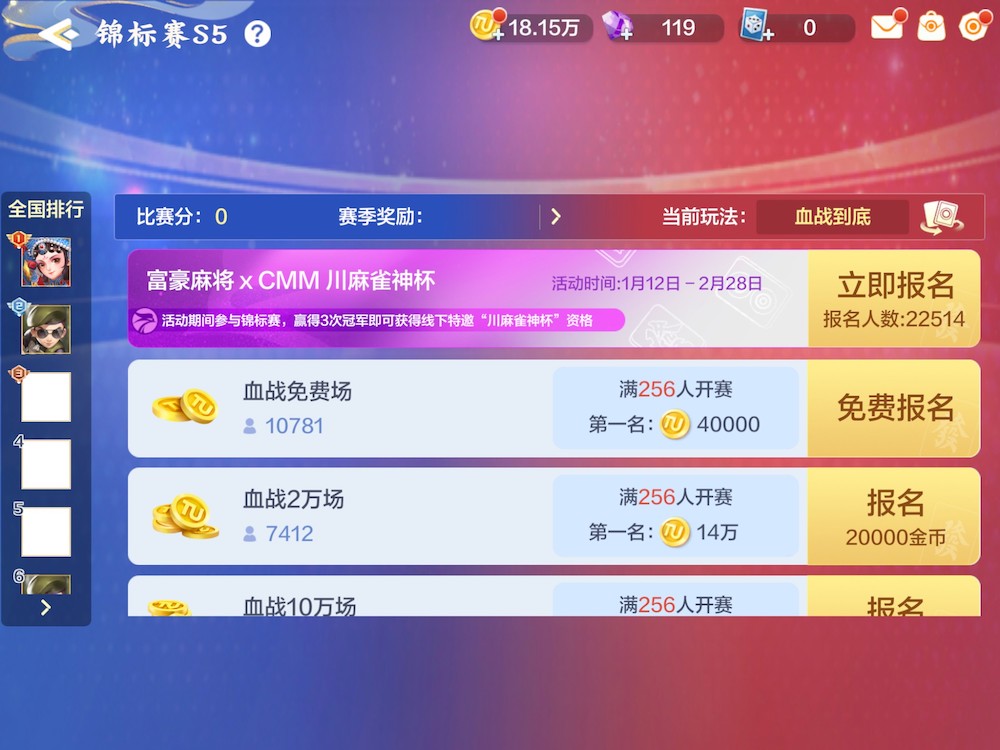 Another interesting highlight from the Chinese market was that this year's Chinese New Year's season multiplied many games' revenue. Moreover, when the early month was spent celebrating the Chinese New Year, the rest of the month was followed by many different Valentine's Day-themed events. In other words, February was an excellent opportunity for games to drive up their revenues and boost player engagement with seasonal content. If you're interested in learning some of the best-practice examples of seasonal events, check out our recent report on in-game events.
New top 200 grossing entrants on the market
CN game analysts' pick for the MMO of the month is a turn-based RPG Xuan Zhong Ji (玄中记) by Tencent. The game looks a bit like Genshin Impact and has been ranking at its highest in the top-grossing 35 position.
Clash of Clans (部落冲突 (COC)) launched in China with its own ID (it previously used the same app ID as in the West) and the game is currently ranking in the top-grossing 30/DL top 10. GR 85, DL 1. We're interested to see if the game will add any new localized content.
Yongzhe Yangchengji (勇者养成记), is a new Archero-inspired title. The game was at its highest in the top-grossing 170 position.
Japan Market Overview
LifeAfter's Lunar New Year celebrations were released in four parts. Seasonal-themed content included a Celebration minigame event with eight different games (e.g., snowball fights, horse racing, and sledding). Players were matched in teams of two for three 18-player games. In addition, the update included great value deals that caused a good spike in the game's revenue, renewed occupation skill system so that all occupations now have one core skill, and the usual event-related content like new skins, vehicles, quests and much more.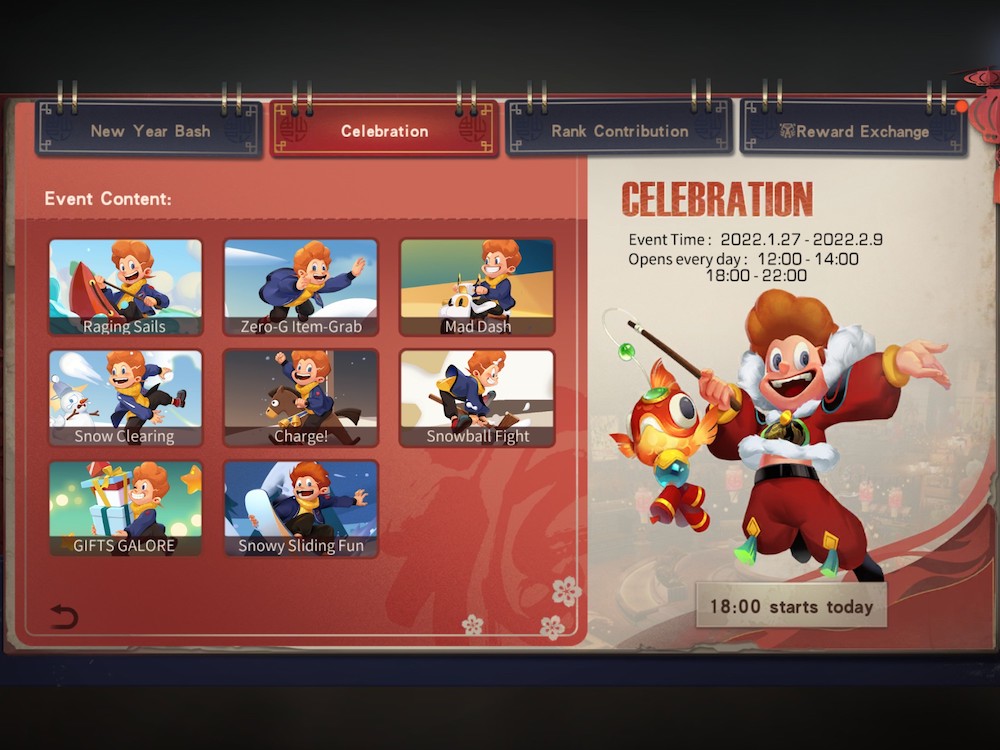 During mahjong PvP game Jantama's (雀魂 -じゃんたま-) two-week Lunar New Year event, 年獣降臨, players completed quests to get event items (food) that were used to feed the Nian beast. Rewards were given based on how many times the beast was fed. The event also featured different seasonal skins.
Animal Crossing: Pocket Camp's familiar flower event was featured again in the form of a Valentine's Day event, but this time with a chocolate theme. The event included several chocolate-themed furniture and outfits for players to obtain.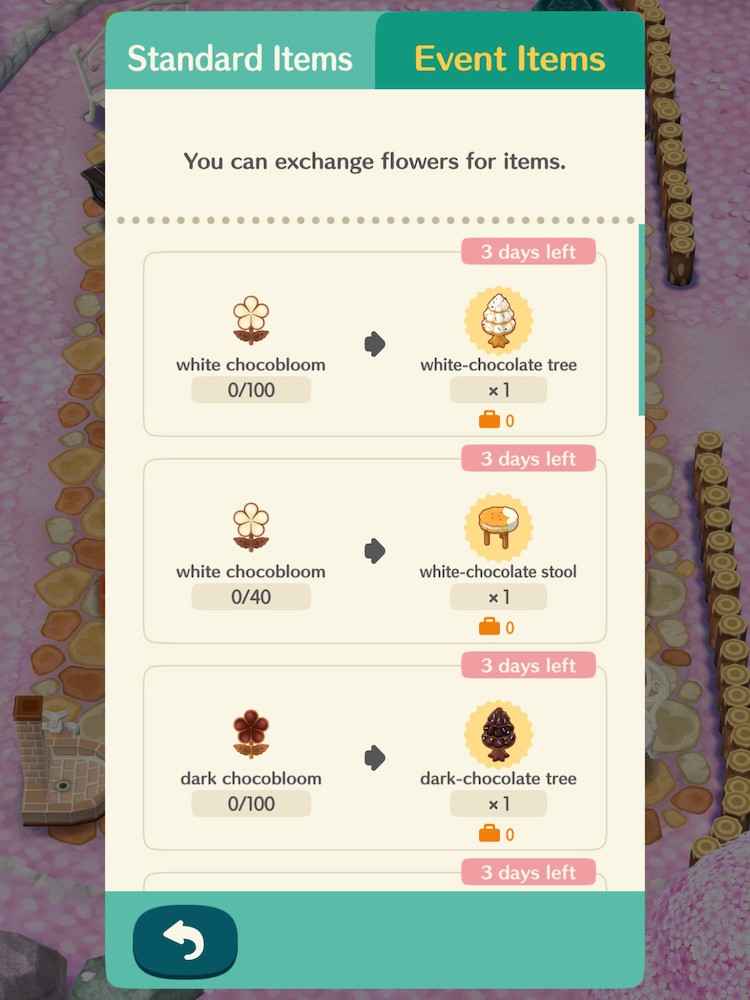 In Fate/Grand Order's Valentine's Day event, players ​completed event quests to progress the event story and collect Yojinbo points to unlock rewards. Using event characters (able to acquire through multiple Valentine's Day gachas) in the event quests boosted the rates of event item drops and Yojinbo points.

These event items could be exchanged for various valuable rewards in the event shop. Players could also exchange chocolate with their favorite characters and get gifts in return.
The update also included a new event-limited feature, Buddy rank: Each time the player cleared an event stage, all characters used in that battle collected Buddy score. After collecting a certain amount of score, the character's Buddy Rank increased. Each character was assigned with event-limited special skills, and leveling them up was linked to the Buddy rank system.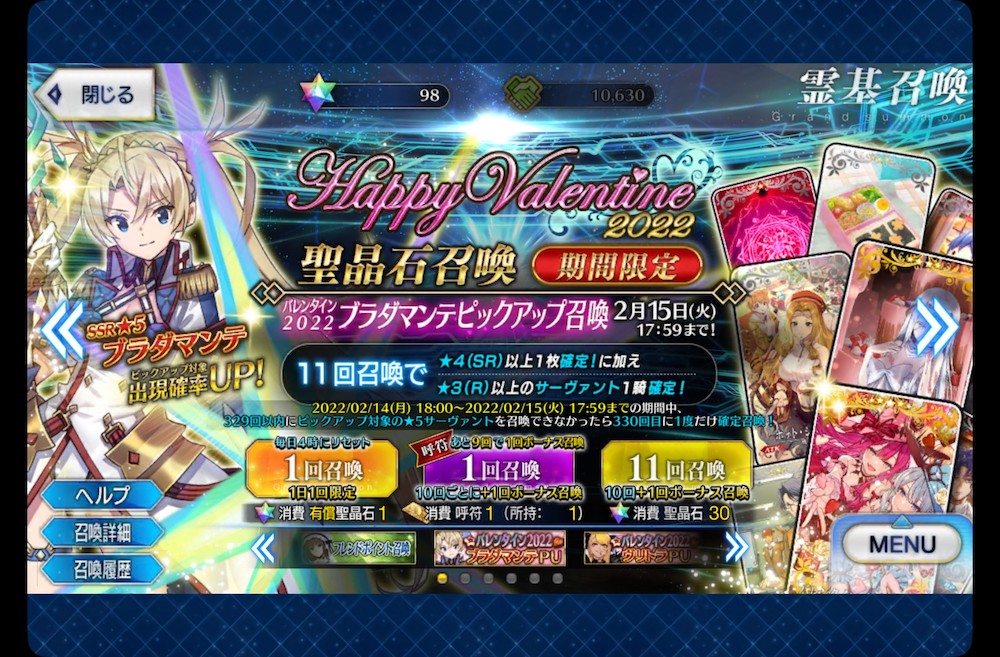 In Ensemble Stars!! Music's (あんさんぶるスターズ!!Music) Valentine's Day event, players ​needed to clear tasks to collect chocolate ingredients (tasks refreshed every 20 minutes). From the ingredients, players could make chocolate and give it to characters to get exclusive Valentine's day voice lines. In addition, the update included a playable Love Letter event with rules similar to previous playable events, as well as several gachas.
Lastly, Valentine's Day was also celebrated by games Guardian Tales (ガーディアンテイルズ) and State of Survival (ステート・オブ・サバイバル).

Guardian Tales's event included Valentine's Day login calendar and a few bundle offers.
State of Survival's event included ​​Sekaijuu ni Ai wo-popularity contest, where players gathered roses from various gameplay tasks and gifted them to other players. The top ten receivers and gifters got rewards. The event also featured Miho no Honne-reward ladder with top up-tasks and rose-gifting tasks, and Bara no Hana-bundle. An identical event was also held in State of Survival's global version.
Other events
4X strategy game based on the Japanese Warring States period, Shishi no Gotoku – Sengoku Haousenki (獅子の如く~戦国覇王戦記~), held a big collaboration event with Rurouni Kenshin, an anime/manga series based on a wandering swordsman, making it a great IP fit for the warring states-themed 4X. All the collaboration characters also came with original voice acting.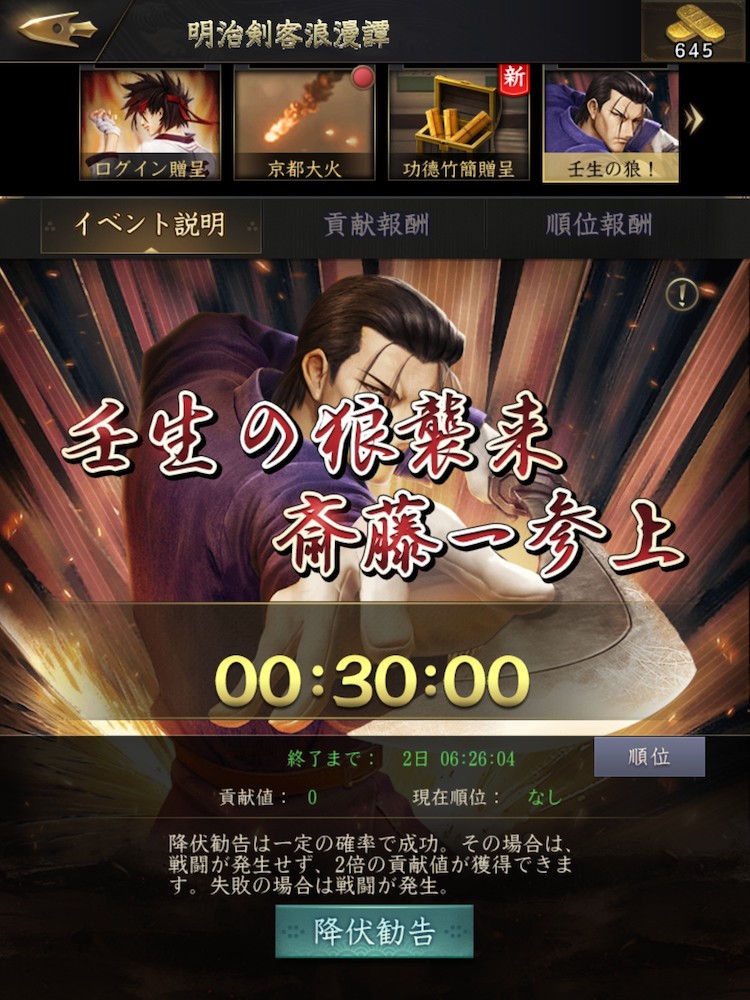 LINE PokoPoko's 7.5-anniversary events launched in February with countdown login rewards. The main events included special event stages, login bonuses, a bingo event, and another cherry cake event. As usual, there was a character reward for every part of the event and an extra reward for collecting all of them. Several IAP bundles were added with the update as well.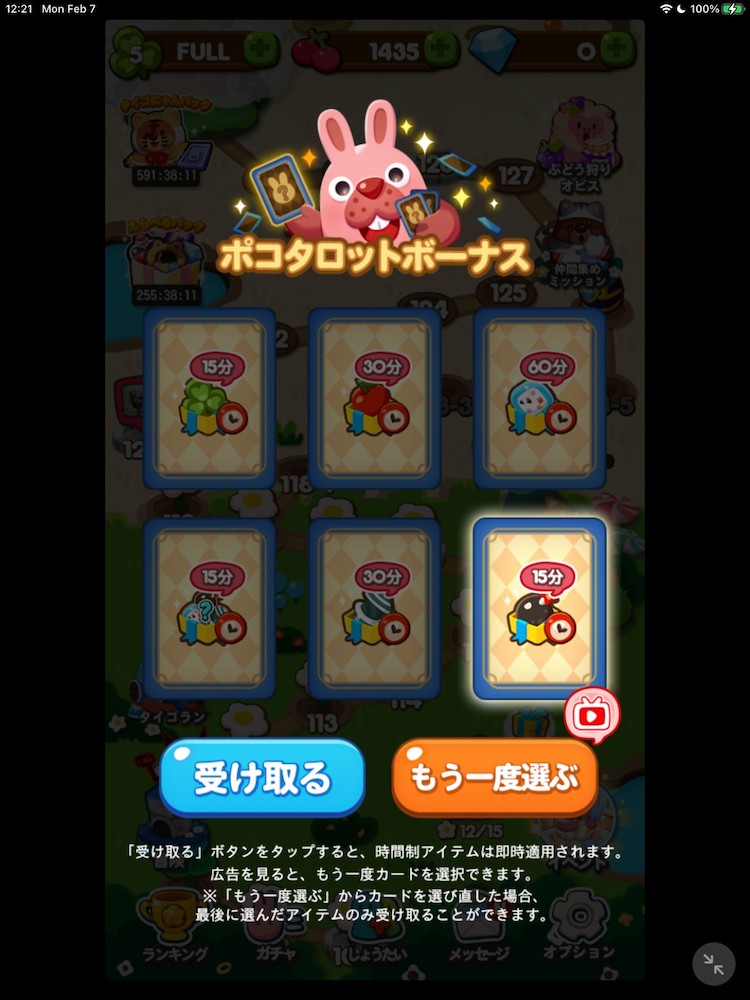 Princess Connect! Re:Dive (プリンセスコネクト!Re:Dive) celebrated its fourth anniversary with ​anniversary gachas, log-in bonuses, and the "Thank you for the four years" anniversary story.
The Japanese version of State of Survival (ステート・オブ・サバイバル) also celebrated its half-anniversary in February. The update included the ​Half Anniversary Battle Pass, where players gathered balloons (points) from gameplay, various tasks and offers, and had to take down the State of Survival Corporate Drone Ishida-kun boss.
Gearing up for the first anniversary celebrations, Umamusume Pretty Derby (ウマ娘 プリティーダービー) launched its countdown campaign on Valentine's Day. The main menu hall was decorated for the campaign, and players got countdown login rewards and a daily free support card gacha pull. Free gacha pulls have never been offered for the gachas, making the campaign very appealing. 

Later that month, the main anniversary campaign launched with abundant events and a brand new playable scenario, Make a new track!!, that added a new consumable boost system to the game's mechanics (only available for Make a new track!!). Based on their success in the races, players are now rewarded with shop coins that can be used to buy a wide variety of useful boosts for training.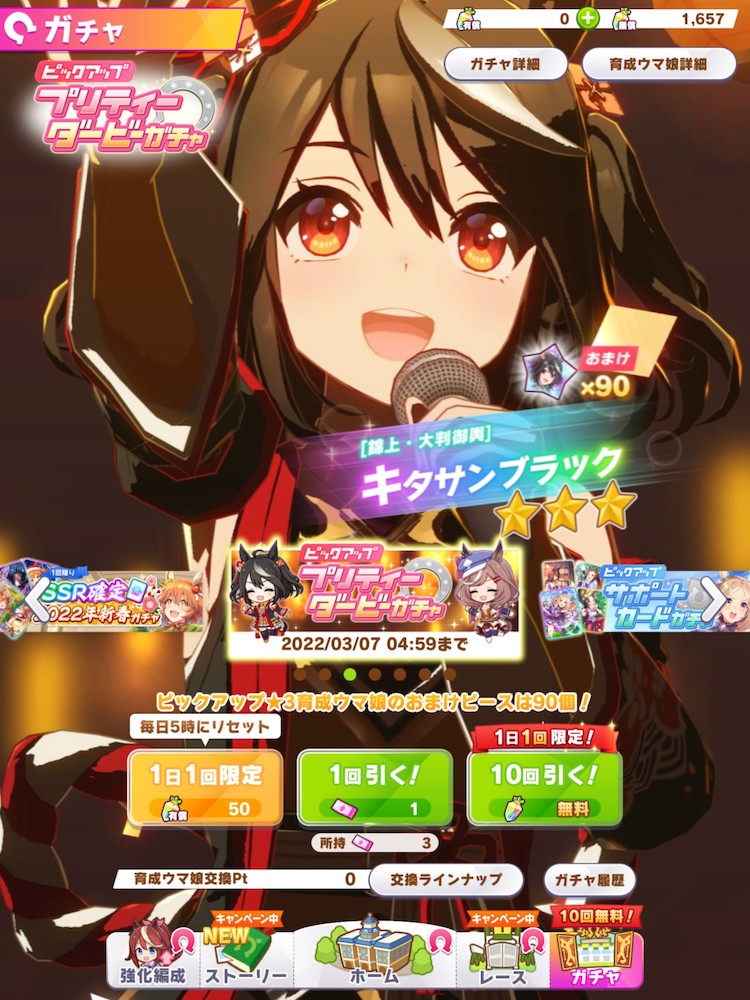 New top 200 grossing entrants on the market