As we here at the CSM team talk with our users, there is always the same question which keeps popping up: What features do our competitors have?
This if something is one of the most crucial questions as it helps product owners & designers to:
Prioritize right features
Implement those features
We've always guided our users through five step programs in our service:
Compare Games – Find what makes your hand-picked core competitors tick when dissected by +250 individual features we track here at GameRefinery
Implementation examples – How those features have been implemented in
In this article, we will solely focus on step 1, the Market Explorer, as there is a neat trick within your own game's game overview page's competitors tab which takes Market Explorer comparison to a completely new level.
In this use case we will be using my personal favorite, RAID: Shadow Legends.
Remember what Flint from GI Joe had to say: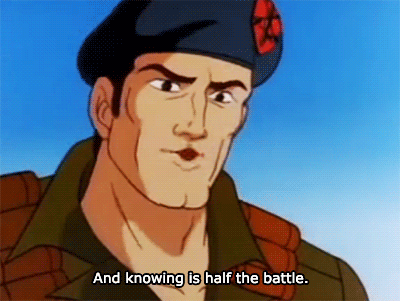 Competitors tab
The competitors tab on each game overview page is an instant way how our users can immediately identify the core competitors. We take two things into account when we list games in the competitors tab:
Game's position in

our genre taxonomy

The core, meta & gameplay defining mechanics
Using the competitors tab, you do not need to browse through app stores to find similar games and finally confirm their status as a competitor after playing them. Let the GameRefinery algorithm do the work for you!
RAID: Shadow Legends' competitors tab already shows us few games which really stand out and can be considered core competitors.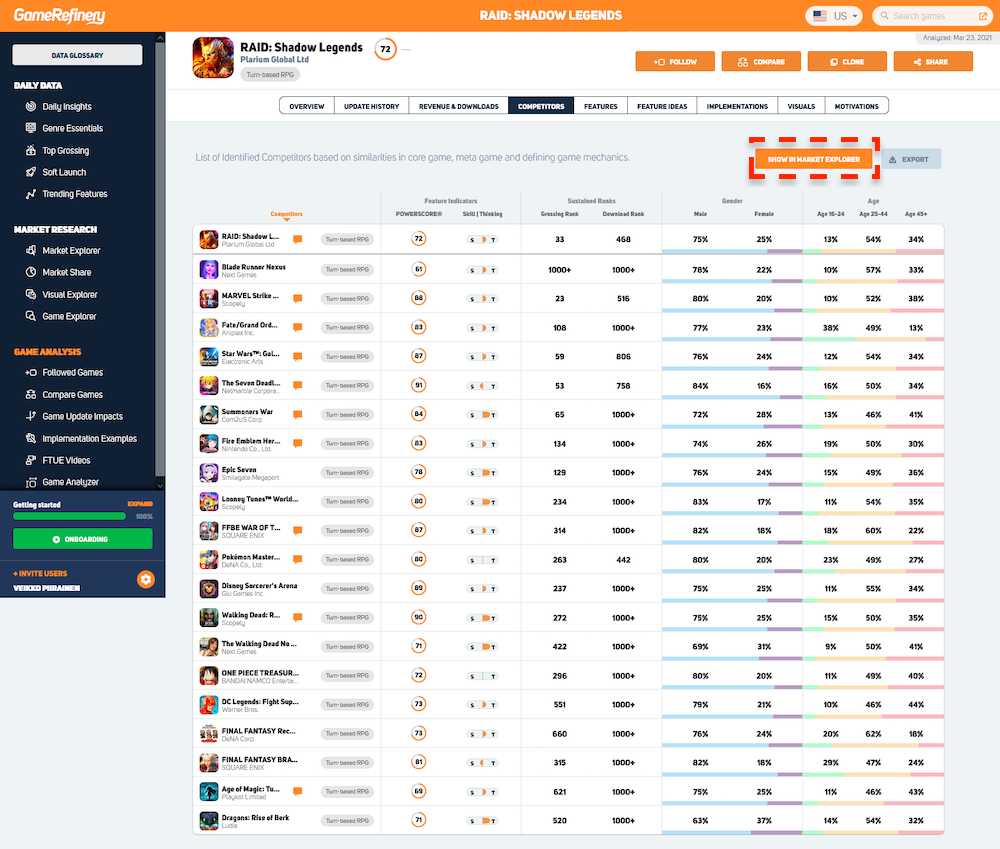 To the Market Explorer!
The real saving grace here is the orange Show In Market Explorer button, as it allows us to immediately create two segments: One for our loved Raid and the other for all the competitor games.
When we move to the features data tab, we can immediately begin seeing some of the features Raid has what the competitors don't have and vice versa.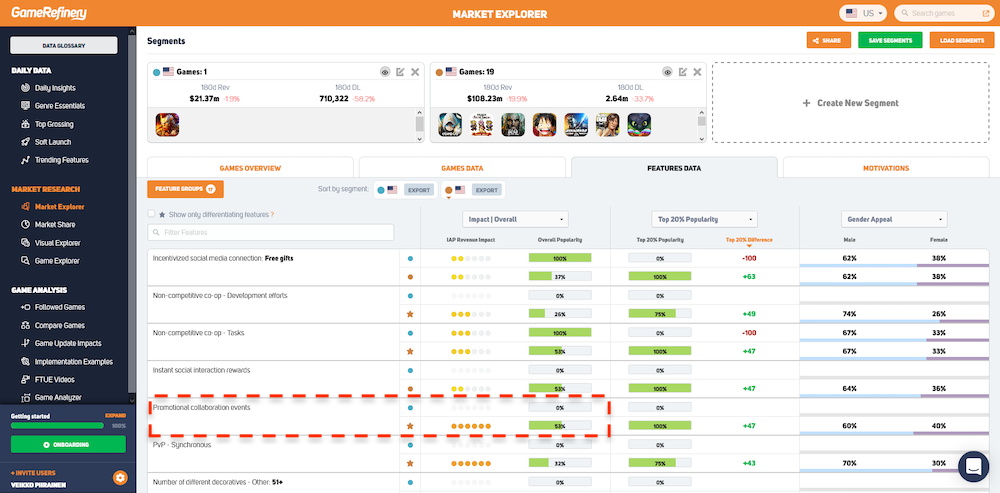 From the get-go example, we can see that Raid does not have Promotional collaboration events, but 53% of the competitors do.
Let us begin expanding the two segments with two more segments:
3rd segment – All top 200 grossing RPG-genre games – Ps. Raid & competitors belong to this genre!
4th segment – All new RPG-genre games which have been released since May 2020!
Setting up these segments is very straightforward! We simply click Create New Segments and fill in our requirements per segment!
For our 3rd segment, we select RPG-genre and limit range by grossing rank
For our 4th segment, we also select RPG-genre, but this time we'll use days since release to limit the time frame to one year.

Now when looking into the data points, we begin seeing interesting trends and popularities of certain features. Let's take Battle Pass as an example:

It seems that our Raid does not have battle pass BUT:
32% of the closest competitors do have it implemented in – Orange color
57% of the top 200 grossing games have this feature – Purple color
43% of the games which were released in the past year have this feature implemented. What is even more eye-catching about this segment is that 20% of top-grossing games released in the past year have Battle Pass implemented.
And this was only one of the +250 features we track.
Seeing is always believing so click here to access the segments we created for Raid: Shadow of Legends here.
Summary
Competitors tab and show in Market Explorer button is a quick and easy way to begin dissecting your own game. If your game is not yet analyzed in the platform, you can always suggest us to take a peek under the hood so you can immediately identify your competitors.
As demonstrated in this article, the real beauty of Market Explorer lies in its versatility. In no time, we were able to expand our original segment with additional queries, which gave a completely new insight into how our game fits the market, what are the features our core competitors have, and the latest released games. If you've been participating in my onboarding sessions, you might remember me saying that Market Explorer is a never-ending rabbit hole with multiple ways to dissect the market and how your game fits in.
So now that we're explored what features are popular out there in the market, you're ready to move on to Compare Games and Game Update Impacts steps in your feature research!