When we launched the motivations & archetypes dataset only a few weeks ago, we had a clear target in mind where we wanted to expand the feature further: To Market Explorer.
Our work is finished (at least on this front – software as a service is never finished….poor product team), and we are happy to announce that all motivations & archetypes related data is now accessible in one of our most versatile tools, Market Explorer. Combined with Market Explorer's versatility and ability to breakdown any genre, gameplay mechanic, or game criteria into the bits & bolts users need, this offers entirely new insight into the games market.
Editor's note: This blog post is updated with the newest Motivations update introduced to the GameRefinery service in December 2020.
There are four places where you can utilize our Motivations data for:
1. Creating segments – You can, for example, emphasize only the games which are strong in "Escapism & solving."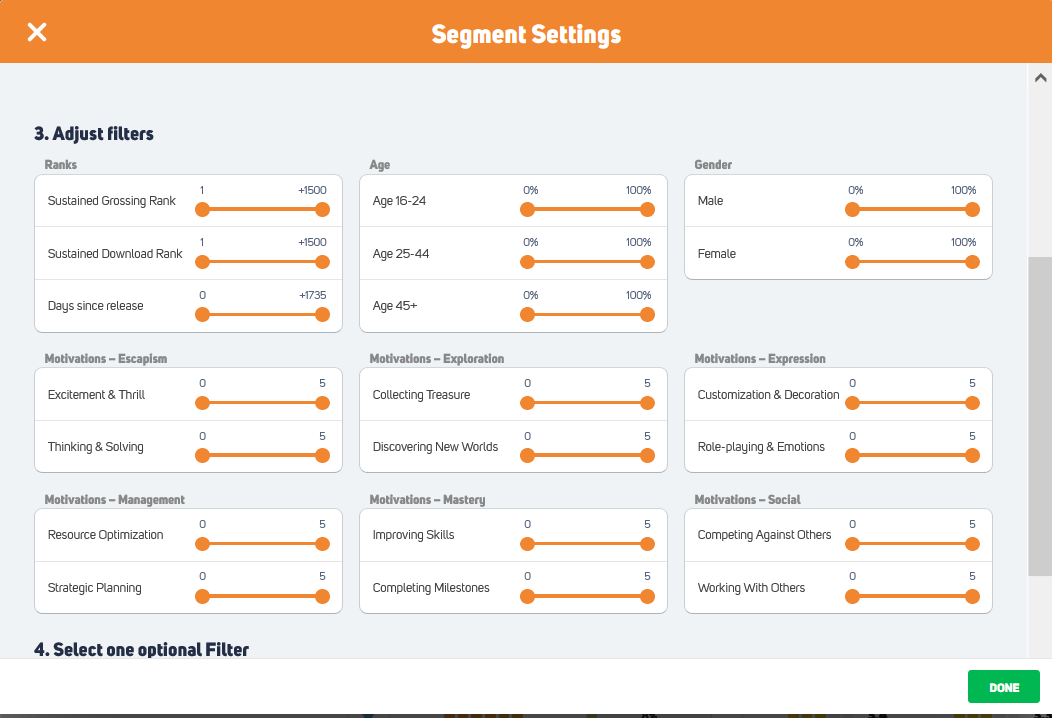 2. Games Data – Immediately access averages on data for motivational drivers of all the games that meet your segment criteria and start comparing them!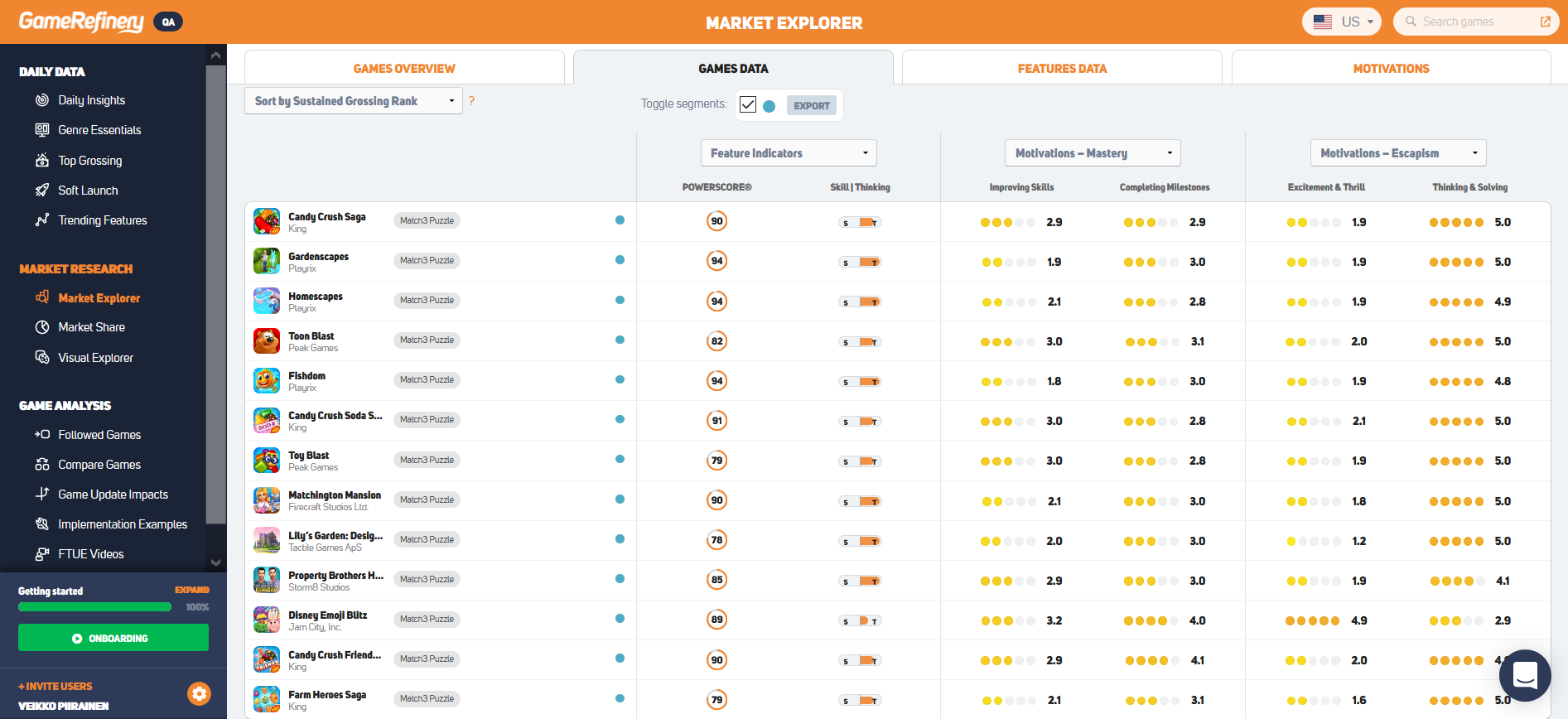 3. Features data – See the average motivational scores for games that have the feature implemented!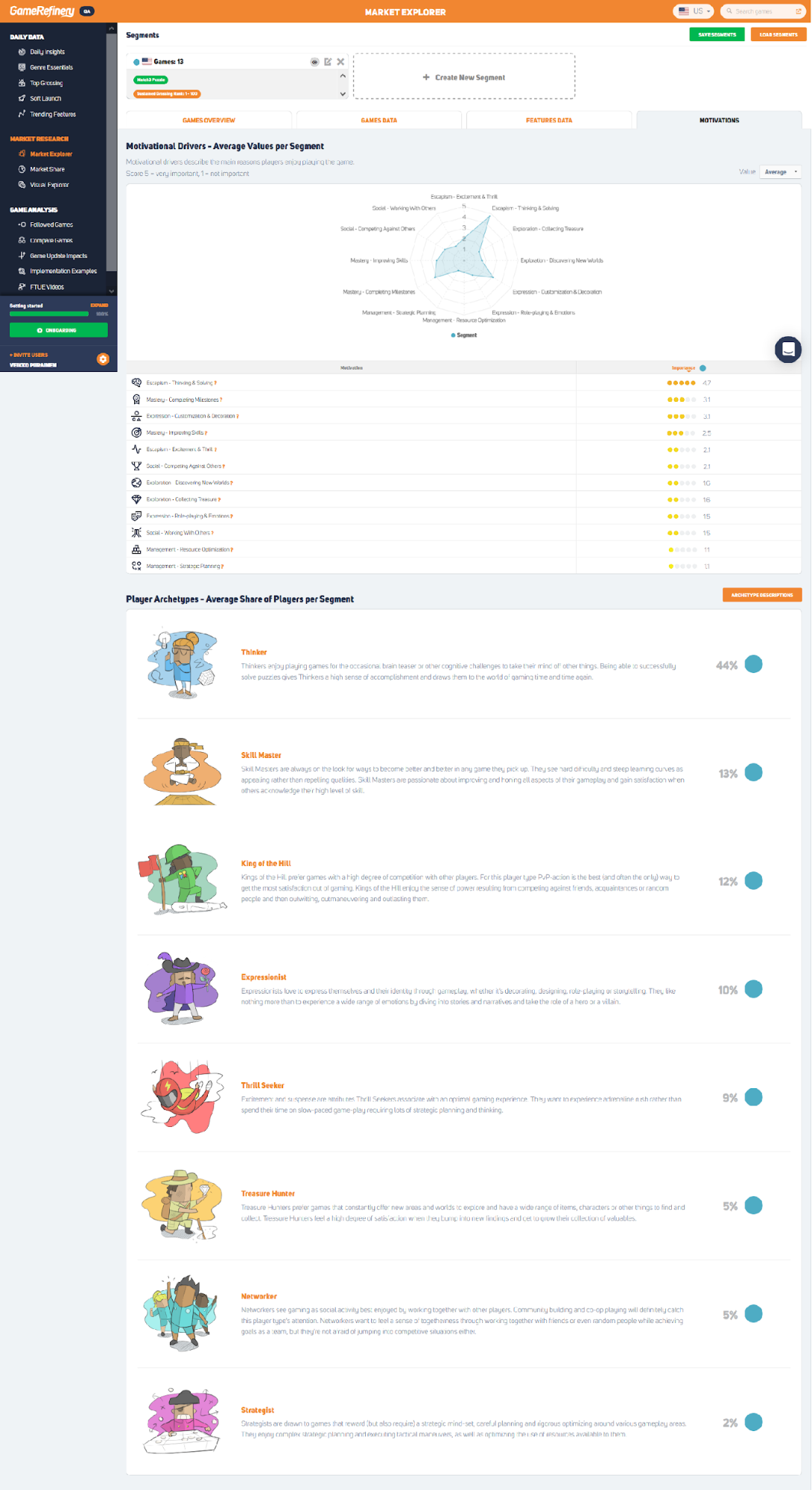 4. In December 2020 we brought a new Motivations update to the service! Since launching motivations in Q2 we have received tons of positive feedback and development suggestions! One recurring piece of feedback was the missing option of seeing the features that drive the 12 motivational drivers we track. We heard your feedback and with this update, features that appeal to each of the 12 motivational drivers are visible on the GameRefinery platform. Read more about the update here!
If you want to see whether your game has similar player archetypes to the top 200 grossing Match3 games or are curious to know which features are implemented in the best performing "excitement & thrill" games, this data addon is for you!
Motivations & Archetypes in Market Explorer offer endless possibilities for game designers, analysts, and production folks to see what/how competitors are resonating with the player base, find information about features, and take that data to the drawing board.
I made a quick video to demonstrate some things you can do, but this is only the tip of the iceberg. Enjoy!
If you have any questions regarding this latest feature or want to get it into your own package, send us a message! We are happy to help.