The final 2020 update to Motivations is here! Since launching motivations in Q2 we have received tons of positive feedback and development suggestions! One recurring piece of feedback was the missing option of seeing the features that drive the 12 motivational drivers we track. We heard your feedback and with this update, features that appeal to each of the 12 motivational drivers will be visible on the GameRefinery platform.
2020s last update is dedicated for our active users who with their feedback helped make GameRefinery motivations and all our tools better!
In practice, you can see which features in competitors' games help improve specific drivers OR what features would improve your own. This way, you can stay one step ahead of the competition or be more precise with your feature road-mapping when targeting certain archetypes or desired behaviors.
In this post, we will walk you through all the places where this new data is available – with provided links to some ready to go queries!
These feature-level motivational breakdowns are available in four places and are immediately available for users who have access to motivations:
Data Glossary

All features are now categorized under motivational drivers in the Data Glossary. This is a very quick and convenient way to see how features affect particular motivations on the GameRefinery platform.
Game overview pages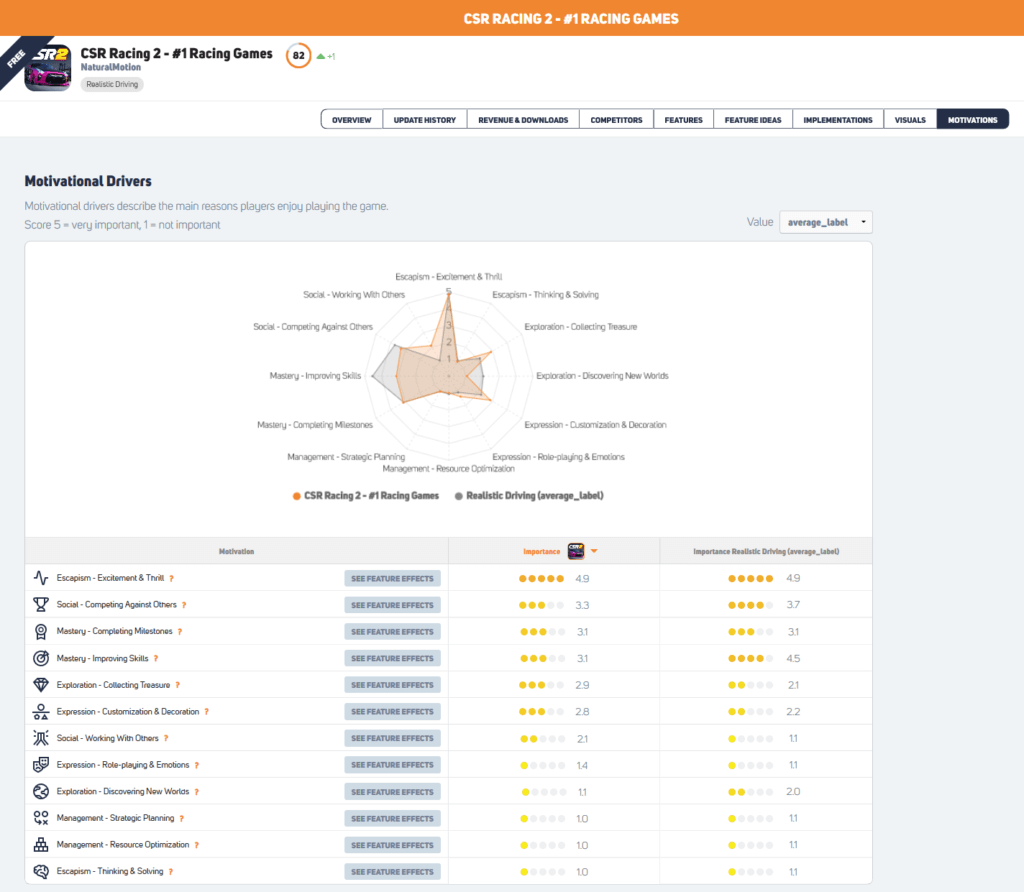 You can see the new "See Feature Effects" button next to the twelve motivational drivers. From there, you can find which of the key motivational driving features that specific game has implemented.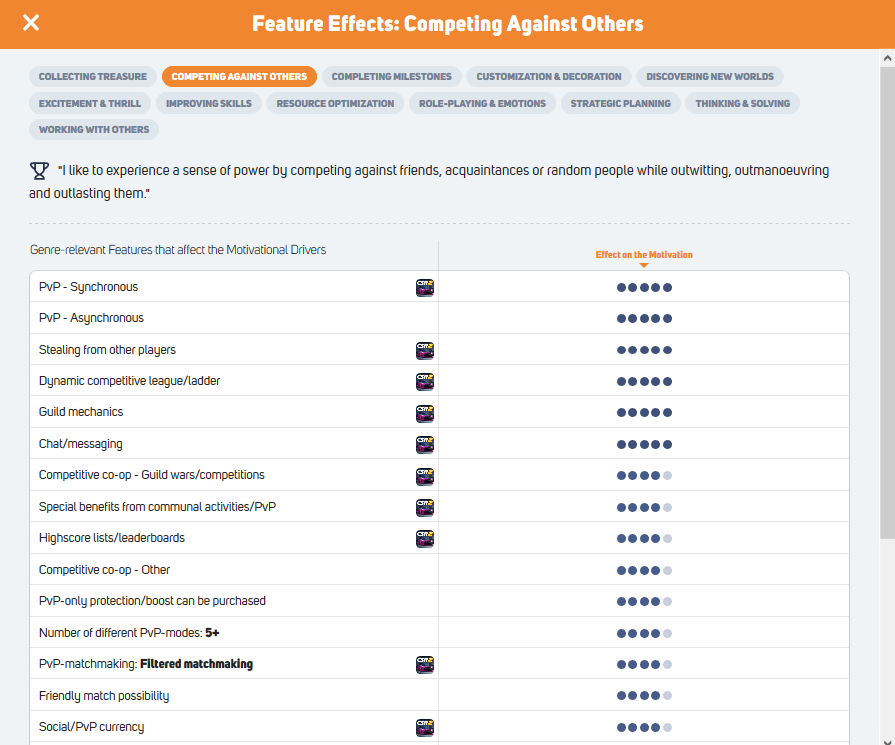 PS. CSR Racing 2 is currently featured on our platform, so you can check its motivations data here 😉
Market Explorer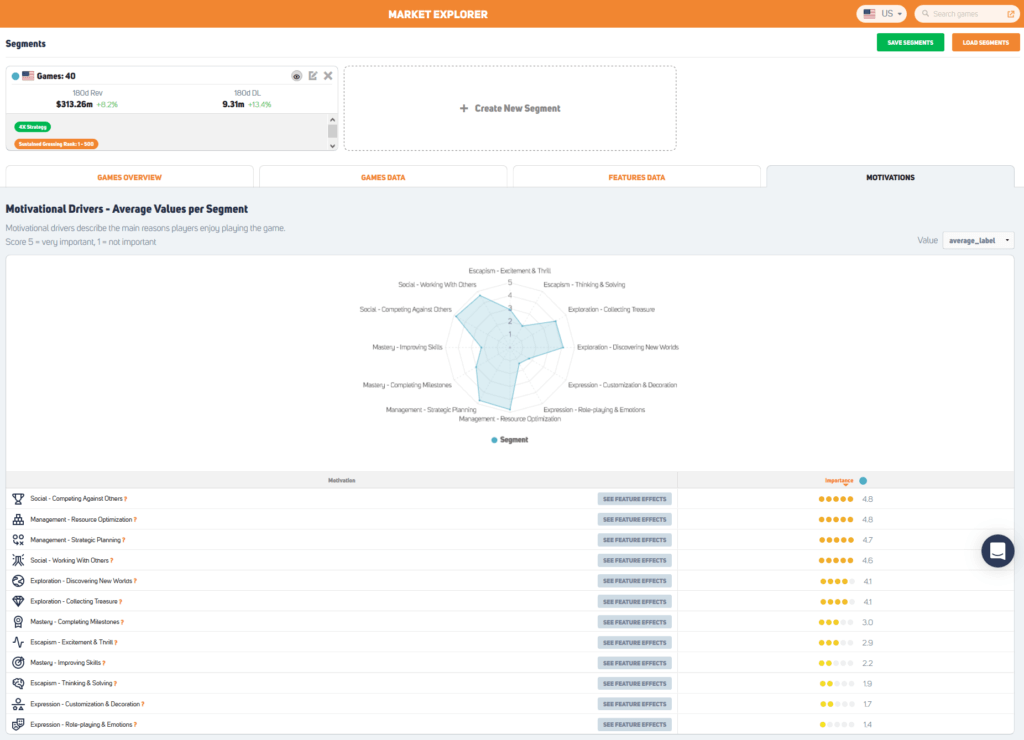 Features with motivational impact are listed in Market Explorers motivations-tab as well. This is convenient for connecting your researched segments and matching games with motivational drivers when conducting market research. You can always jump from market explorer to individual games overview pages when you find something interesting!
Take these top 500 grossing 4x strategy subgenre games in the US as an example!
Compare Games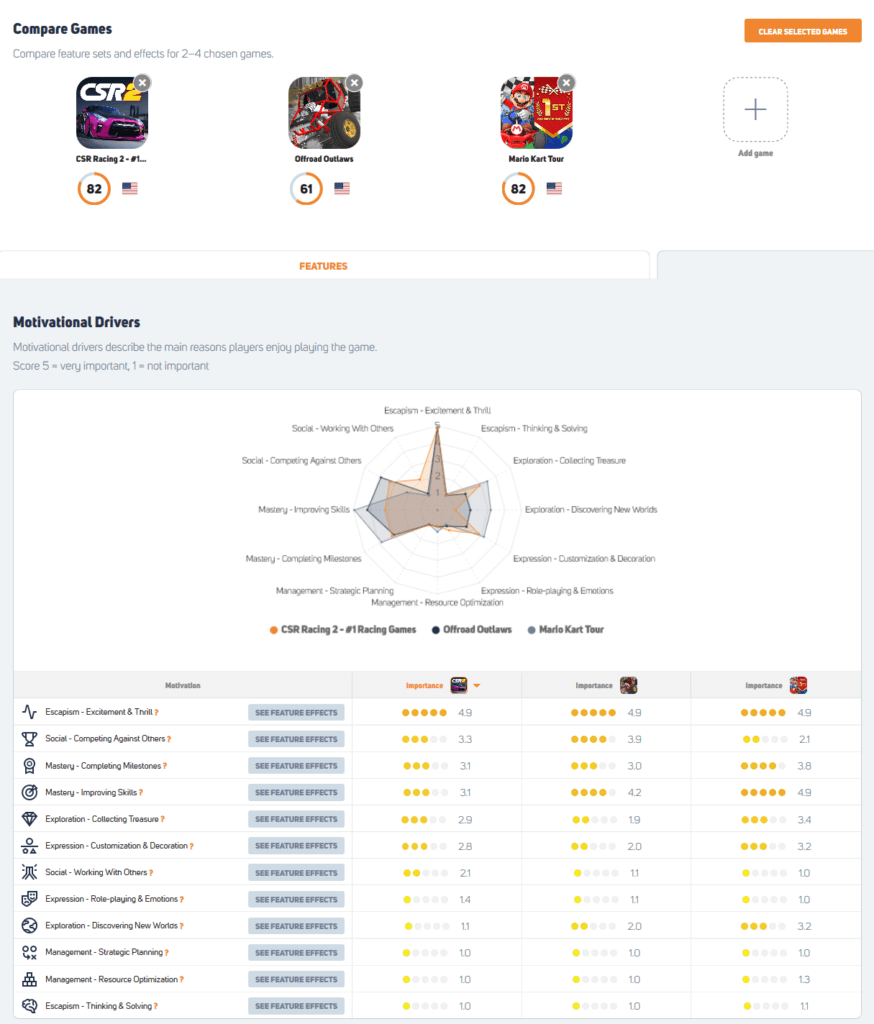 This is where it gets interesting! Are you interested in finding the features that differentiate your games, motivational drivers, from competitors' games? That is now possible in the Compare Games motivations tab!
For example, let's take improving skills. Mario Kart is killing it compared to CSR 2 & Offroad Outlaws. When you choose games to compare, you can see which specific features they have implemented under each motivational driver!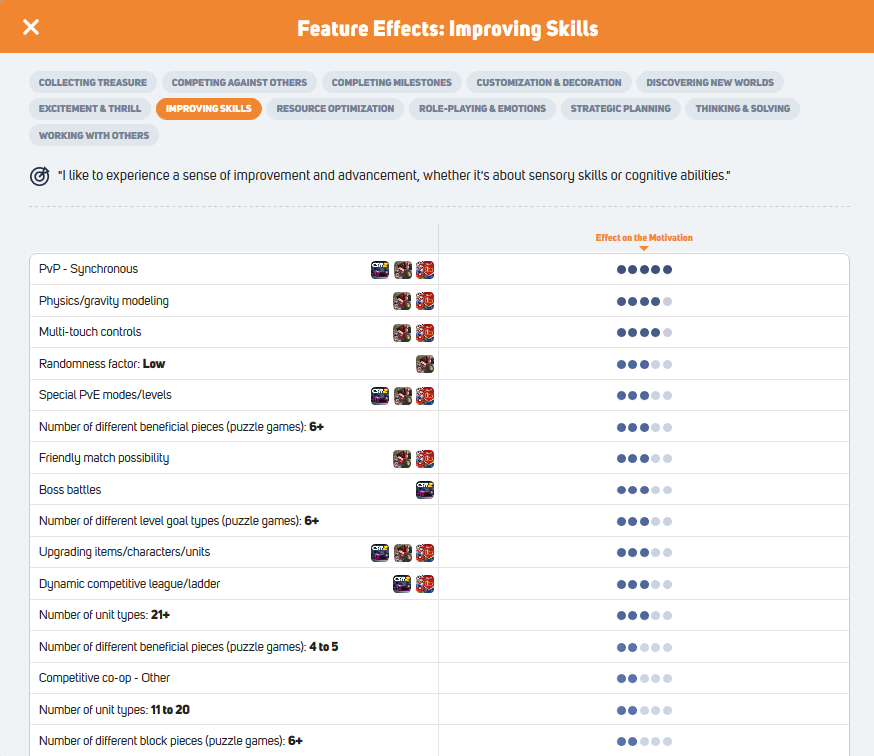 These three games happen to be our featured games, so you can access the data yourself. I created a segment for your convenience here 😊
FAQ:
Is this update free?
If you already have motivations as a part of your plan, then all the data points are immediately available in your package! If not, you need to purchase motivations first.
My plan does not currently cover motivations. How can I unlock it?
Send us a message or email through the service. We are more than happy to hear your use cases and show how GameRefinery motivations can help you solve them!