GameRefinery introduced a new genre taxonomy in April 2021, which included seven new subgenres: Merge Games, Asymmetric Survival, Other Casino, Casual Casino, Sovereign Games, Bubble Shooter, and Tower Defense RPG. The descriptions and example games of the new subgenres can be checked out here in our earlier blog post.
Now we will dig a bit deeper into the market shares of these new subgenres by looking at our data of iOS IAP revenue to find out what is happening in different markets revenue-wise. We will be looking at data from Q1 2021 and compare it with Q1 2020.
Market share in the three biggest markets: US, China, and Japan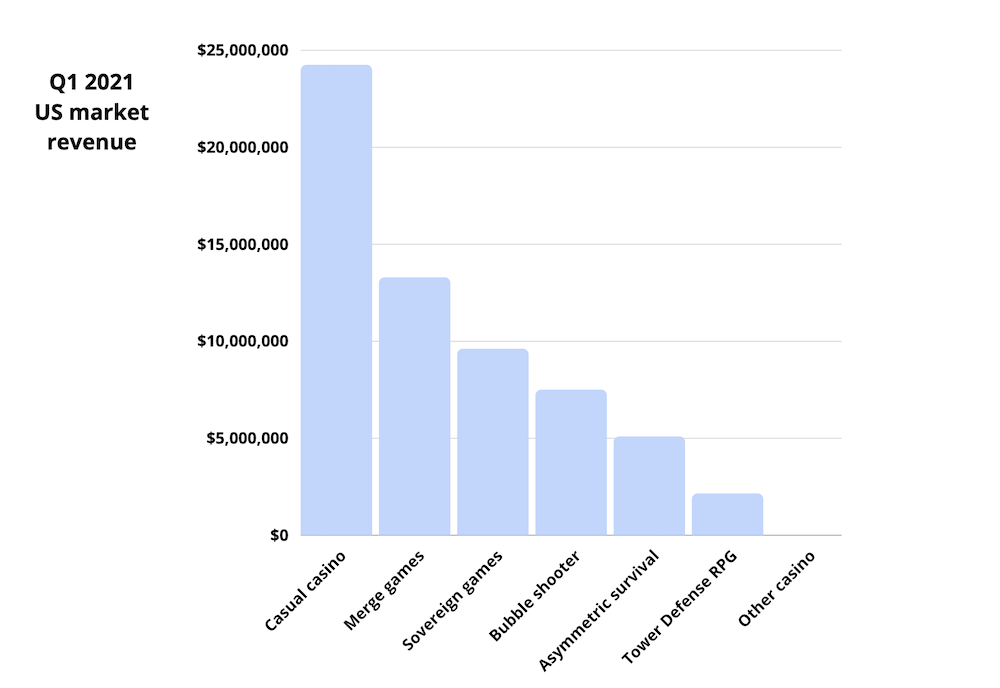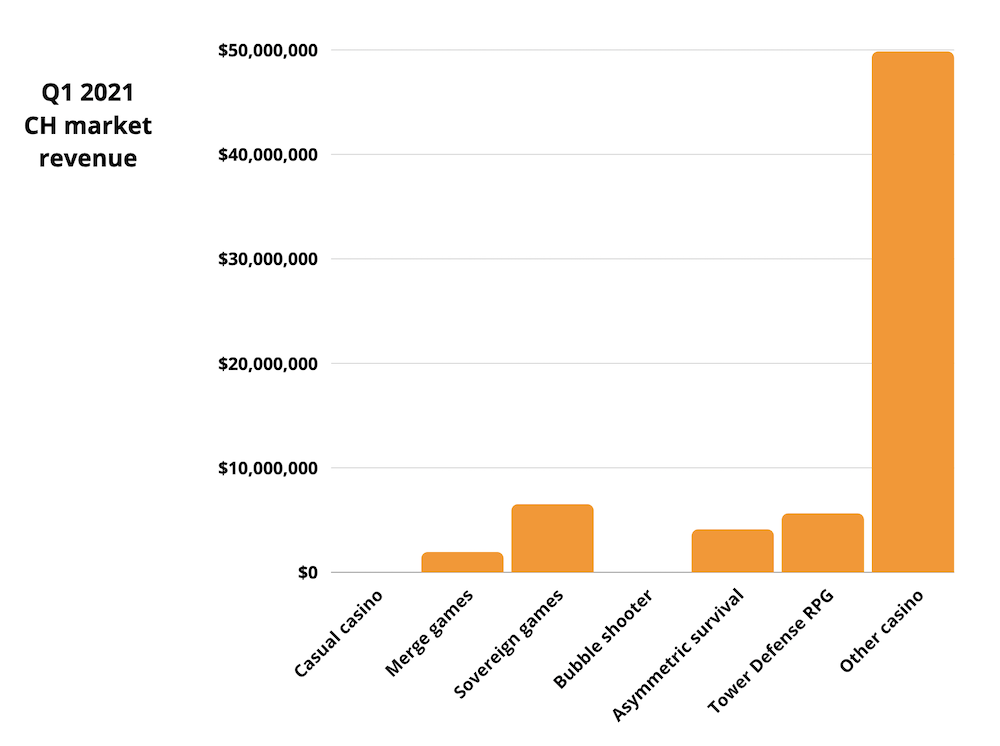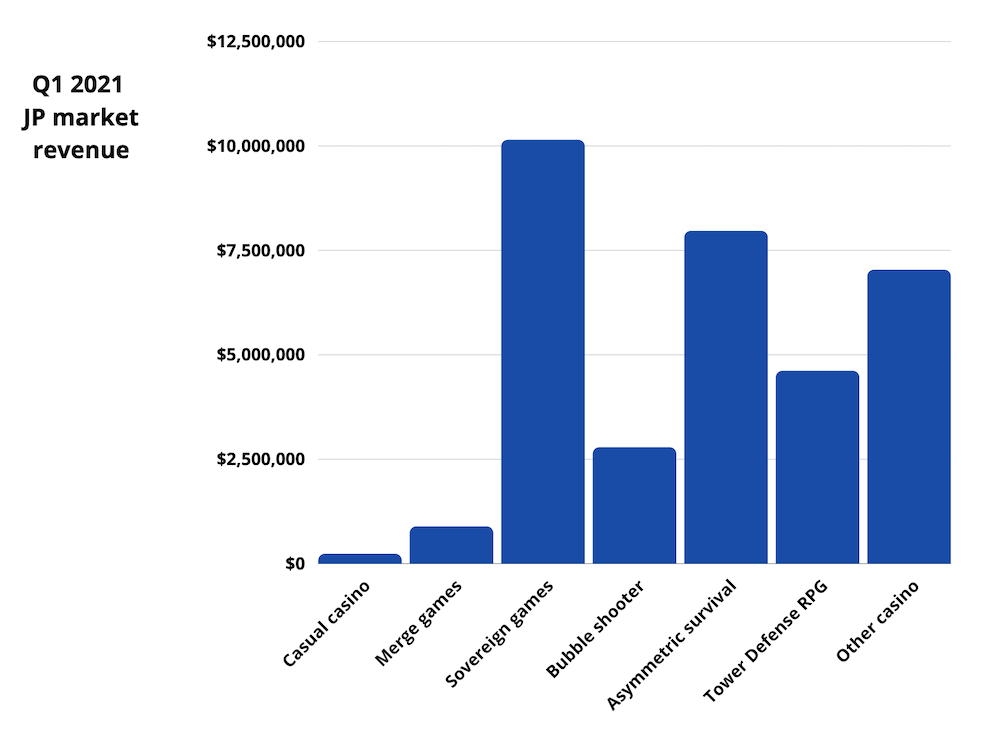 When comparing these subgenres to the overall revenue and the most popular subgenres in these markets, the market shares are not grand. For comparison, in Q1 2021, the biggest subgenre shares were the following:
Match3 puzzle made a $202.40m revenue in the US market
Turn-based RPG had a $279.42m revenue share in the Japanese market
MMORPG had a $468.76m revenue share in the Chinese market
Nonetheless, even if these seven subgenres are not occupying the highest level of the market share when comparing these to the overall revenue and the other most popular subgenres in these markets, they still have market share value and include interesting games that reflect ongoing or potential upcoming trends. Let's look at those a bit further.
Other Casino
One of the most significant market shares from these subgenres comes from the Other Casino in the Chinese market. These include games such as the so-called "fish-shooting games" or Chinese mahjong games.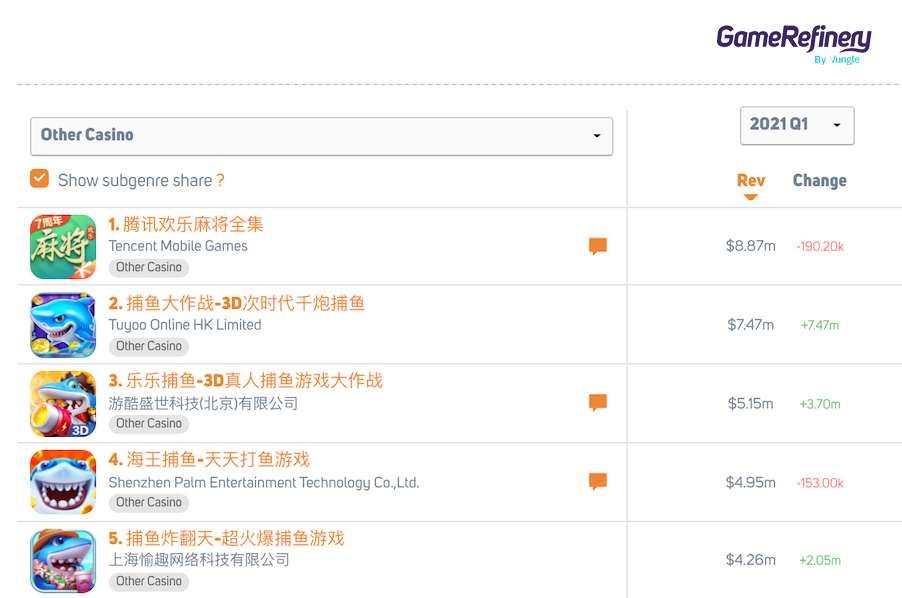 Interestingly, the Other Casino subgenre in the Chinese market contains the highest number of games in the top-grossing 500 compared to the number of games in other markets. That is 22 games in total, while other markets had games ranging from 1 to 9 when looking at all of these subgenres. The Other Casino is heavily leaning on Chinese markets, as only Japan had a few games from this subgenre (around 0.7% of the overall revenue), whereas the US had none. This is naturally due to the fact that the mahjong games in this subgenre are more often better known in Japan than in the West. Most of the "mahjong-games" in the West are "Mahjong Solitaire"-types of experiences, which are quite different from the original mahjong.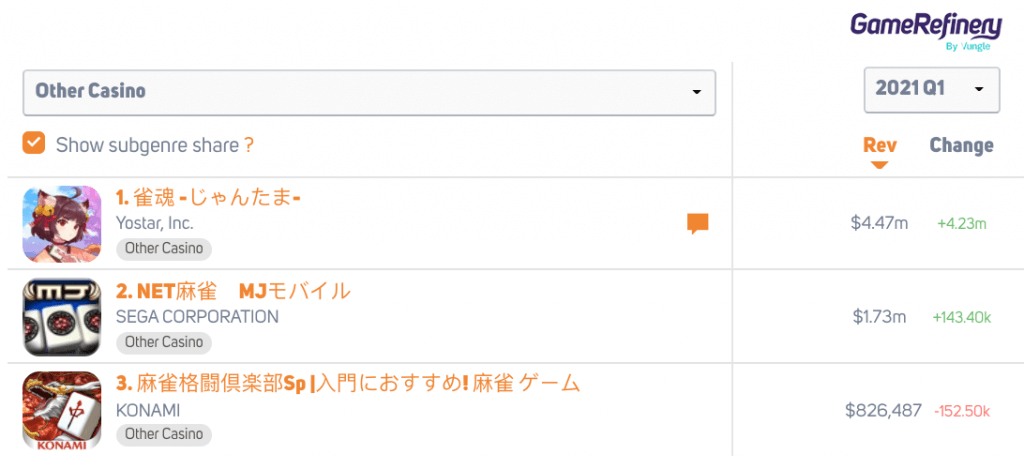 In Japan, Other Casino includes one mahjong game called 雀魂 -じゃんたま-, which has been growing quite a lot during one year ($4.23m). Q1 2020, it had a revenue of $235,871, and in Q1 2021 it had already almost doubled the amount landing on revenue of $4.47m.
Casual Casino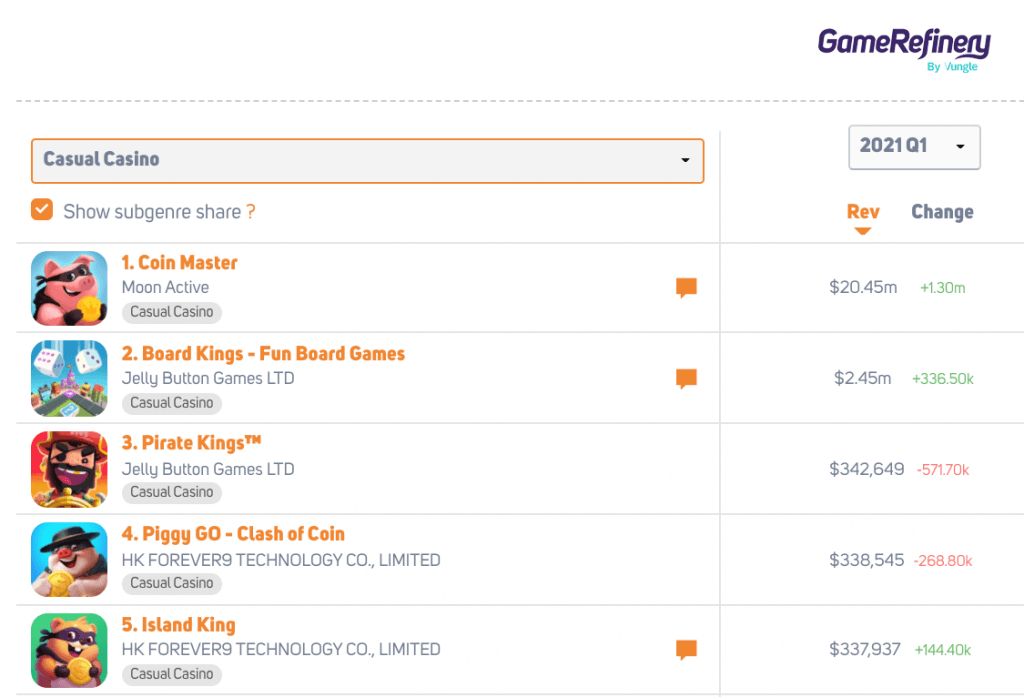 The casual casino is the most successful subgenre of the new subgenres in the Western markets. In the US, it occupies 1.93% of the revenue. When we look at the highest revenue games in this subgenre, Coin Master is gaining the highest revenue and is the only game in this subgenre that has entered the top-grossing 500 in the Japanese market as well.
Sovereign Games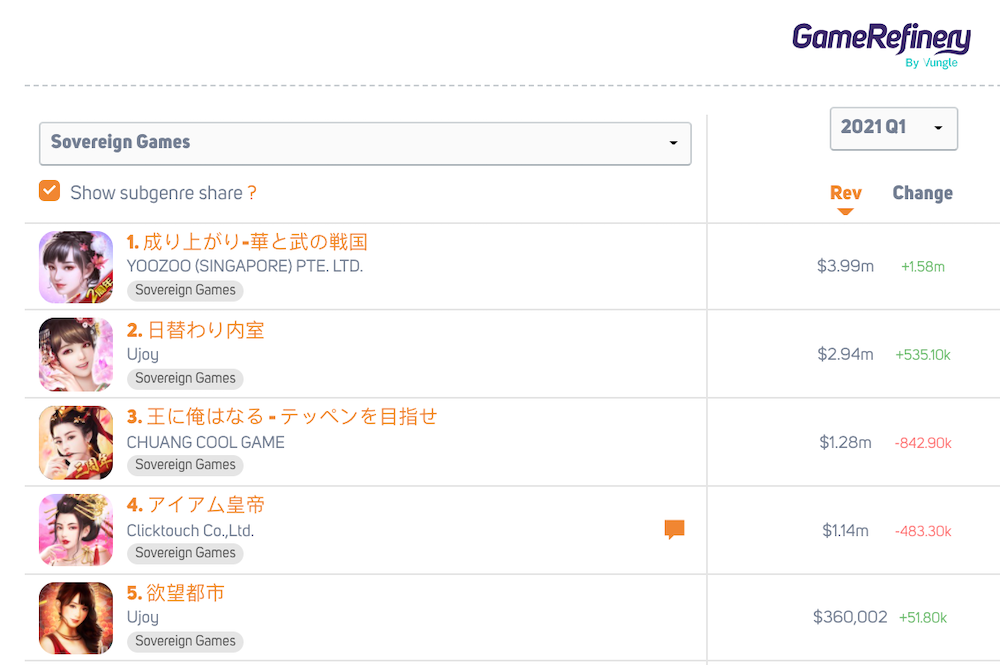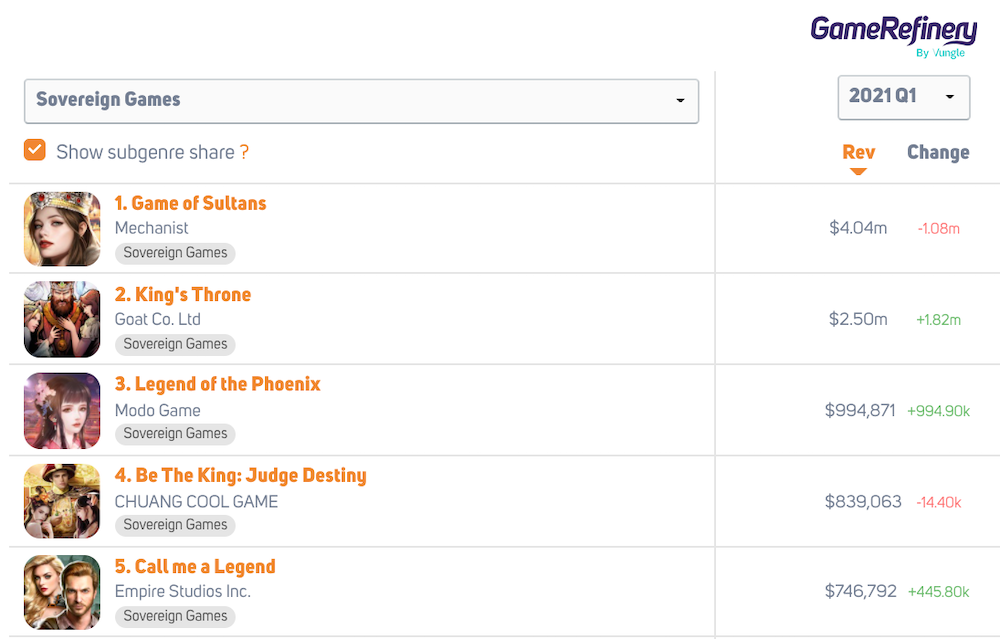 When we look at sovereign games, it can be noticed that Japanese markets are strongest in this area, with 1.02% of revenue coming from this subgenre. However, it does not differ that much from the US market (0.76%), but more so from the Chinese market (0.33%). In the actual value of the markets, differences are somewhat similar, not too distinctive. Additionally, the amount of games is not much higher or lower than in other markets, but they gain slightly more revenue in Japan.
Merge Games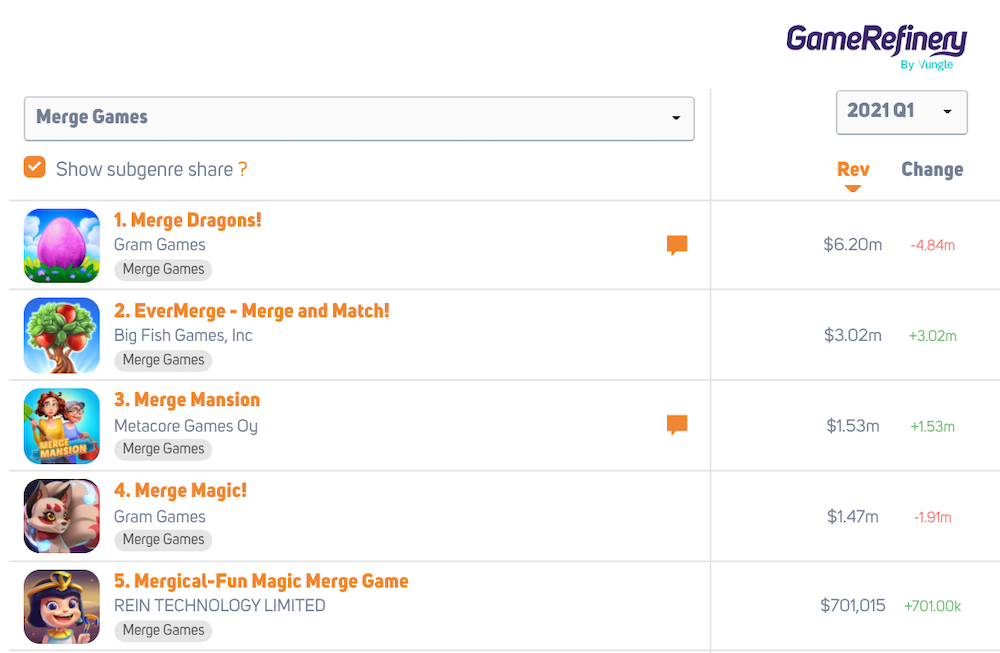 When comparing Merge games, we can see that this subgenre is much more popular in the Western markets (around 1%) compared to China and Japan (about 0.1%). The same games occupy pretty much all of the markets from East to West: Merge Dragons! in Japan and China, and Evermerge and Merge Mansion as a plus in the Western markets, these being the big three of this subgenre. Two of the top three games by revenue in most of the markets, Merge Mansion and Evermerge, were both published in 2020, so merge as a subgenre is still relatively fresh in the market.
Bubble Shooters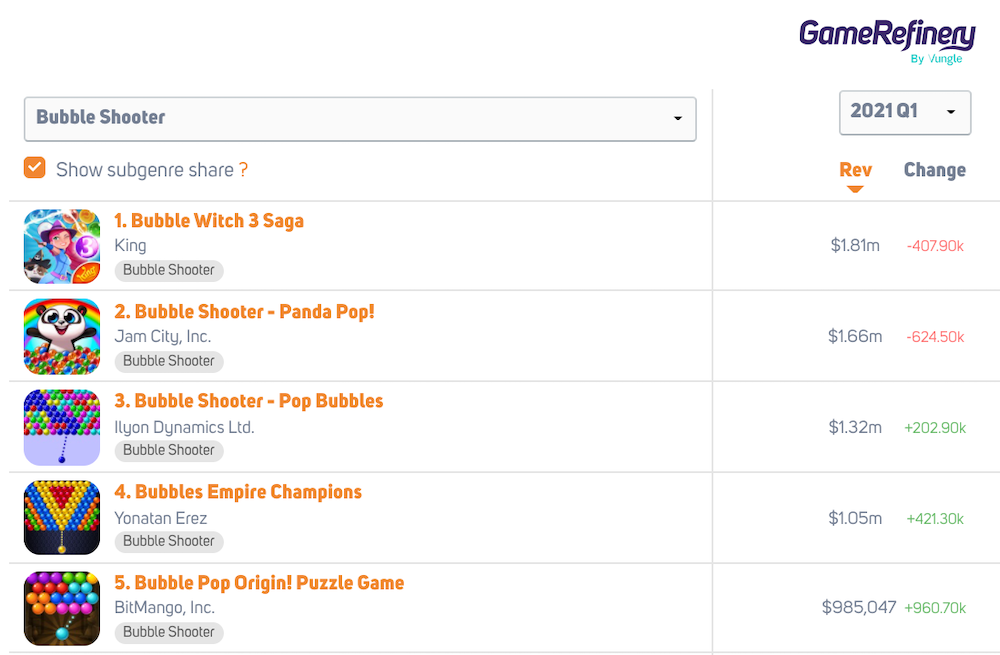 Japanese and US iOS market has some Bubble Shooter games, whereas this subgenre has not reached Chinese tastes, meaning it has no Bubble Shooter games at all in top-grossing 500. Bubble Shooter games make the highest revenue in the US iOS market, but these have come down a bit during the last year.
Asymmetric Survival
Asymmetric survival is making revenue quite equally in different markets. It is the same games that are occupying all of these markets: Identity V and Among Us. However, the Chinese market holds a wild card in this genre, as 猫和老鼠 (Tom & Jerry) is an asymmetric survival game in its top-grossing 500 list.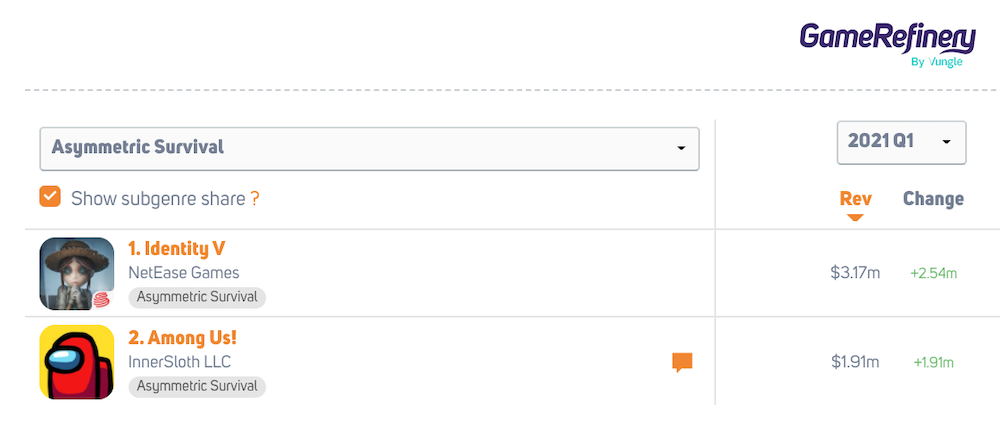 If we compare Q1 2021 and Q1 2020 revenue changes, it can be seen that in the US, asymmetric survival has grown during this year from 0.05% to 0.4%. NetEase's Identity V has been growing its revenue during the past year in the US market (from 0.05% to 0.25% market share), and it shows in the growth of asymmetric survival's revenue.
Tower Defense RPG
Tower Defense RPG shows a somewhat similar trend, as, for example, Arknights is occupying all of the markets, and the Battle Cats occupy the Western markets.

However, Arknight has been diving quite low in its revenue in the Asian markets. In the Japanese markets, Arknight, which is the only Tower Defense RPG game in the top-grossing 500, has seen a high revenue drop of $4.42m when comparing Q1 2021 and Q1 2020. This game has met a similar fate also in the Chinese market, with a $6.26m revenue drop. Same as Japan, it's the only game from this subgenre.
Summary
We hope that this market share analysis of the new subgenres has given you more insight into the smaller subgenres of our genre taxonomy. We here at GameRefinery want to update our genre taxonomy regularly to reflect the evolving mobile gaming market to provide our users a tool to understand their competitors and their target audience. If you're interested to know more about how we lay down the rules of our genre taxonomy, check out our original post on our current taxonomy, New Genre Taxonomy and Why We Need It.