The ever-changing nature of the mobile market means that new monetization mechanics are constantly emerging and evolving. One of the most popular monetization mechanics is the subscription-based battle pass, which was introduced via Valve's DOTA 2 in 2013 but popularized by the worldwide phenomenon, Fortnite. Battle passes have crept into almost every mobile game genre imaginable, with our platform showing that 66% of mobile games in the top 20% have incorporated the feature.
Editor's note: This blog post was originally published in March 2022. We've updated the blog post with new battle pass implementation examples and best practices for introducing the feature into your mobile game.
It's hardly surprising that so many developers have jumped on the bandwagon, as battle passes have a wide range of benefits and can be introduced into almost any genre. Battle passes have been known to lead to higher conversion rates – especially for lower-spending players – offering good value for money for a low price through a premium reward track. These same tracks act as a strong player engagement driver, encouraging users to keep returning for exclusive rewards while boosting player retention rates.
But with so many different examples of battle passes on the market these days, developers have had to get increasingly experimental to build on their past successes. When they get this right, not only can it help their game stand out, but it can cause a significant increase in the number of daily players and the amount of revenue the game generates.
In this post, we'll explore in more detail why the battle pass has become the go-to trend for freemium games. We'll also focus on the many unique and innovative ways to tailor the feature for specific cases and make it even more engaging for players.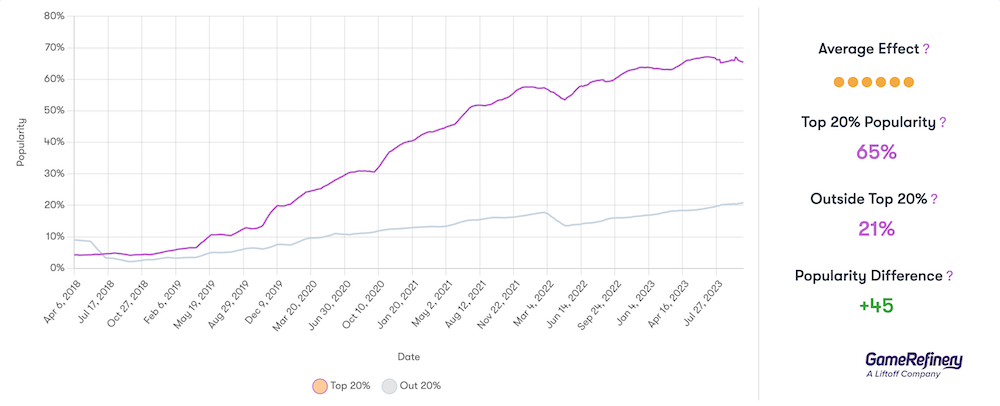 Most innovative battle passes in mobile games
For those less familiar with the concept of a battle pass, this is a season-based monetization mechanic in which players can obtain rewards by progressing through different thresholds. For example, players may have to complete set tasks or gain a certain amount of experience. Usually, battle passes have two different tiers: free and premium. The free layer is open to everyone, while the premium tier (with better rewards) requires an additional purchase.
Historically, battle passes have mostly revolved around cosmetic rewards, boosters, and currencies. While that still remains true today, the feature has since evolved to incorporate other elements and, in some cases, open up access to new features. From subscription-based battle passes and ad-monetized battle passes to those that merge with other in-game features, we've pulled together some of the most innovative examples below.
If you're looking for something specific, you can also use the list below to jump to a specific game and its unique battle pass.
The subscription plan battle pass – Call of Duty: Mobile
At first glance, Call of Duty: Mobile's battle pass appears to be relatively standard. It follows a basic format with free and premium rewards, with the latter being unlocked by purchasing the pass with premium currency. The rewards include cosmetics such as gun skins, characters, consumable exp boosters, and additional premium currency. However, what makes this battle pass unique is that it can also be purchased through an auto-renewing monthly subscription plan called Ground Forces, which provides additional rewards.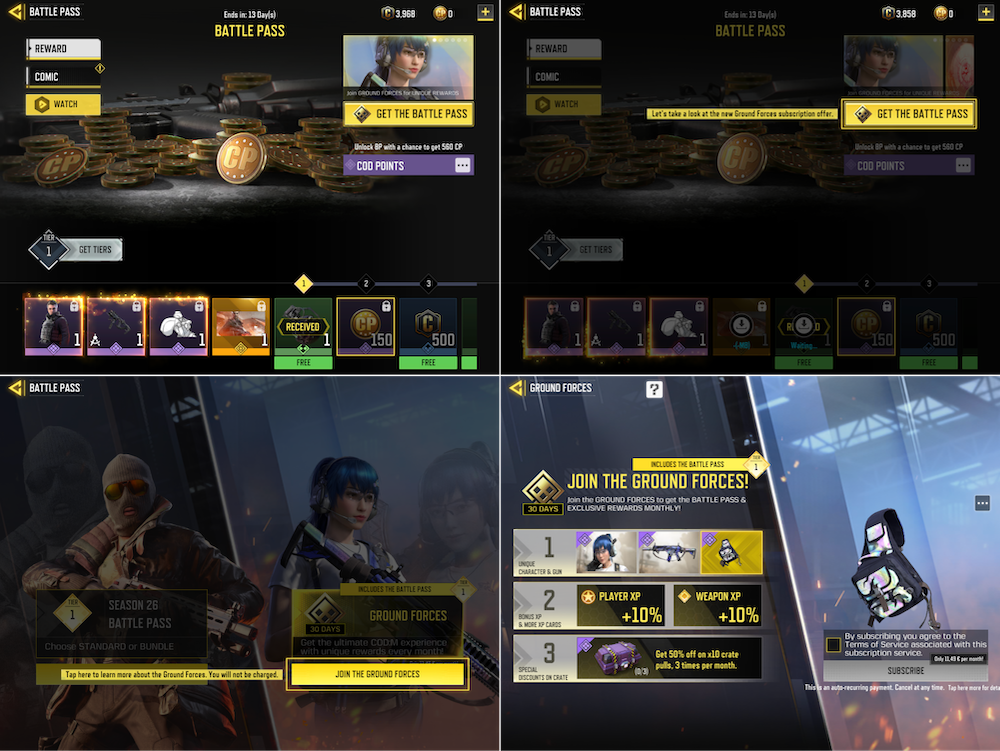 In addition to letting players access the premium battle pass rewards, subscribing comes with various other benefits, including a unique character, weapon, and backpack skins for each subscribed month, a 10% boost to weapon and player XP, and 50% discount coupons for crate purchases. If a player cancels their subscription, they lose access to the boosts and coupons once the season ends, although any skins and characters are kept permanently.
Subscription-based benefits such as these have become more commonplace since battle passes first rose to prominence, but Call of Duty's use of auto-renew is a unique approach that only a few other titles (such as Zoopla) have implemented. The auto-renewing subscription incentivizes players to keep purchasing the premium reward tracks of the battle passes by offering great additional perks.
Plus, players can still purchase individual battle passes if they prefer, meaning that users have the flexibility to choose an option that best suits their own individual playstyle.
Multiple battle passes – Mobile Legends: Bang Bang
In addition to being one of the highest-grossing mobile MOBAs, Mobile Legends: Bang Bang (MLBB) features a wide array of game modes that incorporate elements from a number of different genres. One of the most popular side modes in the game is Magic Chess, which has its own ranked seasons, collectible hero characters, cosmetics, and, most notably, its own battle pass. This makes MLBB one of the few mobile games on the market to feature two entirely separate battle pass plans. The two options are the 'Starlight Pass' for the core MOBA gameplay and the 'Magic Chess Pass' for the auto-chess mode.
Both these passes reward players with exclusive cosmetic items, special materials, regular currencies, and premium currencies for use in special 'Starlight Shops' included in both passes. Each pass also has subscription-like perks when purchased, with the Starlight Pass including weekly free heroes and skins, exclusive avatar borders, weekly rewards, and more. Perks for the Magic Chess pass include a hero pool privilege and five additional stock slots for easier combining, which both help in PvP.
This double battle pass approach fits the game well, as the two modes are vastly different and have the necessary depth (and popularity) to warrant their own individual progression plans. It also means that players who want to progress in both modes will likely need to purchase multiple battle passes if they're to keep up with the competition.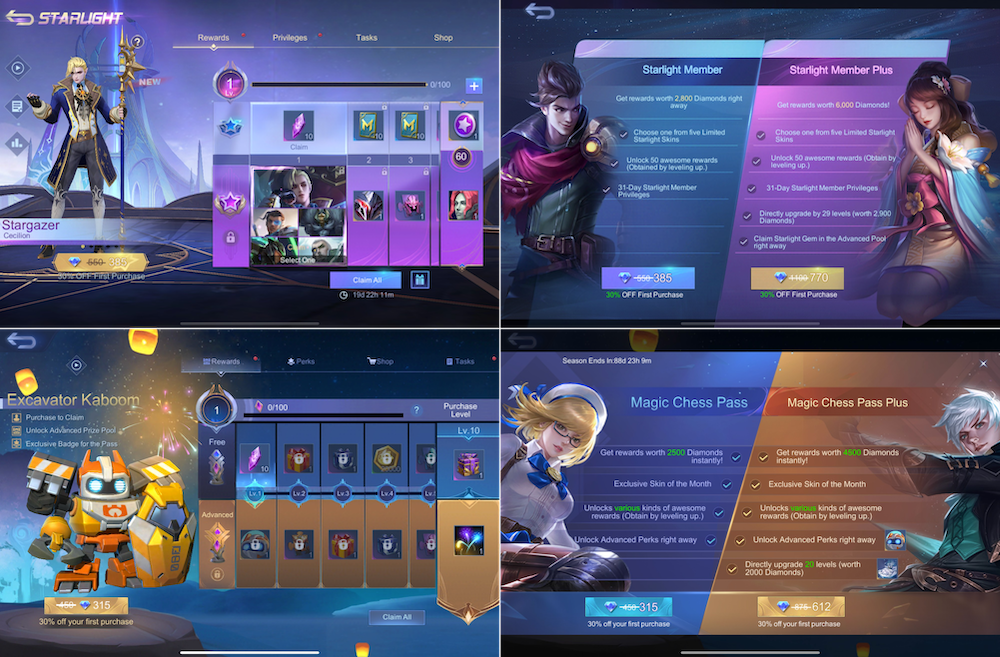 Multi-tiered battle pass – State of Survival and Clash Royale
Rather than featuring multiple unique battle passes, some mobile games, such as the 4X strategy game State of Survival, have opted for multiple battle pass tiers instead. By increasing the number of tiers in their battle passes, mobile studios can increase the options awarded to their players, with one such example being State of Survival's Operation Festival: Battle Plan event.
Players progressed through reward milestones during the event with battle XP, obtained in the Operation Festival: Task Challenges event or by purchasing the Operation Festival: Easter Returns bundle. As players progressed through the event battle pass with points (Baits in this case) collected from the linked events, they opened up milestone rewards, such as the Flawless Pearl special currency, which was used to purchase skins and upgrade materials in a limited-time shop.
The event gave players three different tiers to choose from. ​The first tier is free and rewards one reward per milestone reached. The second tier is purchasable for real money and rewards one additional reward per milestone reached, as well as rare items. Once the second level is purchased, players can buy a third tier through IAP that rewards two further rewards per milestone reached and even rarer prizes.
State of the Survival is far from the only one, too. Clash Royale overhauled its battle pass in 2023 to introduce a single multi-tier reward track, with a "Gold" premium layer for $5.99 offering extra rewards and an even more premium layer for $11.99, "Diamond" that provides even better rewards. Giving multiple options this way is an excellent tactic to boost battle pass revenue without cutting off a portion of the player base by raising prices.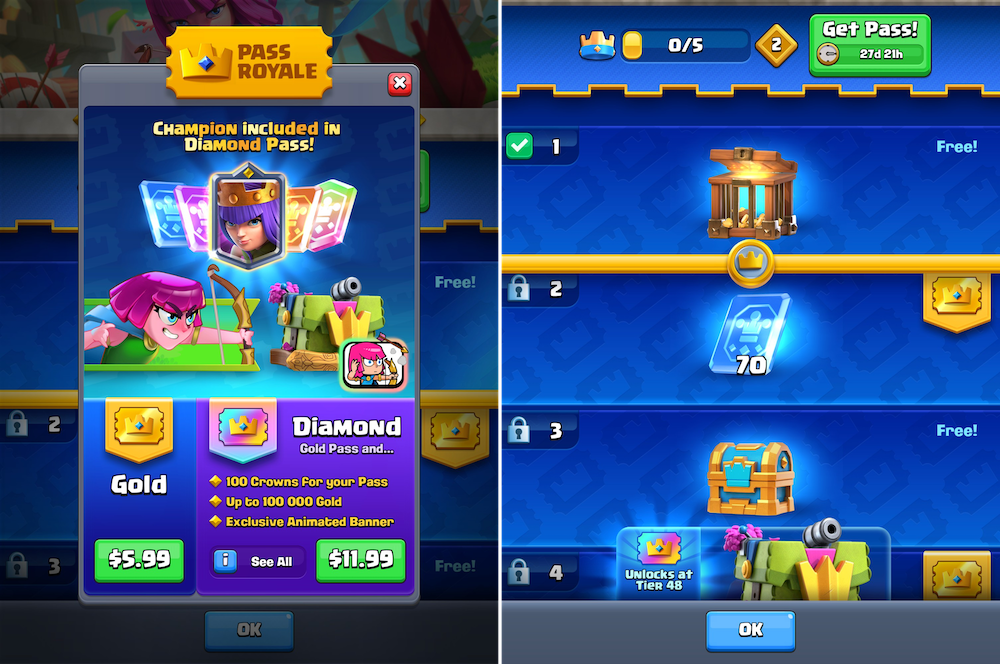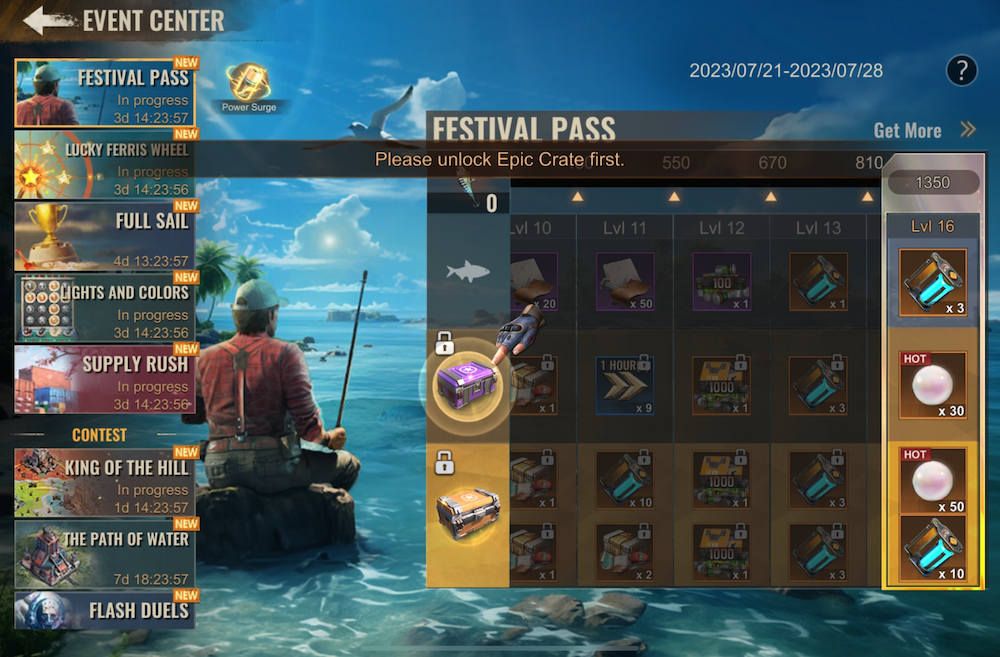 Battle passes for different player types – Dragon Ball Legends
Dragon Ball Legends offers players a variety of gameplay modes, from a single-player story mode to co-op PvE events and competitive PvP. This range of options means the game caters to different players, as some enjoy certain aspects of the game more than others. That diversity of taste amongst Dragon Ball Legends' players is at the heart of its battle pass, Mission Plans.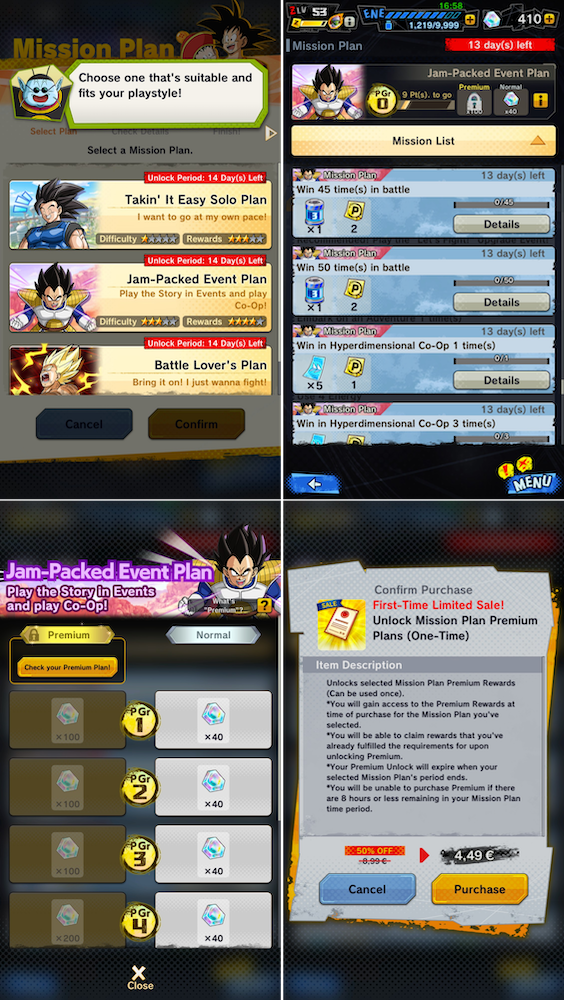 The Mission Plans allow users to customize their individual battle pass and be rewarded for playing the game their way. There are three main options: the 'Takin' It Easy Solo Plan' for solo players, the 'Jam-Packed Event Plan' for those who love co-op and events, and the 'Battle Lover's Plan' for fans of PvP.
The main difference between the three is the focus on specific modes. For example, a player who focuses on the solo plan will get challenges and rewards more tailored to that specific playstyle. Each option lasts for the same length of time and costs the same amount of premium currency, so there is no penalty for choosing your personal preference. If players change their minds, they can choose a new pass once the season ends.
The social co-op battle pass – Top War
The 4X strategy game Top War is a team-focused game where players create guilds. They help each other progress through the game, participate in co-op events, and fight other guilds for world map control. If a player wants to get the most out of the game, they should join an active guild, which Top War calls 'Alliances.' It's here where the game's unique battle pass, Alliance Transportation Team, comes into play.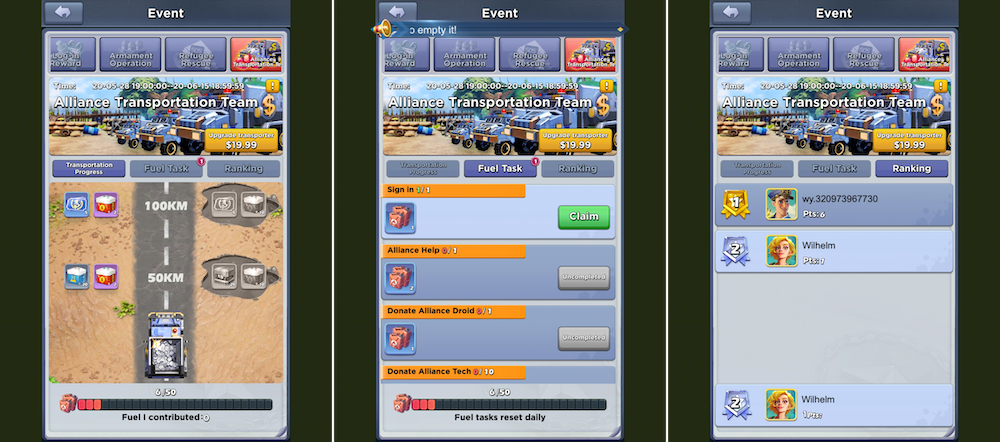 Alliance Transportation Team is a shared battle pass between all guild members, meaning everyone must work together to progress. Each Alliance member completes their own tasks, contributing to a shared progression meter. If a member wants access to the premium track rewards, they must purchase the pass separately.
This co-op task implementation works well in games that focus heavily on guilds or teamwork, where the players work together towards common goals. Plus, seeing the progression made by the group as a whole and the available rewards in the premium track help to encourage players to take up the premium option.
Battle passes with a piggy bank system – Mech Arena & Merge Dragons
The battle pass in Mech Arena follows the basic formula of having players complete specific tasks to progress, with the option of purchasing a premium 'Gold Pass' to access better rewards. Where it gets interesting is that purchasing the Gold Pass also lets players open a 'piggy bank' at the end of the Battle Pass season.
This 'Seasonal Credit Stash' is filled by the player completing matches during the season, becoming more valuable as time passes. It is combined with 'player experience boosters' in the reward track, which are also included as a bonus for purchasing the Gold Pass. These boosters stack and last for the season, incentivizing players to purchase the Gold Pass immediately to progress as fast as possible.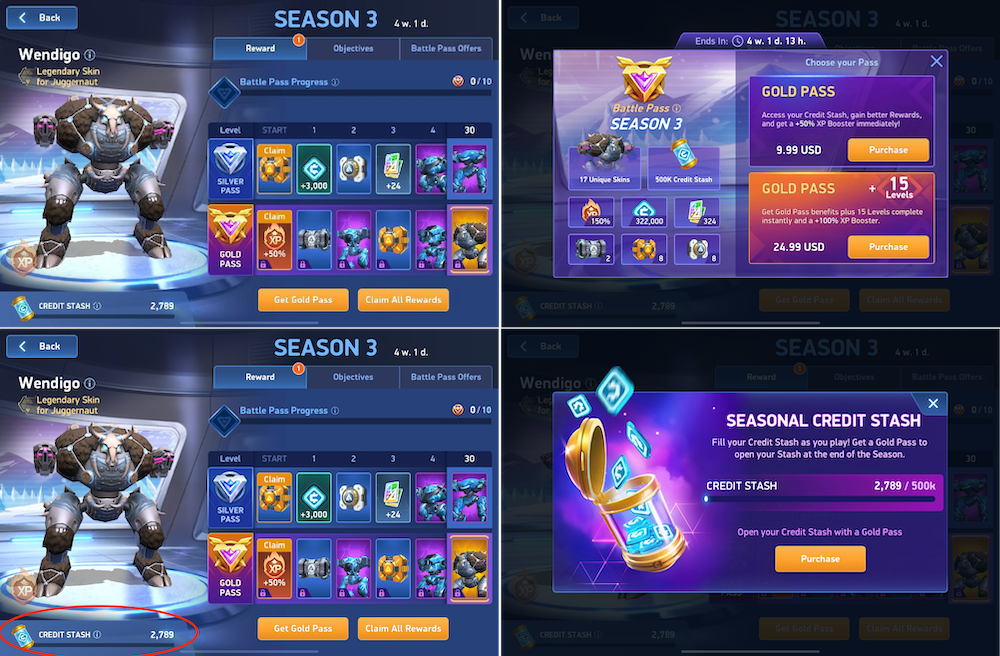 However, Mech Arena isn't the only one with a piggy bank system. Merge Dragons introduced a similar feature into its battle pass with an update in December last year, with every completed quest storing an additional 50% of accrued Season Points (which progress the reward track) into the piggy bank. Players can access these savings immediately if they have the premium Royal Pass.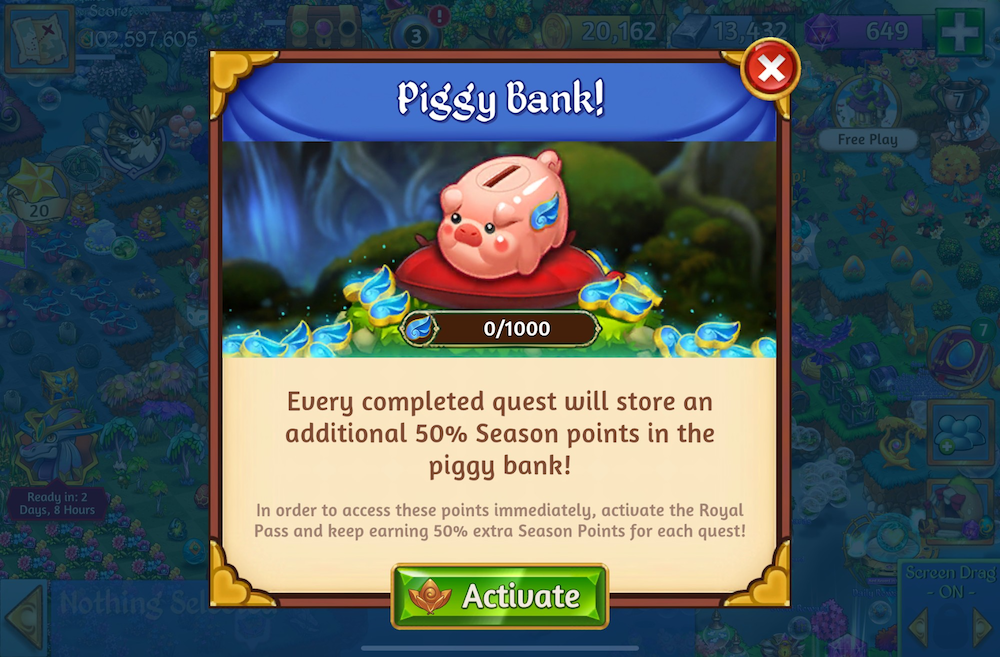 Ad-monetized battle passes – Solitaire Home Design
Solitaire Home Design is a casual solitaire game combined with a renovation meta and interactive story gameplay. In terms of monetization, the game has a traditional casual puzzle game IAP model combined with relatively heavy ad monetization. The game utilizes various monetization mechanics, including a unique ad-monetized battle pass.

The Diamond Seeking event is an ad-monetized battle pass, where players collect diamonds by passing the main solitaire levels on the first try to gain progression in the event's reward track. As you'd expect, there are free and premium reward tracks, but unlocking the premium track rewards requires the player to watch incentivized ads for each reward. There is also an option to purchase the premium track directly, removing the need to watch ads.
The diamond-seeking event lasted for just three days, which is relatively short compared to the usual two to four-week lengths of battle passes, with simpler rewards, including regular currencies and consumable boosters.
Leaderboard battle pass – SimCity Buildit
Around 66% of the casual games we analyze in our live events tracker feature a battle pass, demonstrating how important the feature is to player engagement within the genre. As we've seen so far, there are various ways battle passes can be implemented. SimCity Buildit is a great example of battle pass innovation as it links its battle pass to a leaderboard competition.
In the Mayor's Pass, players select an assignment from a list they must finish before the timer ends to earn points. As well as being used to reach reward thresholds, these points are tracked by the "The Contest of Mayors." This contest sees players placed in leagues based on their earnings, with the best players being promoted to the next league while those ranked below 80 are demoted to a lower league. 

Contest progression is reset on a weekly basis as players are promoted or demoted during the Battle Pass season. This encourages players to keep coming back and see where they can place against their friends. Players can also refresh the point-earning assignments through in-app purchases to get an edge in the competition, boosting revenue.
Outside this competitive element, the Mayor's Pass is relatively ordinary, with two reward tracks, free and premium. Two premium plans are available: one unlocks the premium reward track, and the other offers seasonal boosts and unlocks several reward thresholds. However, it's worth noting that SimCity Buildit also features an entirely different second battle pass, the Vu Pass, focused on teamwork via guilds. The VU Pass provides an alternative option for those who find the competitive scene too intimidating.
Collaborative battle pass – Stumble Guys
In-game collaboration events have increased massively in popularity recently. Despite this, it's still fairly uncommon to see a collaboration linked directly to a season pass, as rewards are usually kept separate to help fuel in-app purchases. That said, Stumble Guys and its MrBeast-themed pass 'Stumble Pass' are one of the few outliers.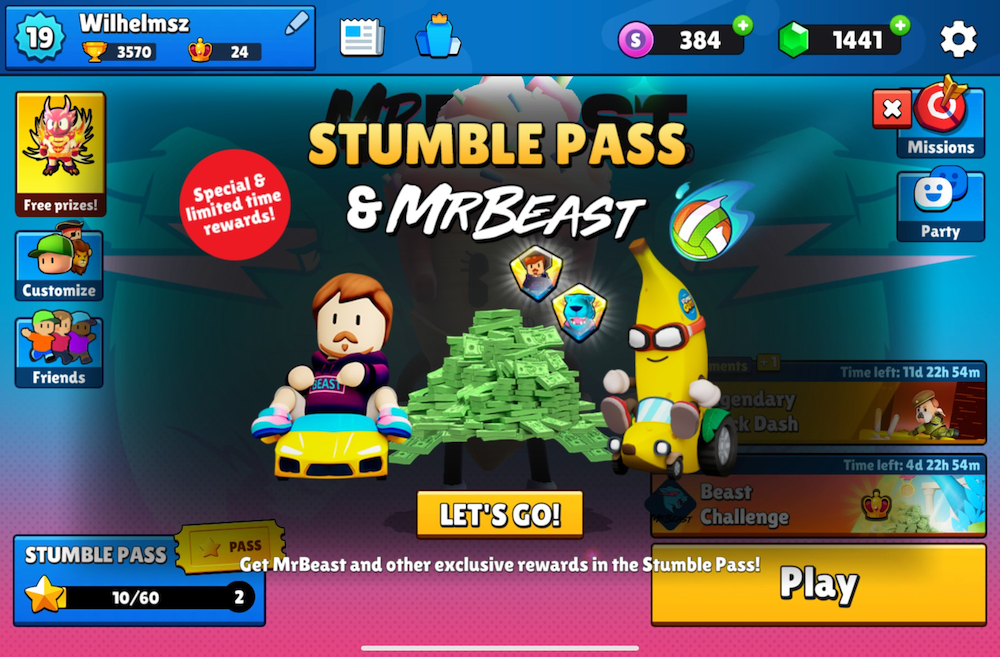 The core of the Stumble Pass utilizes standard battle pass mechanics. Players collect stars by completing regular game matches, unlocking rewards from free and premium reward tracks (via premium currency). These rewards include character skins and other cosmetics, which were themed around the popular YouTuber and influencer for this collaborative edition. This collaboration also saw the launch of a new resource used to unlock further cosmetics, Skin Shards, which were awarded to players as they progressed.
While it can be risky, having a collaboration event battle pass such as this can lead to increased engagement, as players have easier access to exclusive items from free and premium reward tracks themed around a popular IP or franchise, encouraging them to keep coming back to play and progress.
Pet system battle pass – Caesars Slots
One of the reasons battle passes have become so popular is that they can be successful in almost any genre. One of the more unusual examples of this in practice is casino games, such as Caesars Slots. This title is particularly unique in that it combines a pet system with a battle pass.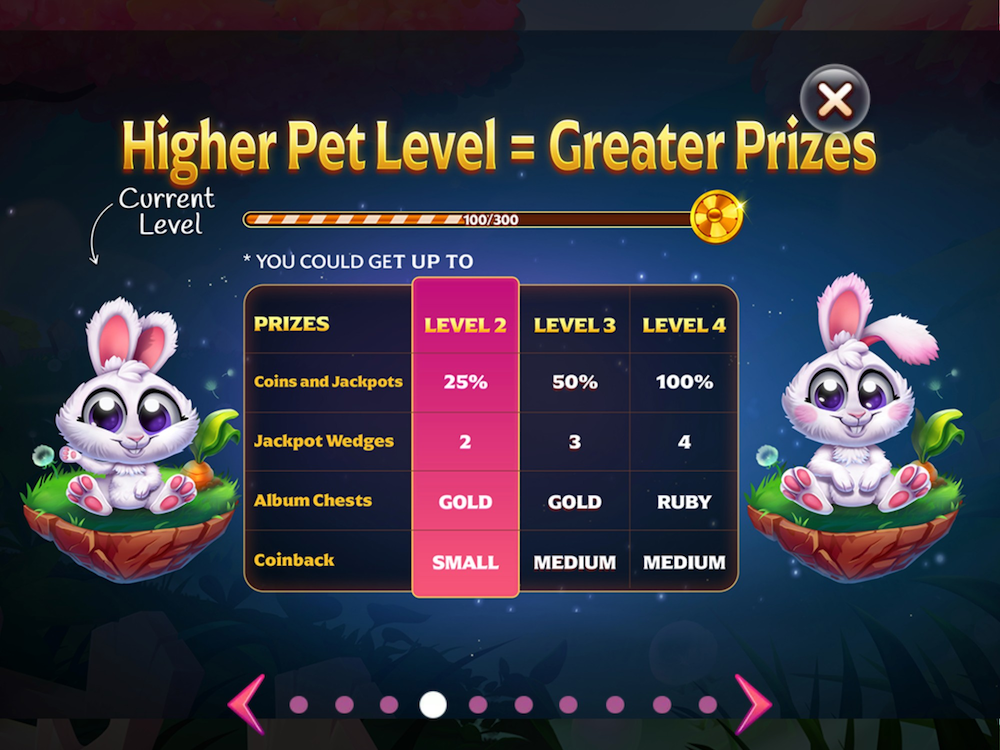 All players have a 'Prize Pet' they feed treats to (obtained by completing daily tasks, level-ups, IAP offers, and minigames), which unlocks rewards from a limited-time prize track. If a player manages to hit all reward thresholds before the timer runs out, the pet will level up, increasing the value of the prizes while creating a sense of urgency that drives engagement.
Once players open the Prize Pet feature, they receive a daily gift from their pets. They can also access a Wash Boost through IAP, which offers coins and increases the amount of treats received from spinning slots for two hours. Players who become highly invested in their pet companion can invest in the system further by purchasing the premium "Sweet Pass" battle pass for better rewards.
Former battle pass shop – Diablo Immortal
One of the most significant factors driving battle pass engagement is that they offer exclusive rewards only available for the pass duration. However, that's not quite the case for Diablo Immortal, where players can purchase rewards from previous battle passes via a dedicated store.
The catch is that players can only access this special archive store by purchasing the most expensive version of the battle pass, which offsets any potential loss. The "Collector's Empowered Battle Pass" costs $14.99 ($9.99 more than the regular premium pass) and rewards players with Battle Archive Coins as they progress, used to purchase goods from the store mentioned above.
In time, this looks likely to become a broader trend, with Call of Duty deploying another system that allows players to access discontinued rewards by customizing their reward track. Currently, this is only available on PCs and consoles, but the feature is expected to transition to the game's mobile iteration in the not-so-distant future.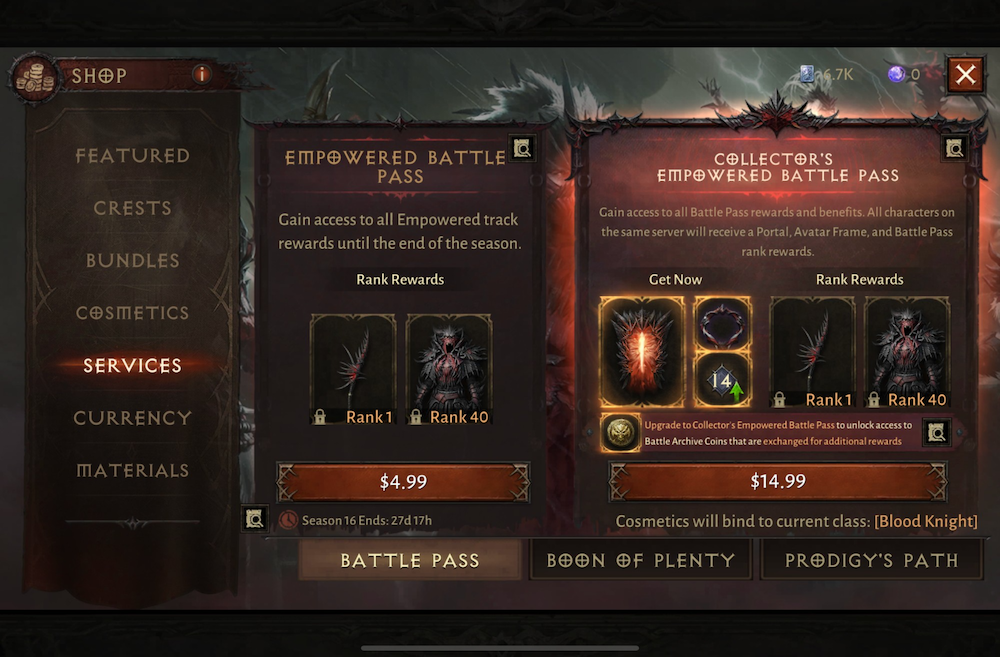 Utilizing battle pass mechanics in other events – Cooking Diary
Battle passes have become so popular that aspects of their mechanics have been brought into other aspects of select titles. One example is the time management game Cooking Diary, which uses similar free and premium track rewards in its recurring Food Truck events.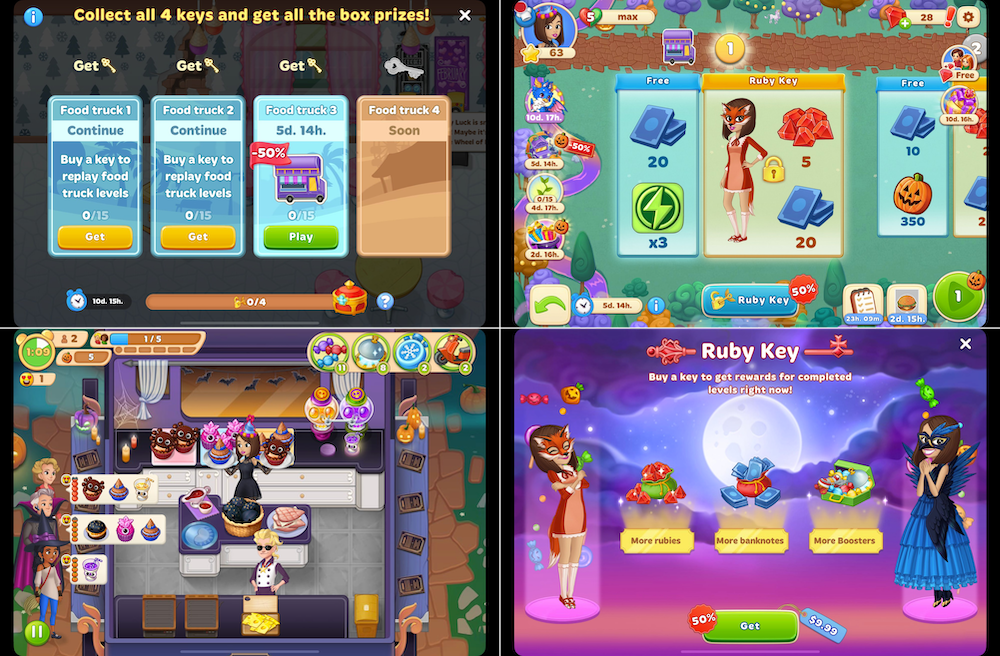 The Food Truck is a stereotypical casual event where the player completes special levels to progress and gain rewards. What makes it unique is that there are also premium rewards on top of the free rewards, similar to a battle pass, which include exclusive themed cosmetic accessories for the player's avatar. To unlock these rewards, players have to purchase a premium key.
There are four unique Food Trucks to complete during the event, each with its own premium key and limited window of availability. Buying all four of the premium keys gives an additional bonus reward chest full of consumable boosters and currencies.
The best way to implement a successful battle pass
Battle passes are one feature to consider introducing into a game, regardless of genre. Still, as with any mechanic, success is determined by its implementation.
With battle passes, the right balance in areas such as pricing, rewards, and duration must be found – if the pass offers too great of a reward, you might risk jeopardizing other monetization elements in the game. When battle passes are implemented correctly, there can be massive benefits to monetization and player engagement.
One way to ensure the feature implementation fits precisely to your game is to innovate from the basic format of the battle pass and utilize some of the unique battle pass mechanics detailed above. Here are some key things to remember:
Want to encourage players to purchase the battle pass(es) more regularly? Consider subscription-like benefits or even auto-renewing subscriptions to access the premium rewards.
Have a game with various game modes or an audience of different player types? Consider adding multiple battle passes or different battle pass difficulties to choose from. If not, then perhaps you could introduce additional reward tiers.
Does your game already have fully-fledged guild mechanics and a significant focus on cooperation between players? Consider social mechanics for your battle pass, such as co-op progression in the reward track.
Additional incentives for purchasing the premium pass are commonly used in battle passes, but the piggy bank mechanic can add even more boost by converting non-payers through its nature of an attractive purchase.
Have a game that relies on ad monetization or want to boost your game's ad monetization? Consider using a battle pass with ad monetization.
Free and premium reward tracks of the battle pass are proven to work, so consider utilizing them as reward mechanics for other events in your game.
Have you launched any collaboration events with popular IP? Few titles have capitalized on linking these with a battle pass to boost engagement.
If you enjoyed reading this post, here are a few more you should check out: