These days Soft Launching games is a standard procedure across the mobile game industry. However, three years ago this wasn't the case, as the majority of games were just sent out in the cold world with fingers crossed, hoping that all the right bits and pieces were covered.
The mobile F2P industry has matured a lot since those times, and this change has taken place rather quickly. Another sign of maturity is the shift towards games as an ongoing service model. Games are not planned just for the initial launch spike, but instead for being run for years to come. New features are constantly introduced and old content is cycled for players to engage and spend money on.
Nowadays, game teams understand the value of Soft Launch and it has become the de-facto benchmark of market readiness. However, even with the learnings and tweaking during Soft Launch a lot of games fall flat right after they are rocketed out to the world.
One root cause for this is the failure to fully utilize relevant market data, making it impossible to take the right measures in game development and update processes. Apart from the bigger players, data and analytic functions are still in their infancy across the industry. In addition, most of the market research related work is inclined to be tactical and ad hoc, rather than strategic and predicting.
My earlier blog post touched on the subject of conducting market research. In this blog post, I'm going to talk about how Game Analyzer can help you benchmark your game concept with the markets from the early concept phase to soft launch.
Moving horizontally is difficult and expensive
Most of the successful game developers and publishers tend to work with what they do best, usually going with the same genre they've had success with before. Think about companies like Machine Zone, Supercell and King, or the Eastern giants NetEase and Netmarble. The majority of their successful games are based on the core competence of those companies, the foundation on which they are building and which has been proven to work.
Our historical data indicates that horizontal moves tend to be hard, even for the very best. Supercell sacked its match-3 game while King ended up killing its mid-core strategy game – they both were in Soft Launch. Of course, there are outliers, but without the experience, it's hard to tell what is required when trying out a new genre. You can always look at what your competitors are doing, but how will you know what are the things they do that are effective? This is where GameRefinery's data comes to play. GameRefinery offers an unparalleled mobile game feature database and a tool called Game Analyzer where you can use the extensive feature framework to objectively quantify and benchmark your own game's market readiness and feasibility in terms of feature set. Below, you'll find a few use cases on how Game Analyzer can be utilized to increase the chances of commercial success for your own game.
Using the Game Analyzer to make your game a match for the markets you're about to pursue
First of all, different games work in different markets, there's no question about that. Casino games are huge in the US, while Action RPGs tend to work in China. It is essential to launch the right product to the right market. GameRefinery's Game Analyzer allows you to see how your game or game concept benchmarks against different markets in terms of revenue potential.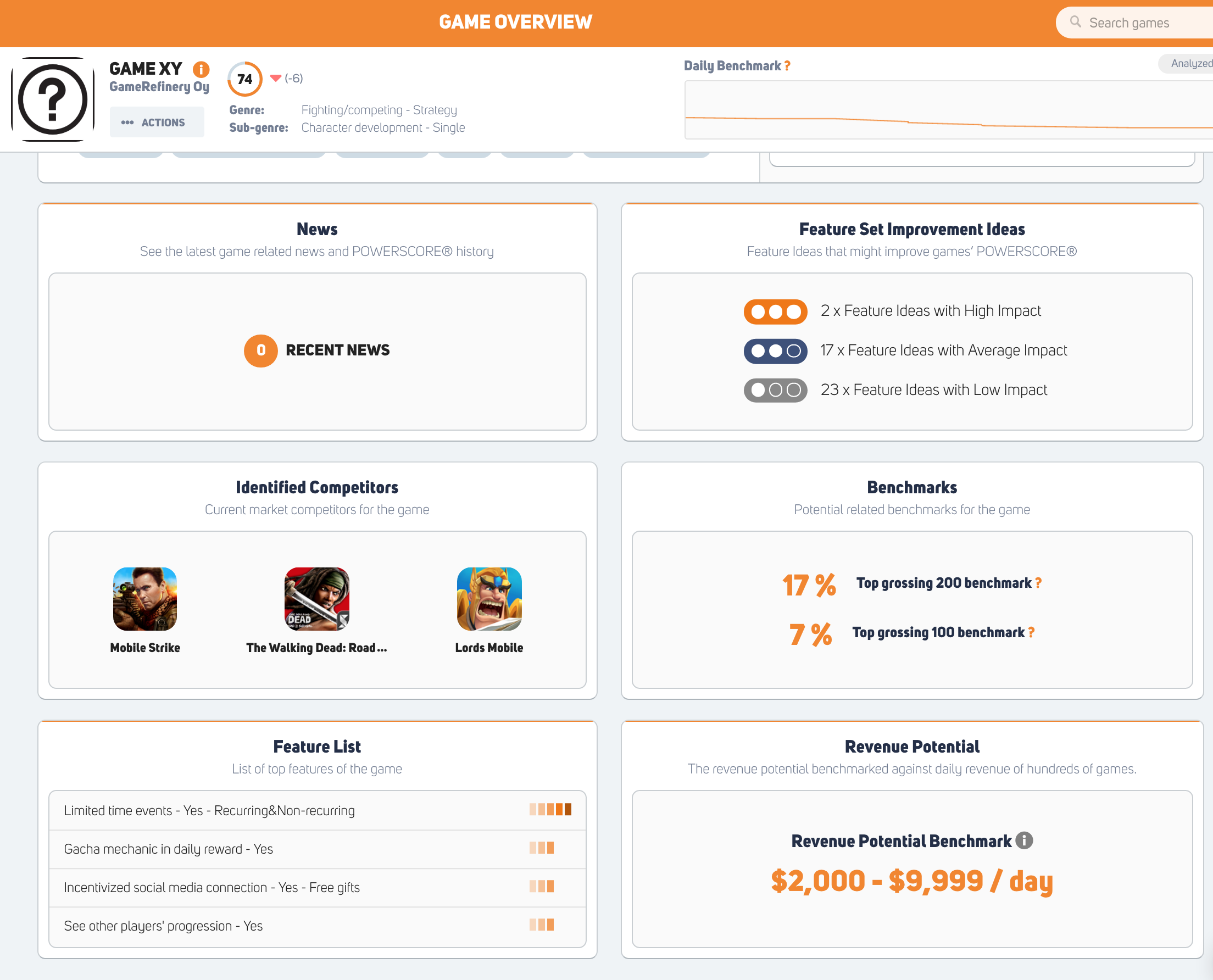 Game Analyzer's scenario analysis saves your time and resources
Secondly, a lot can be done with a little bit of an upfront scenario analysis. GameRefinery's Game Analyzer can be used to plan out multiple different scenarios and analyze the feasibility of:
Early game concepts

The initial soft launch feature set

The possible feature set 6 months after the global launch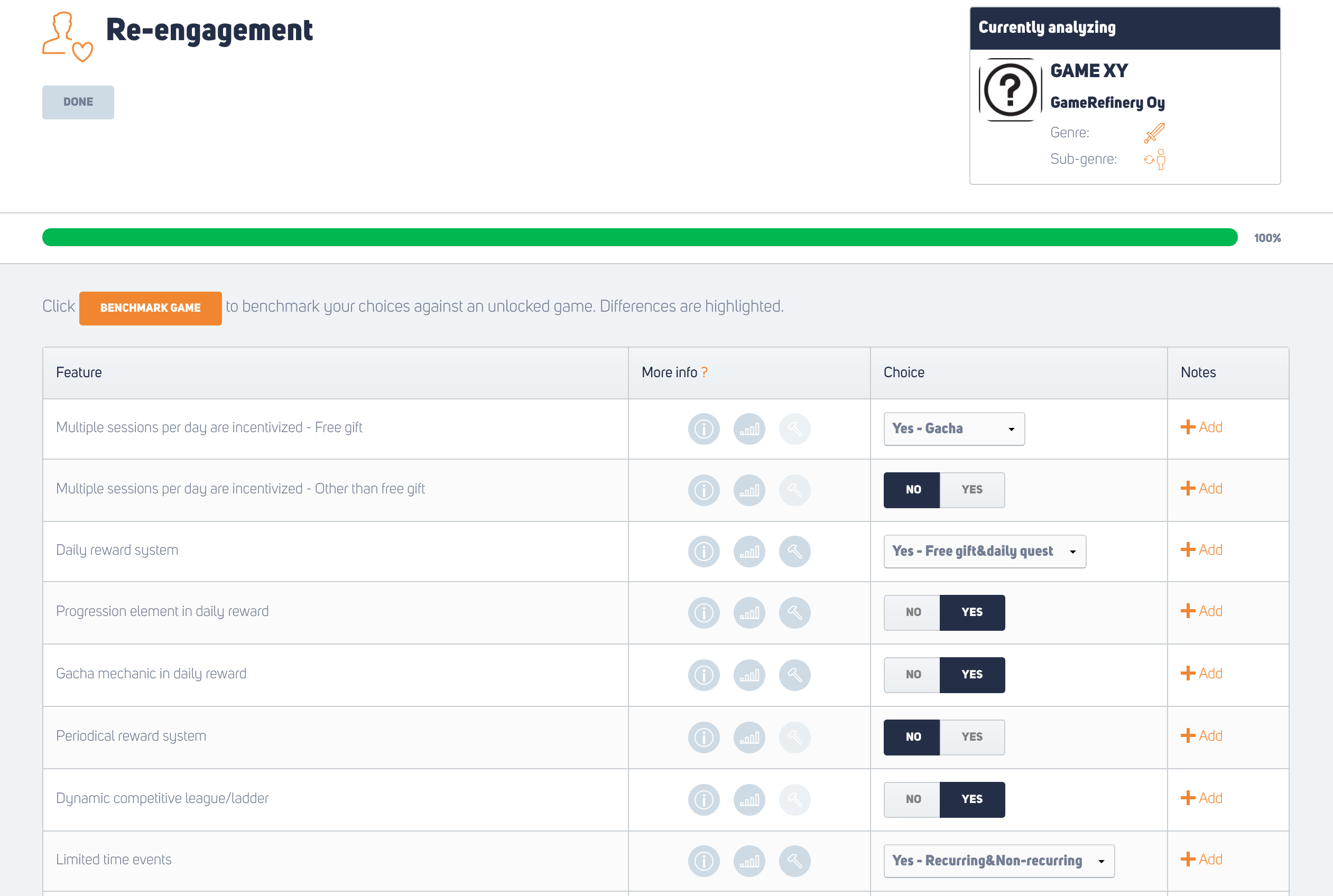 When gearing a supposedly good game towards a Soft Launch, the majority of the game companies struggle with the same issue: the scope of the launch. The major driver for this is often the paradox of being under pressure to release a game as fast as possible due to an alarming financial situation, and the game then performing badly due to it being released too early while not helping the financial situation at all. The same cycle is repeated over and over again.
Struggling with the scope often bears either of the two unfortunate outcomes:
The game is released too early with an incomplete feature set, and it never matches the KPI benchmarks set for live games

The game never even makes it past the soft launch due to the game not matching the KPIs related to the company's strict policy on global launch green lighting
Not all game teams have the luxury of keeping a game in soft launch for 8 months, let alone killing 99% of their projects in the search of the One. Thus, knowing what the potential product could be like with its complete feature set is really valuable. With scenario planning, you'll have the option to rely on data in order to build the most impactful and viable feature set for the game, even with a limited time-frame.

Game Analyzer can be used to plan the whole lifecycle of the game and to measure which feature combinations could potentially bring the most value in the upcoming game updates. Relying on objective data on this protects your team's valuable resources and saves you from unnecessary trial-and-error processes. These scenarios can also be used to communicate different game stages internally and even used to manage expectations in various stages of the game lifecycle. Game Analyzer allows you to benchmark a game or concept against what is performing well in a given market.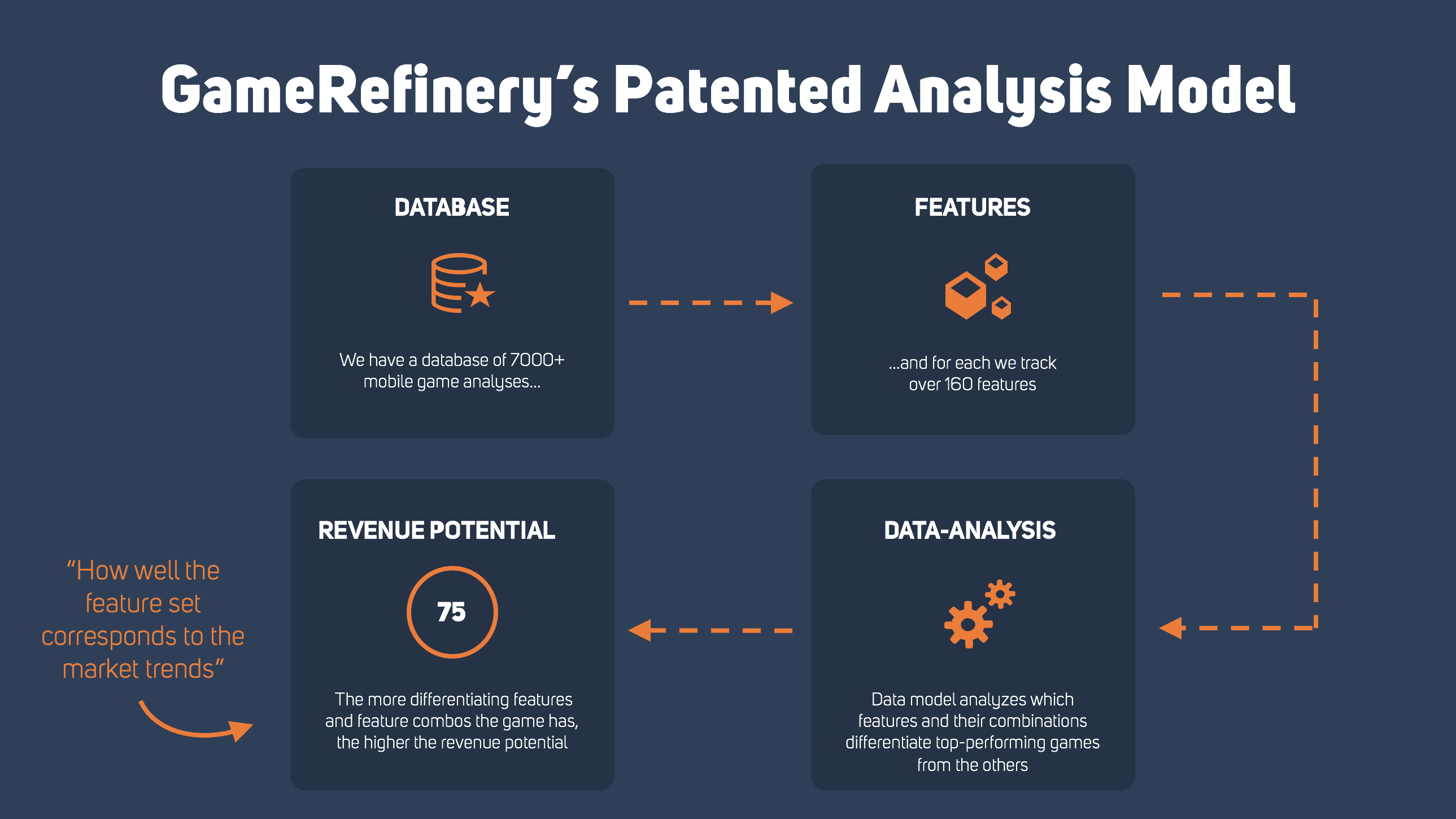 With Game Analyzer you can use the framework of 160+ features to analyze your own mobile games and understand how they compare against the current market trends. It gives you the state-of-the-art benchmark of where the markets are at any given time. GameRefinery's machine learning-based model takes into account dozens of different feature combinations that are proven to work well together.
Key Takeaway: Using data when planning your game is crucial for success
There is only so much you can do after the game has been launched. Only a few games have been able to perform major UX overhauls or add a handful of major features after the global launch and turn the ship around. However, usually, such feats are supported by a healthy organization that can afford to do that – not everyone can. Thus, having objective data on what works really gives you an edge.
You don't need to make the exact copy of the Big Mac (or something else that is delicious and makes a lot of money) to succeed, but you should understand what the key ingredients are and innovate cool things based on them. Use classic taste-pairs and mix them with some up and coming ones to conjure something utterly delicious.
It takes a good cook to make an excellent dish out of a great recipe. We at GameRefinery can provide you with a list of ingredients and a great recipe, and after that, it's your job to do the cooking. Now go, become the Iron Chef of the games industry!