The Strategy genre has always been one of the cornerstones of modern midcore/hardcore mobile gaming. For example, it is the third biggest genre in the US, with about 17% of the market share. Games like Clash of Clans and Game of War – Fire Age were among the super hits in the early days of smartphone gaming, and the genre hasn't stopped there. If we look at the current statistics for the genre, it is VERY MUCH driven by 4X strategy. For example, from the current top-grossing 200 strategy games in US iOS, 20 out of 25 falls under the 4X strategy subgenre. Interestingly 3/5 of these games that are NOT 4X strategy games are Supercell's games.
But even though the 4X strategy has dominated the genre, the trend of implementing elements from other genres into 4X continued among the top games. For example, Top War (merge) has been scaling a lot, and Puzzles & Survival (match3) entered the top charts as a new game.
MOBA is a historically tough subgenre for the US mobile market, with only Mobile Legends: Bang Bang + Brawl Stars able to sustain among top-grossing 200 games. The past 12 months saw launches of League of Legends: Wild Rift and Pokémon UNITE (only a few days ago when writing the report). LoL had a strong launch, and the game is super solid, but ever since the launch, it has struggled with its monetization and has already dropped outside top-grossing 200 games in the US. Will LoL turn their boat around, or can Pokémon UNITE sustain its position to get more MOBA action for the US top charts in the long run? That remains to be seen.
In this report, we'll take a closer look at what the Strategy genre currently looks like in the US.
Continue reading our full Strategy Snapshot Report by getting your copy below.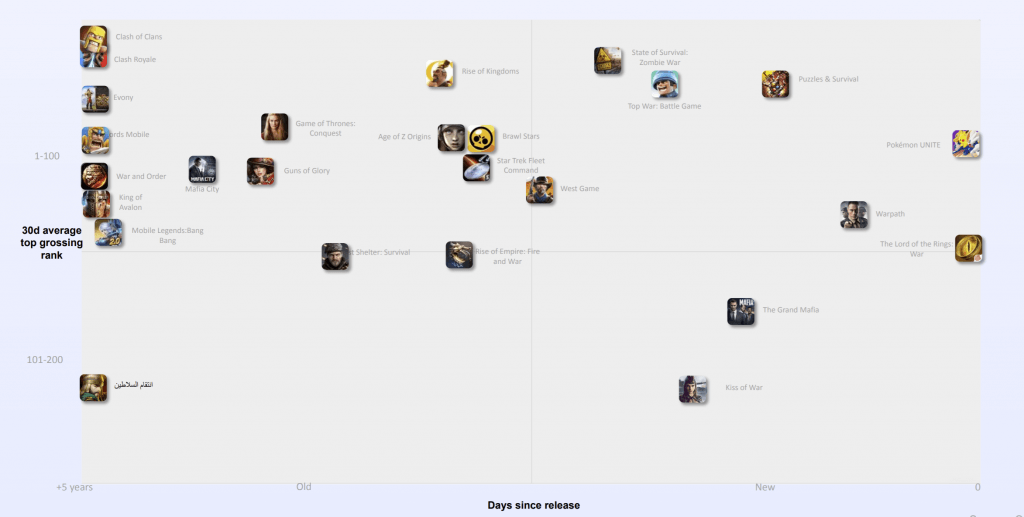 Get your copy!