Shooters have become a very significant genre in mobile gaming in the past couple of years. It is the 6th largest genre in the US iOS market, contributing around 6% of the market's revenues.
Epic and Apple's legal battle that led to Fortnite's removal from the App Store took away one of the "big shots" of the genre back in August 2020. Currently, there are only seven shooter games in the top-grossing 200, with over 84% of revenue coming from the "Big Three" – Call of Duty: Mobile, PUBG Mobile and Garena Free Fire. Garena Gree Fire has been the standout growth rocket of the year, more than doubling its revenues on iOS in the US.
Overall, the market has been very quiet in terms of new successful shooter games for a while. None of the new Shooter games released within the past TWO YEARS has managed to make it into the US top-grossing 200. The latest game to do this, Zooba, was released back in 2019. Even if we widen the scope to the top-grossing 500, only one new game, Bullet Echo, was released over a year ago (May 2020).
Call of Duty Mobile's highly successful mobile port has inspired many AAA developers to move to mobile. With it being more than two years since the last top-grossing shooter launched, there are some promising contenders on the horizon from the biggest developers out there. These include Valorant Mobile, Apex Legends Mobile, Battlefield Mobile, and Final Fantasy VII: The First Soldier. Will these games successfully challenge the "Big Three" of mobile shooters and bring fresh blood to a stagnant market in the upcoming months? That remains to be seen.
In this report, we'll take a closer look at what the Shooter genre currently looks like in the US.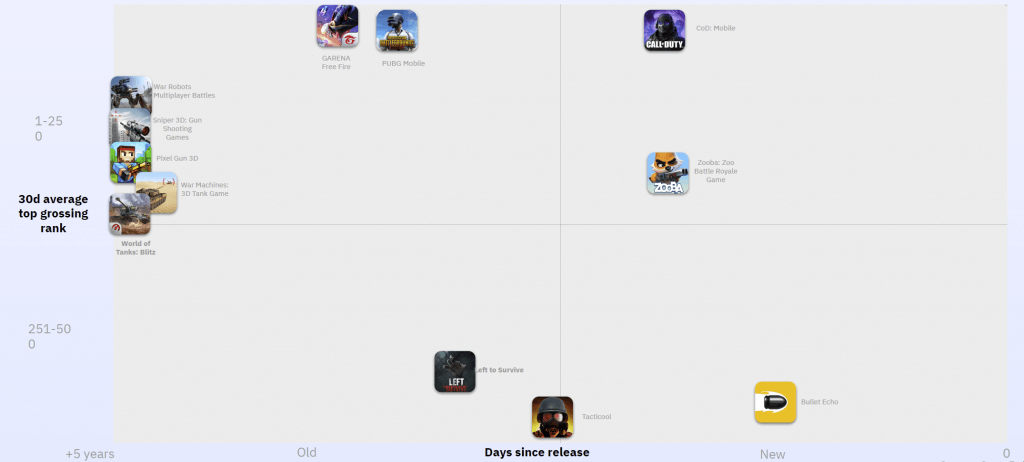 Continue reading our full Shooter Snapshot Report by getting your copy below.
Get your copy!