A couple of months ago we took a look at the Match3 market and what kind of games are driving revenues there. In this blog post, we'll shift our focus to mobile RPG games and examine how various RPG archetypes are faring on the market at the moment.
Before we dive further into the data, it's good to understand how we at GameRefinery view the mobile game market in terms of genres and game types. In order to classify games in a meaningful way, we take into consideration games' feature-set, theme and defining mechanics, resulting in a three-layered taxonomy where every game is assigned into a one (and only one) i) Category ->  ii) Genre -> iii) Subgenre. For example, Summoners War would go under Midcore -> RPG -> Turn-based RPG.
If you're interested in reading more about the subject, check out our recent post about mobile game genres and classifications.
What kind of RPGs rule in different markets?
Let's kick things off by taking a look at how RPG games are doing in the "Big Three," meaning USA, Japan, and China. The table below shows the number of RPG-titles currently in the top 100, 200 and 500 grossing charts in these three markets: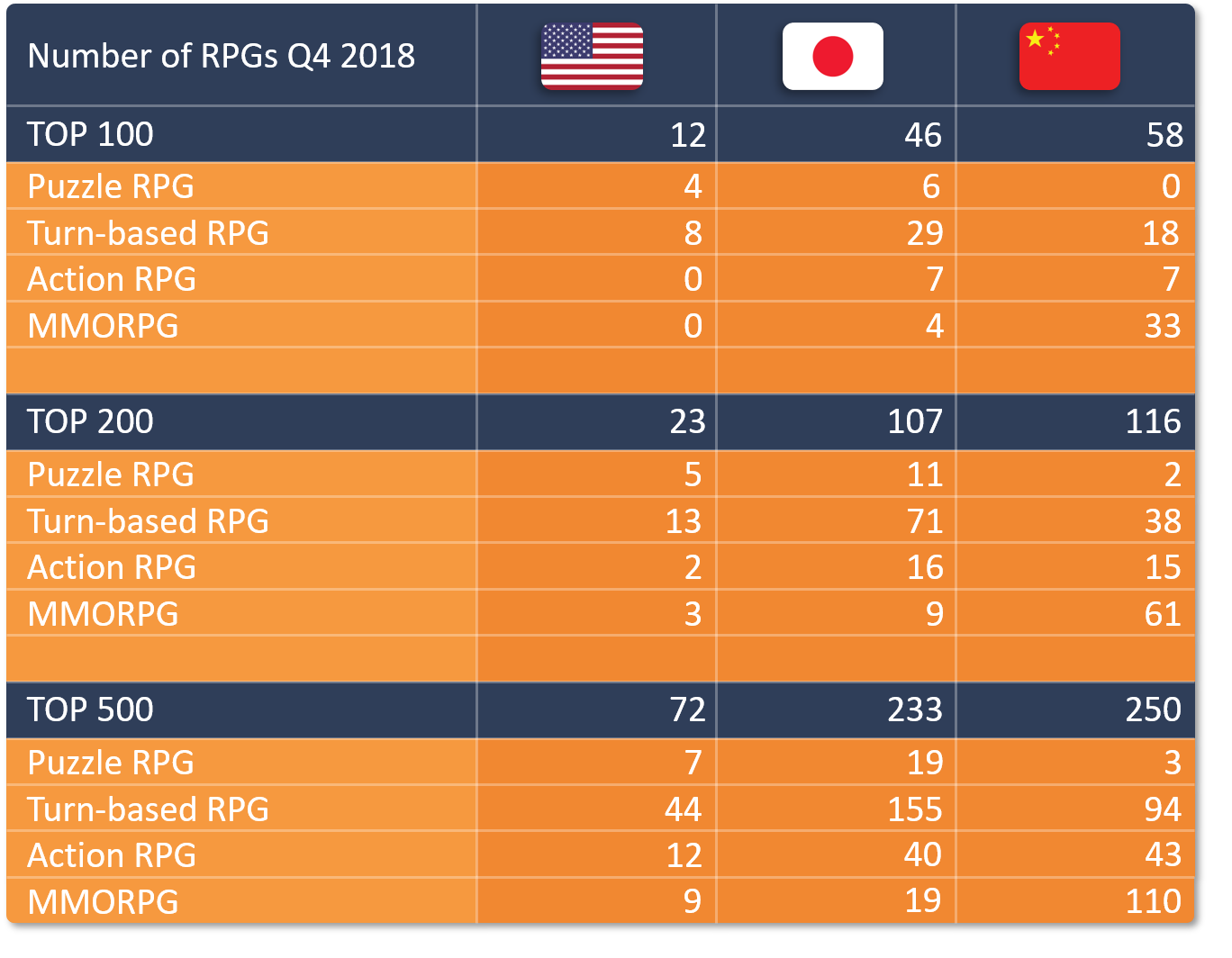 The data highlights a couple of interesting points:
RPGs dominate both China and Japan with about half of the games falling into the RPG category in both markets
In Japan, the ruling subgenre is Turn-Based RPGs whereas in China it's the MMORPGs that triumph
In the US there are four Puzzle RPG titles in the top 100 and seven in the top 500. This means that most of the Puzzle RPGs that have reached the top 500 have made their way all the way to the top 100.
Out of all RPG types on the US market, Puzzle RPGs and Turn-based RPGs are doing really well, whereas Action RPGs and MMORPGs haven't yet managed to reach higher grossing positions.
The RPG market in the US – What are the top games in each subgenre?
One of the key takeaways from the table earlier is that the US is still far behind Japan and China in terms of the overall popularity of mobile RPGs. This situation is well illustrated when looking at the genre composition of the US market during the past quarter: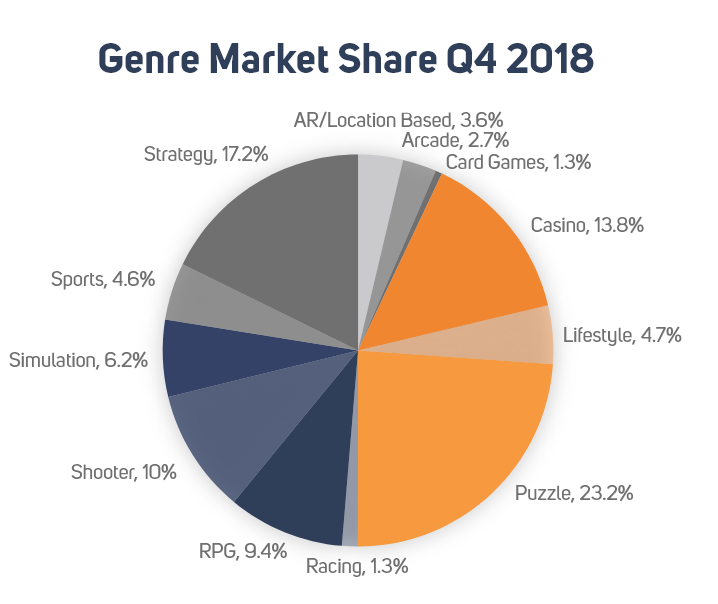 The pie chart indicates that in the US iOS market, RPG games are generating a bit under 10% of all revenues. This makes it the 5th biggest genre on the market since the Shooter genre drove past it with the booming success of Battle Royale games.
But how about the top performing titles inside each RPG subgenre? And more specifically, what significant changes regarding RPGs took place in the market last year? The following table lists the top 5 biggest money-making machines inside each RPG subgenre, together with their revenue share-%s (iOS US) during Q4 2018 and Q4 2017.
Turn-based RPG
Turn-based RPG was the only RPG subgenre with all of its top 5 titles in the overall top grossing 100.
The most successful new Turn-based RPG was MARVEL Strike Force. It had a really successful launch to the market last year, achieving a nice 8.5% share of the subgenres total revenue. Idle Heroes and Fate/Grand Order were also able to increase their share of the market compared to 2017, which in turn caused the revenue shares of the two top titles, Summoners War and Star Wars: Galaxy of Heroes, to decline a bit.  Besides Strike Force's launch, there were no major release events that affected the Turn-based RPG market over the past year.
Puzzle RPG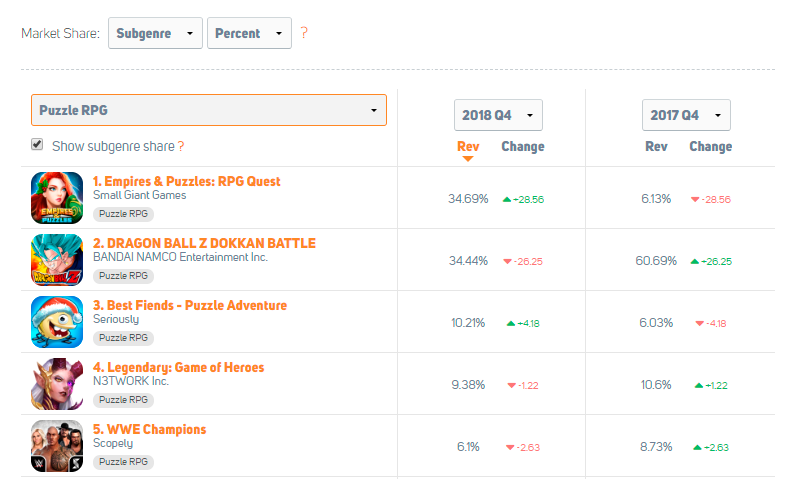 Empires & Puzzles by Small Giant Games was by far the brightest star in the Puzzle RPG subgenre with its revenue share shooting from 6% to around 35% during 2018. This extraordinary feat didn't go unnoticed by larger companies, as Zynga ended up acquiring SGG by the end of the year.
Thanks to Empires & Puzzles' rise, the peak position of Puzzle RPGs is now a tie between two titles, as 2017's dominator, Dragon Ball Z Dokkan Battle is still raking in a nice amount of dollars.
On another note, it's quite interesting that all the top 5 Puzzle RPGs have been released over a year ago. In other words, there weren't any significant new launches inside the Puzzle RPG subgenre last year.
Action RPG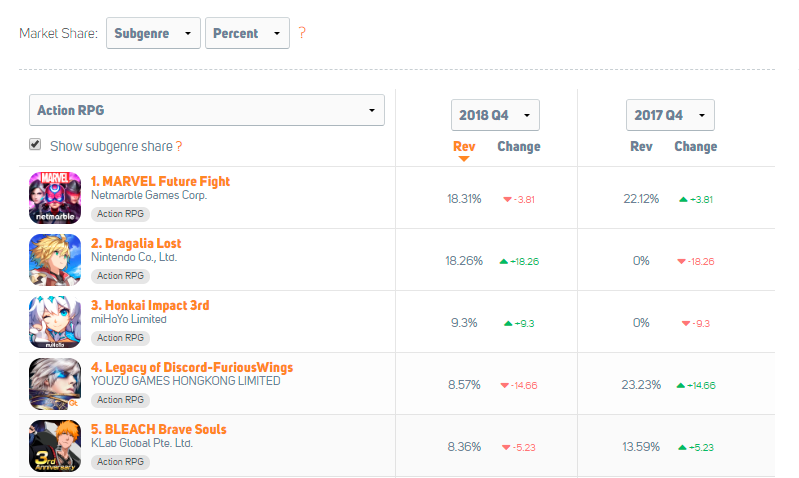 Within the Action RPG subgenre, the single most significant event was the launch of Nintendo's Dragalia Lost. Right after its release, Dragalia Lost jumped to the top 20 grossing, and for a moment it looked like an Action RPG title could become a big hit in the US. However, despite its early success, by the end of Q4 2018 Dragalia Lost had slipped quite a bit, but it still managed to make about 1/6 of all Action RPG revenue.
Another new entrant was Honkai Impact 3rd, a game that had been very successful in Asian markets. During Q4 of 2018 it managed to claim the third place in the US Action RPG market, but this isn't quite as big of an accomplishment as it might sound, because in the US it means that it's not even in top 200 grossing games.
These two new titles made a big dent in the revenue share of Legacy of Discord, one of 2017's biggest Action RPG titles, as its revenue share of the whole genre plummeted from 23% to below 9%.
MMORPG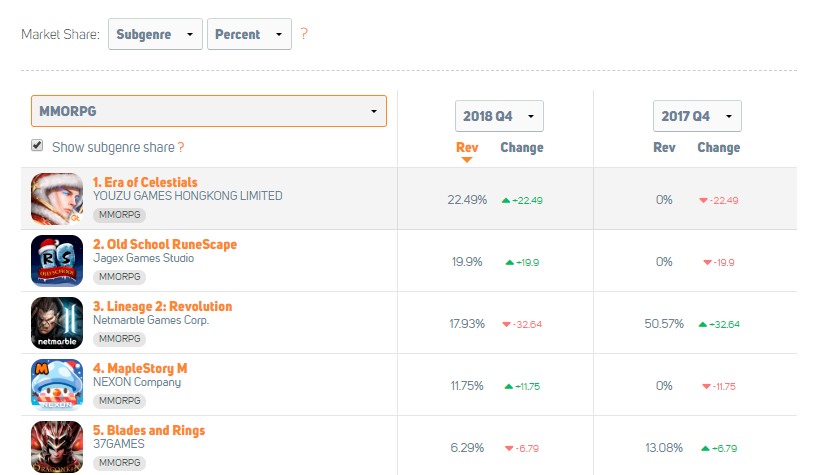 2018 saw a couple of new MMORPG launches, such as RuneScape, Era of Celestials and MapleStory M. This infusion of fresh titles shook the throne of Lineage 2, which saw its market share decline about 23 %-points in comparison to Q4 of 2017. As a result, we now have a much tighter competition inside the MMORPG genre in the US.
At this point, however, it is worth pointing out that even with the new title launches, MMORPG is still a niche genre in the US as none of the top 5 MMORPGs have been able to sustain an overall top 100 grossing position in the US.
Conclusion
The overall RPG market in the West is still relatively small when compared to both China and Japan, where this genre eats up pretty much half of both markets. Turn-based RPGs and Puzzle RPGs are doing rather well, but especially Action RPGs and MMORPGs have been struggling to gain a foothold in western markets, with no games of either subgenre currently in the top 100 grossing. With several major Action RPG IPs announced to enter the market in 2019, it's interesting to see if one of these is "The Game" that's a sustainable hit in the west.
Log in to the GameRefinery service here to get more insights and data about the mobile market.