November was another busy month in the mobile market, with several games collaborating with major brands and celebrities to grow their UA and create new monetization channels. This has been most noticeable in the US, where World Cup content took precedence over Thanksgiving plans; Call of Duty Mobile, PUBG Mobile, and Mobile Legends: Bang Bang collaborated with some of the world's biggest footballers to make them available as characters and skins.
But the collaborations didn't end at the football pitch. War of the Visions: Final Fantasy Brave Exvius joined forces with a TikTok superstar. Jantama's (雀魂 -じゃんたま-) second collaboration with a popular anime saw it catapult to the top of the charts, and Sky: Children of the Light (光·遇) brought in the Norwegian popstar Aurora, as the mobile version of the Thatgamecompany's popular social adventure game continues to go from strength to strength in China.
November also was something of a comeback story for many games. Despite releasing almost ten years ago, My Singing Monsters got a new lease of life thanks to TikTok's virality and ranked as one of the month's top 50 grossing titles. Angry Birds 2 also released its first new character to the game in seven years for players to try out alongside a recently added Pick Your Flock feature.
Below, you can find out more about these updates and the biggest highlights from the US, China, and Japan mobile markets.
US Market Overview
As part of its Season 10 World Class update, Call of Duty: Mobile launched the Battle Pass Vault, enabling players to purchase battle passes from past seasons which were previously locked away. The title was also one of many games this month with content themed around the World Cup tournament, with professional footballers Paul Pogba, Lionel Messi, and Neymar Jr. joining the title as playable Operators.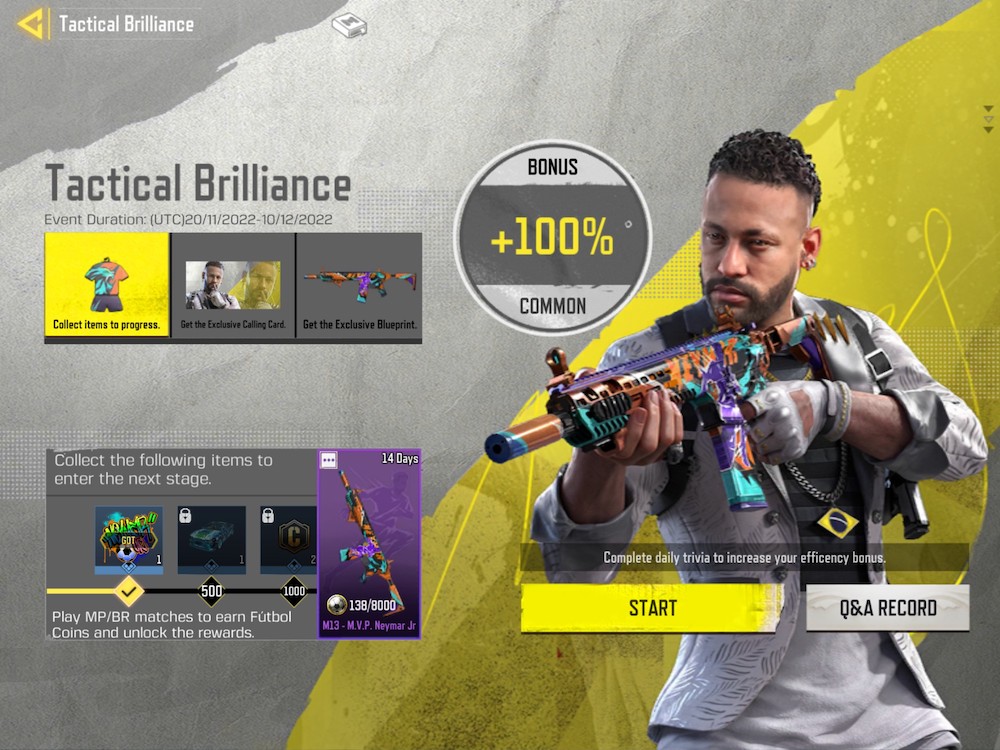 Genshin Impact put its own spin on Pokémon with the Fabulous Funghi Frenzy event, where players had to catch mushroom creatures and train them to fight in a tournament to progress the story and win special event currency, as well as a free four-star character. The game also refreshed its banner gachas to feature two all-new characters that players can wish for using Primogems, which caused daily revenue to spike by more than 1000%.
Mobile Legends: Bang Bang celebrated Chinese Singles Day (Double 11 day) with the Double 11 Mega Sale, where most items sold in the in-game store were reduced by up to 99% for five days. The game also jumped in on the football frenzy with the addition of two unlockable skins, from two different gachas, based on Brazilian football star Neymar.
Similar to Call of Duty Mobile, PUBG Mobile jumped on the World Cup bandwagon with its Global Chicken Cup, with Lionel Messi making an appearance to lead players as captain within the title's shapeshifting football event. This was just one of PUBG's major collaborations this month, with Maserati's latest vehicles, the Spyder Cielo and its premier SUV Levante being added into the game as skins that players can buy using the premium currency UC.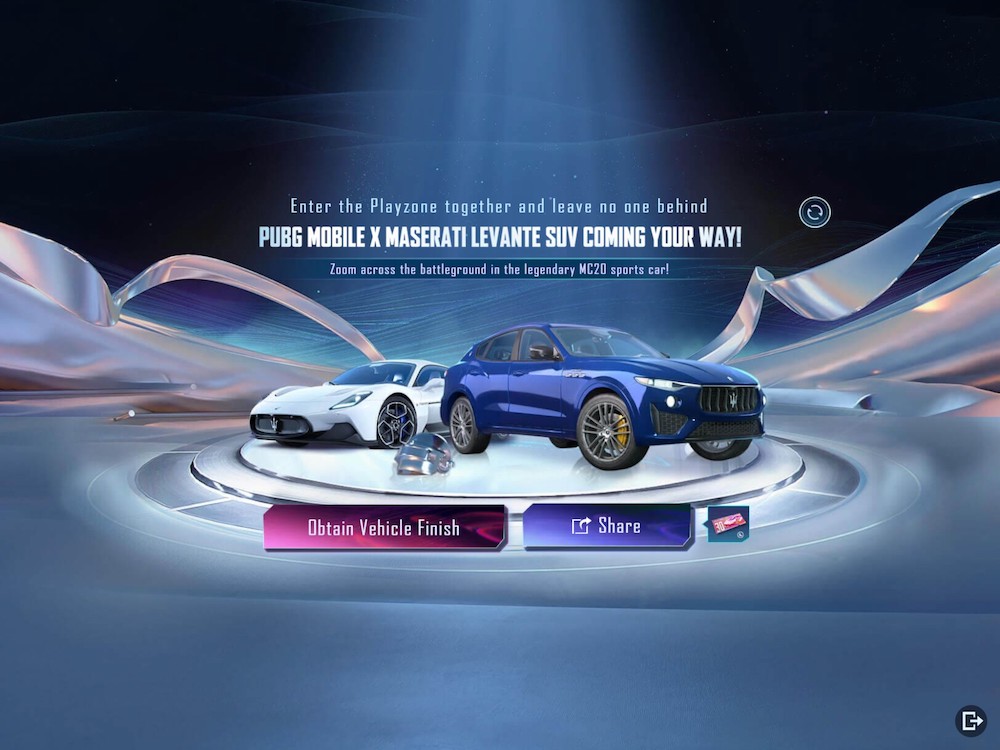 Over in the Match3 puzzle genre, Homescapes introduced a new event featuring a merge-2 minigame in which players could try out to win boosters as well as photos for their photo albums. Taking part required energy that replenished over time or could be earned through regular gameplay or via purchase from the store.
Lily's Garden also launched a new Baking Season pass with a completely new rush mechanic, Last Call and Doubled rewards, that requires players to get to the specific reward's season pass level in a limited time – typically around ten to twenty minutes. The rewards include boosters, currencies, and exclusive cosmetics.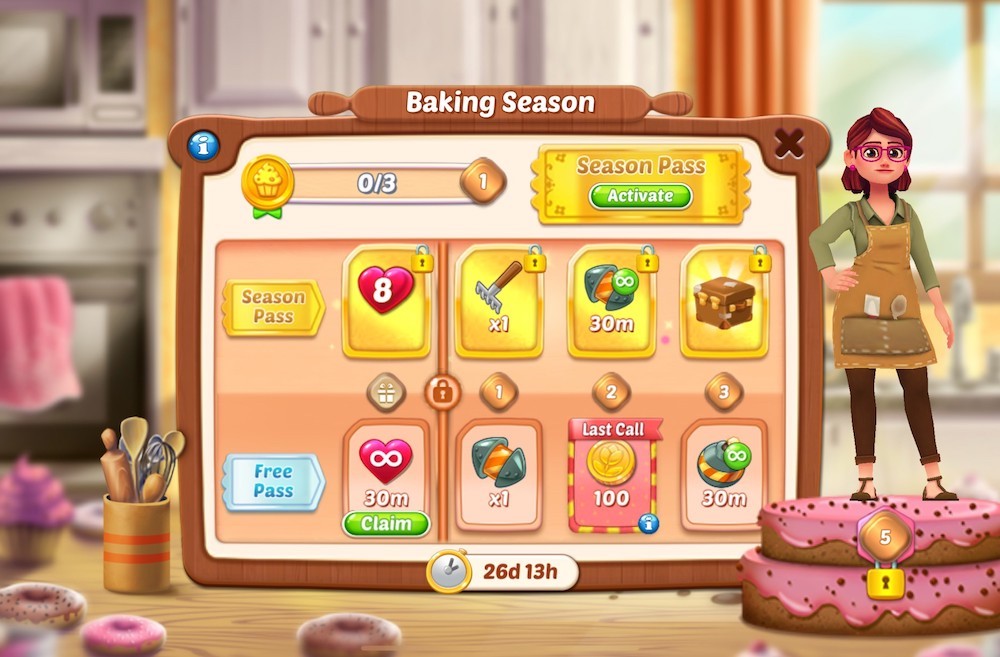 War of the Visions: Final Fantasy Brave Exvius launched the first part of a multi-stage collaboration with TikTok influencer Addison Rae, who joined the title as a vision card (equipment item) before her full release as a unit in 2023. The vision card can be upgraded with shards, consumable items which are ordinarily bought from shops or obtained via summoning, but in this case, are obtained through a set of event tasks.
This unusual crossover was likely designed with a player acquisition in mind, with Square Enix hoping to spark interest from the Tiktok star's 88-million-plus followers. However, the impact so far has been minimal in terms of downloads and revenue, suggesting a possible mismatch between the TikTok star and the serious tactical gameplay. Intriguingly. a dedicated chat channel for collaborations was also added to the game, potentially to gauge interest in advance of future collaborations.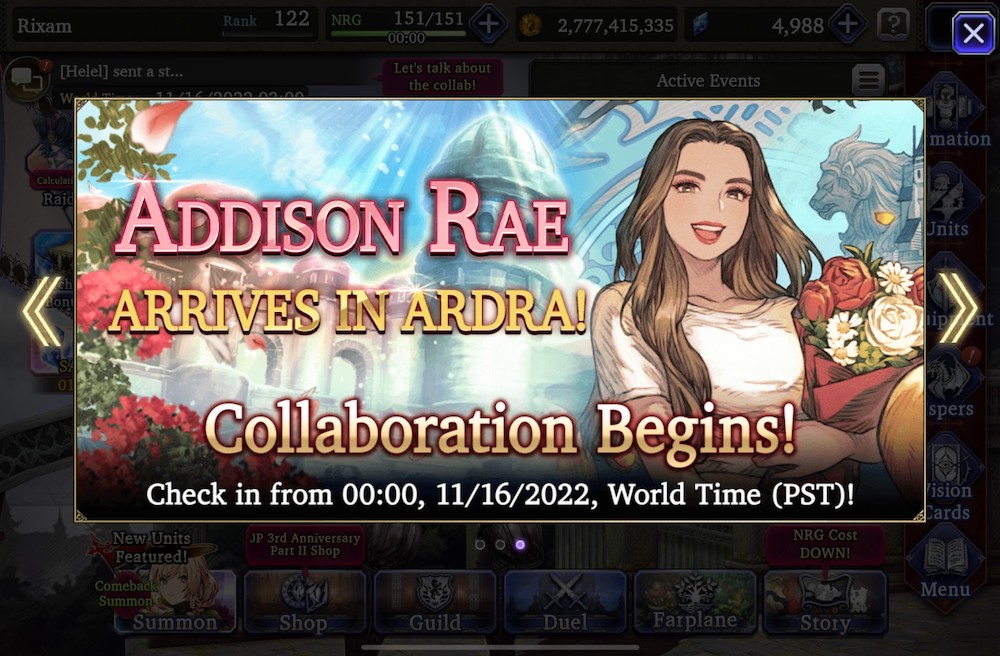 Last but not least, Angry Birds 2 jumped back into the spotlight in November with its first new character in seven years, Melody, who takes down pigs using her musical powers. Her inclusion follows the recently added Pick Your Flock feature, which gives players the freedom to build unique battle strategies by choosing their own team of birds. Melody can be unlocked by collecting feathers in a limited-time event that runs until early December, and this update led to Angry Birds 2 finding a position in the top 50 most downloaded.
Interesting top 200 grossing entrants on the market
Japan Market Overview
November saw the first anniversary of the anime MMORPG Gran Saga (グランサガ), which introduced Leon as a playable character with a new trial story event. Downloads more than tripled in the days that followed. The update also incorporated multiple gacha campaigns, including one which immediately boosted all pulled Gran weapons and artifacts to their first-level cap.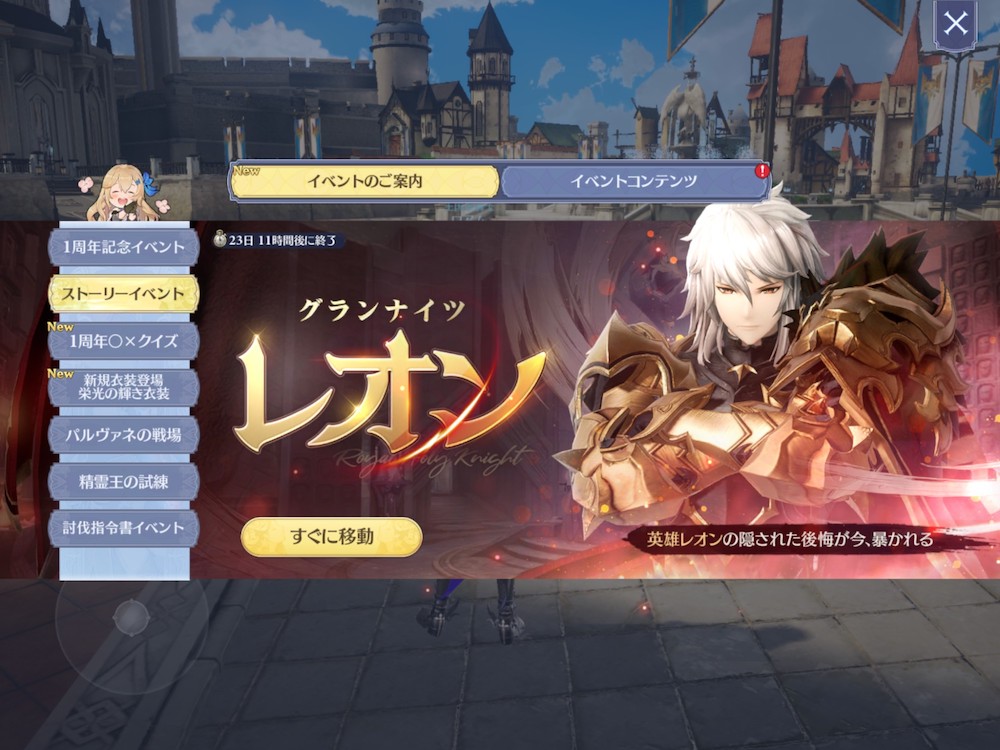 My Hero Academia: Ultra Impact (僕のヒーローアカデミア ULTRA IMPACT) celebrated its 1.5 anniversary with a major update introducing an all-new mode called Case Files, where players help the police tackle crime. This mode restricts a team of heroes to one use per run, meaning players must build up multiple strong parties by upgrading characters from outside their usual winning team to earn the powerful upgrading materials up for grabs.
Continuing the anniversary theme was the interactive story game, Mahou Tsukai no Yakusoku (魔法使いの約束). Now in its third year, the title drastically increased its monetization efforts with 16 limited-time gachas to coincide with the event and launched all-new bundles and subscription offers. This was a massive success with fans, with revenue increasing by more than 1000% and two-anniversary login calendars supporting further player retention.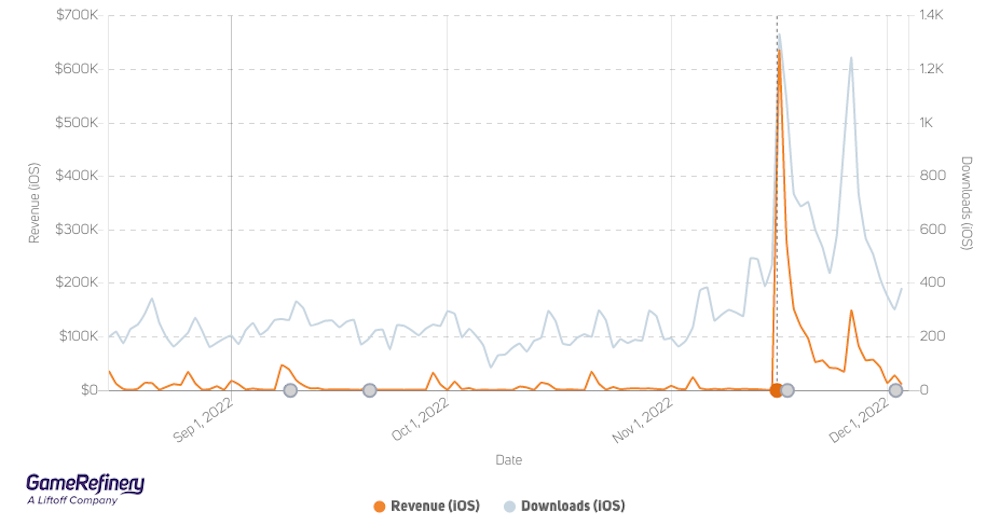 Jantama (雀魂 -じゃんたま-) launched itself to the top of the charts with the release of its second collaboration with anime Saki: The Nationals, which introduced several new characters to the game purchasable from event pickup gachas. These characters feature within a special story event with a new mahjong game mode.
Interesting top 200 grossing entrants on the market
China Market Overview
November was a big month for Westward Journey Online (大话西游), as this mobile iteration of the famous PC MMORPG marked 20 years since its original launch. To mark the occasion, players were invited to upload their game ID and personal photo to show their chivalry in a Chivalry Popularity Contest. The game also saw a significant spike in revenue last month, which is likely down to the inclusion of a new side game mode where players predict the World Cup Top 4 using in-game currency, which they either buy outright or obtain by completing various tasks.
It was a similarly historic time for JJ Doudizhu (JJ斗地主-欢乐棋牌休闲合集), which added a new gacha reward mechanic as part of its 15th-anniversary celebrations.
Coming back to the World Cup, Fantasy Westward Journey (梦幻西游) invited players to make their top four predictions for the tournament and cheer on their favorite teams. Elsewhere in the market, turn-based RPG Onmyoji (阴阳师) turned seasonal with the launch of its autumn-themed sugoroku gacha, which saw revenue increase by over 400%.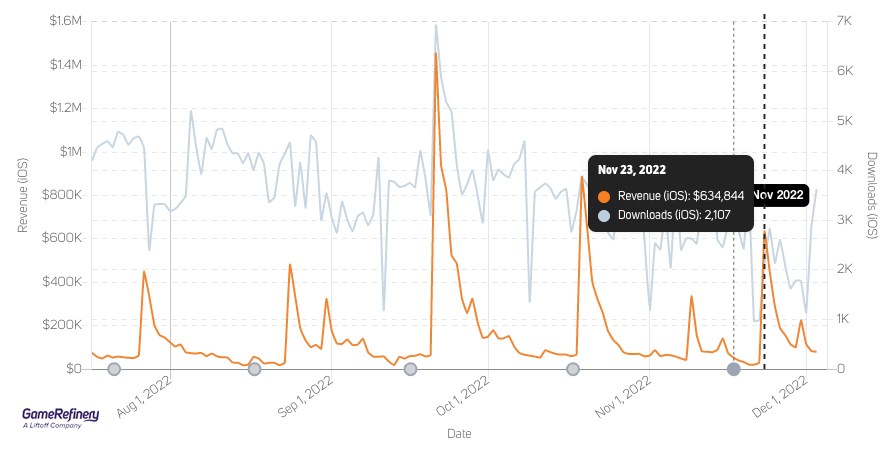 Sky: Children of the Light (光·遇) started its newest season, which is themed around the music of Norwegian singer-songwriter Aurora, who is known for 'Into the Unknown' from Disney's Frozen II. Players sought four spirits who each had a story written by Aurora, which is told through her voice. The content was free to all players, although those who purchased the season pass ($9.99) could unlock items like outfits and music sheets through spirit's Friendship Trees. Aurora is also set to feature in an in-game concert this December.
Aobi Island 2 also held a limited-time collaboration event with selfie app Meitu Xiuxi, which saw the inclusion of Aobi Island-themed AR special effects.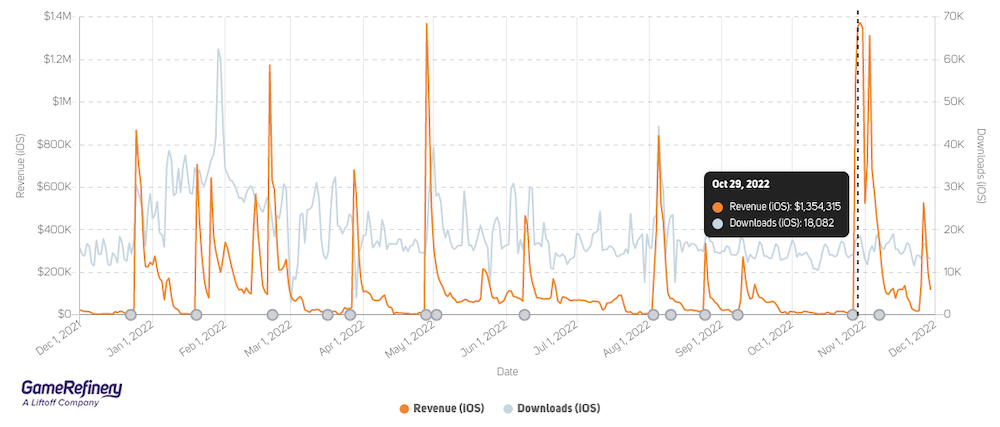 Interesting top 200 grossing entrants on the market
I Am MT: Homecoming (我叫MT:归来) is one of many games on the market based around the 我叫MT animation series. This Idle RPG peaked as the eighth-highest-grossing title.
Based on the hugely popular King of Fighters series, TBRPG SNK All-Star Fight ( 全明星激斗) peaked within the top 25 grossing at launch.
Forever Island of Rainbow World is a side-scrolling ARPG that peaked within the top 100 grossing.