Market Explorer is one of the cornerstone features of the GameRefinery platform. Over the years, it has gone through multiple evolutions and minor tweaks. As many of our users use it almost daily, we have also heard a lot of feedback on how we could both improve and expand its offering.
We have listened to you, and thus we are happy to announce that we are bringing two significant tweaks to the Market Explorer!
These updates are:
Archetypes are added as a filter option – You can now filter games not only by individual motivational drivers but also by archetypes! Learn how your competitors build game experiences for their audience and estimate the total downloads and revenues per archetype.
Game Analyzer projects can be added into the segments – Compare example concepts, production stage goals, or feature development roadmaps to the market to identify feature differences.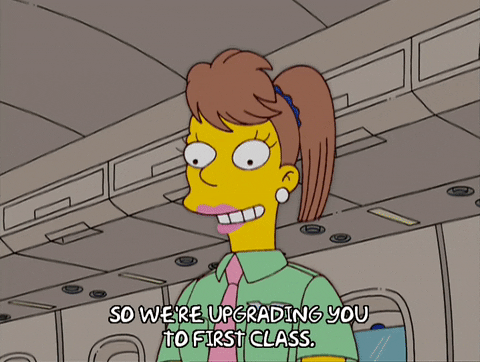 Archetype filters in Market Explorer
There is an entirely new filter in the Market Explorer segment creation segment.
Archetypes as a filtering option allows:
Designers to find specific games to focus their research on how they build the game experience for the audience
Market researchers to more easily estimate the total downloads and revenues per archetype
User Acquisition folks to build targeting white and black lists by audiences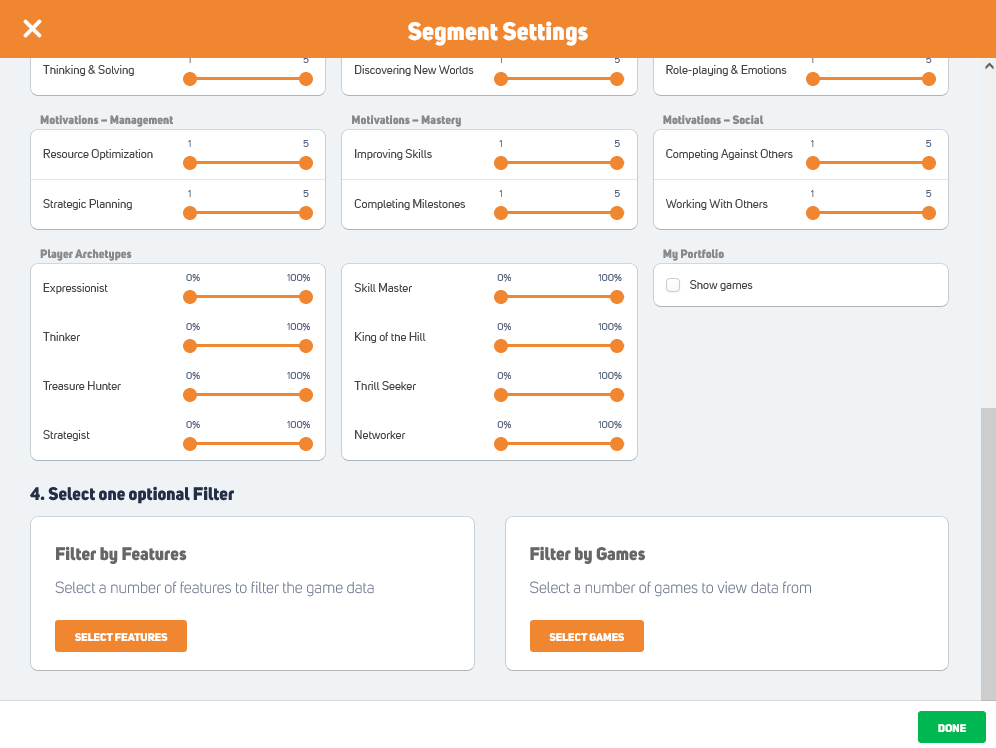 With this, you can focus on any specific archetype you are interested in instead of using our 12 motivational drivers. Let's say we want to find thinkers who are the most significant archetype of Royal Match.

We identify the audience we are interested in – Own or competitors' games' game overview is good for this!
We scale the percentage share of the archetype we want to pinpoint – In this case, we want to find games where 50% of the players would be thinkers.
There we have it!
Our segment is complete, and we have found the games out there where thinkers are at least 50% of the audience.
What is also cool is that we have the possibility to filter thinkers' percentages in the games data tab as all the archetypes are now filtered options!
Game Analyzer projects are now available in Market Explorer
One big feedback we heard from our users, especially from those who are in the production stage, is that they would like to bring prototypes into the Market Explorer. This would have immediate benefits:
Ability to sanity-check your MVP build
Ability to identify features for potential LiveOps stage for production MVPs
Ability to sanity check feature development roadmaps of live games IF you have created roadmap goal of the live game
Identify more potential references and competitors at the feature/system/loop level
That is now possible in the 4th filter option – "Filter by Games."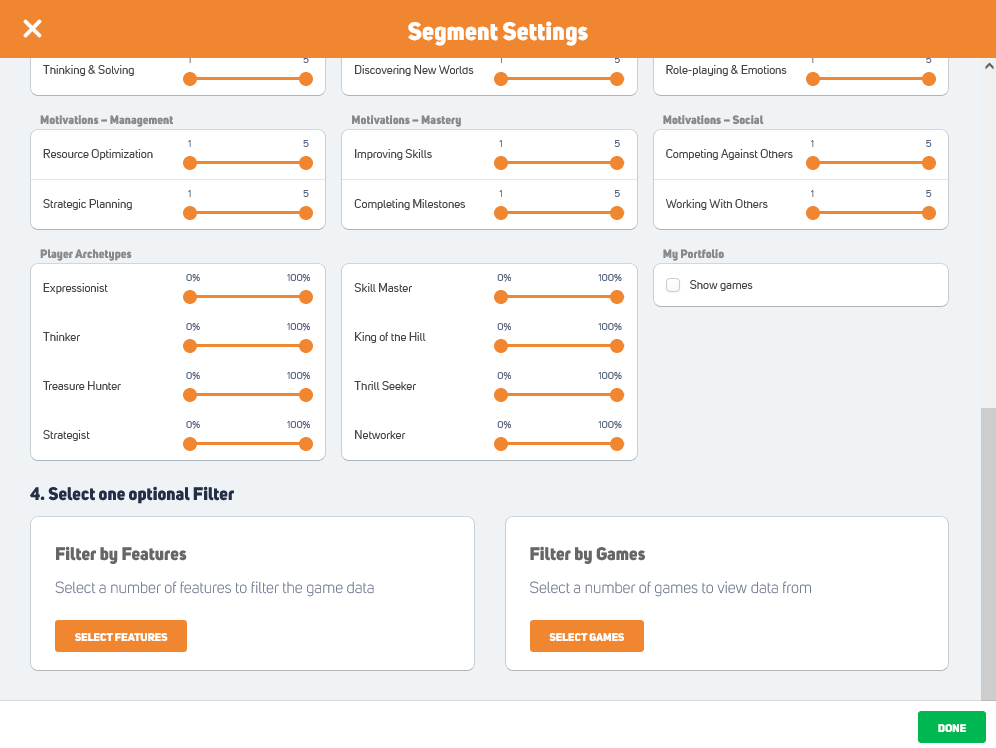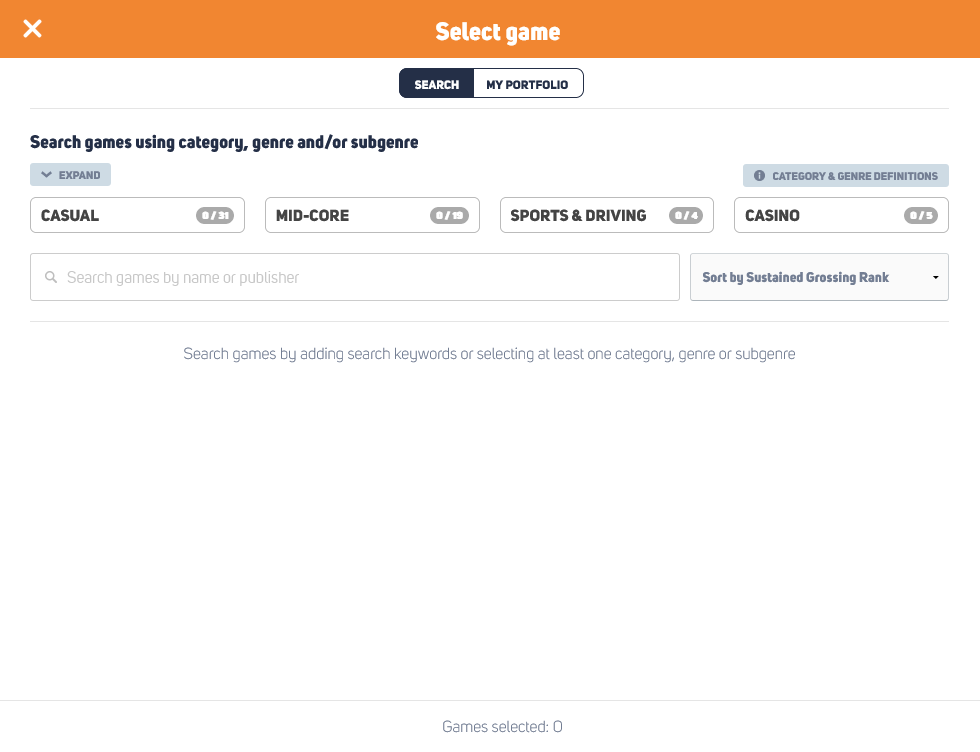 Click "My Portfolio," and you can add any game(s) from your list of completed prototypes.
And tada!
You now have your own segment for your prototype.
As an example, I created a comparison of my Match3 prototype (blue) vs. top-200 grossing Match3 games (orange). We can see its feature level fit for the market or any other segment we want!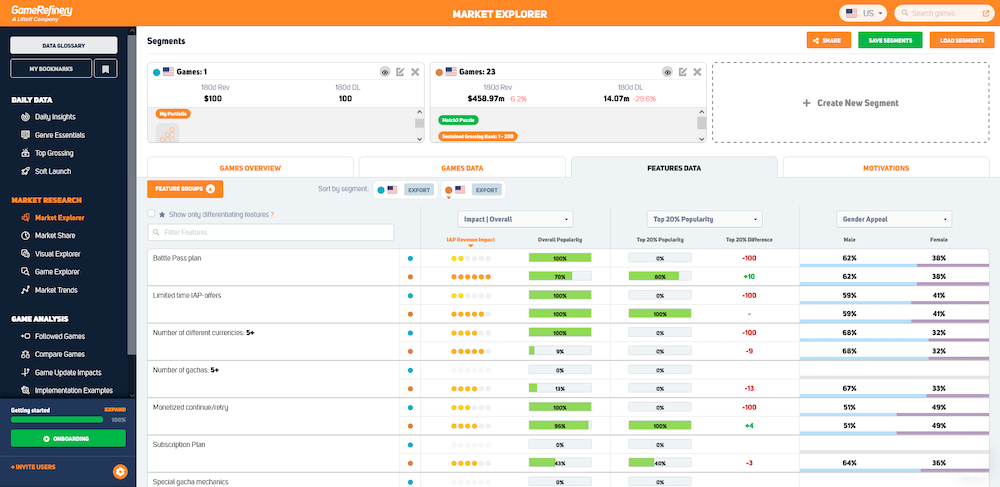 Let's quickly summarize what we can now do:
We can add prototypes/concepts to the Market Explorer to see their market fit and to identify feature differences
We can add LiveOps development goals (for example, H2 2022 of my Match3 game) and see what the future version would look like.
Final thoughts
Market Explorer has been and continues to be our gateway to the game market. We hope these motivation filters allow you to find the users by archetypes more easily!
For our development team friends, you have wanted the Game Analyzer option for a long time, so this update is also dedicated to you. You know how you are. 😉