So far, mobile MOBAs have had a rough time trying to conquer top-grossing ranks in the west. Most notably, Mobile Legends: Bang Bang has held on to top-grossing 200 position for years whilst enjoying success also in the eastern markets like Japan and Southeast Asia. China has been dominated by the massive top-grossing 1 game Honor of Kings (王者荣耀) with Onmyoji Arena (决战!平安京) also clinging on to a top-grossing 200 position. Apart from these titles, the mobile MOBA market hasn't been too crowded, and no new releases have made it into a solid top-grossing 200 position for years.
On the PC side, Riot Games' League of Legends has been THE top MOBA all around the world for years, and now its highly anticipated mobile version League of Legends: Wild Rift is in soft launch getting ready for the global markets during 2021. This huge MOBA brand coming to mobile means the competition in this dried-up genre is starting to heat up.
In this post, we'll be deconstructing the soft launch version of League of Legends: Wild Rift and focus on how it compares to its current mobile competition.
League of Legends: Wild Rift's core gameplay
League of Legends: Wild Rift follows the classic competitive MOBA core gameplay. Players control unique champions of their choice, slaying monsters, and other players' champions to get stronger whilst pushing/defending lanes leading to the match's climax – obliterating the enemy base. Combat takes place in a 3-lane 5v5 format, similar to the original PC version of LoL. It's safe to say that Wild Rift really manages to stay true to its roots, thanks to identical gameplay elements, feeling, and polished art style.

In PvP-oriented games that revolve around constantly competing against real-life opponents, the gameplay experience has to be seamless and exciting. From a MOBA gamer viewpoint, Wild Rift feels really smooth, and Riot has done a great job porting the controls to mobile. The game feels like the original League of Legends, and the tweaks made to some mechanics (e.g., quicker matches, movement changed from click-to-move to virtual joystick, and more simplified UI) are justifiable in a mobile environment.

Wild Rift currently offers three game modes; Ranked and Unranked PvP, plus a co-op vs. AI. The Ranked mode gives players a sense of session-to-session progression and dynamic competition as they climb tiers during seasons. This kind of ladder system with special rewards is a must-have feature in today's competitive PvP games as players require a clear view of how they compare against other players in terms of skill and success.

Meta and monetization
Wild Rift's meta game is built upon collecting champions and decorative items. Champions are bought with Blue Motes (= a currency earned from completing tasks and winning matches) or with Wild Cores (= a premium currency bought with real money). Each champion has multiple really detailed and lively decorative skins purchasable with the Wild Cores.


The collectibles meta is also expanded with minor decoratives such as Champion Poses (shown before and after the matches), emotes, profile icons, and combat effects, i.e., custom recalls (effect when teleporting to own base in a match). These collectibles are earned by playing the game, completing achievements, participating in events, and bought with special currency Poro Coins earned through weekly tasks and events.
Additionally, there are two gachas to be purchased: the Poro Chest (pool of icons, poses, etc.) and the Random Skin Chest (energy bar, which is filled with purchases in the Poro Store and, when full, rewards a random champion skin).

So far, new Champions have been introduced regularly through special limited time events. These instances introduce new champions and their background story and give players the chance to obtain them by completing the events.

There's also a smaller progression mechanic, Runes, that's tied to the player level system. Runes offer various benefits to matches (e.g., boost damage, unlock passive skills, etc.), and you can choose a set of Runes before each match.

Wild Rift vs. Mobile Legends and Honor of Kings
Now that we've covered the basics of Wild Rift let's see how it compares on a feature level to its two main competitors: Moonton's Mobile Legends: Bang Bang and Tencent's Honor of Kings (click the links to see the games in GameRefinery service).
In this comparison, I won't go through every minor detail and feature but focus on the most important differentiating factors.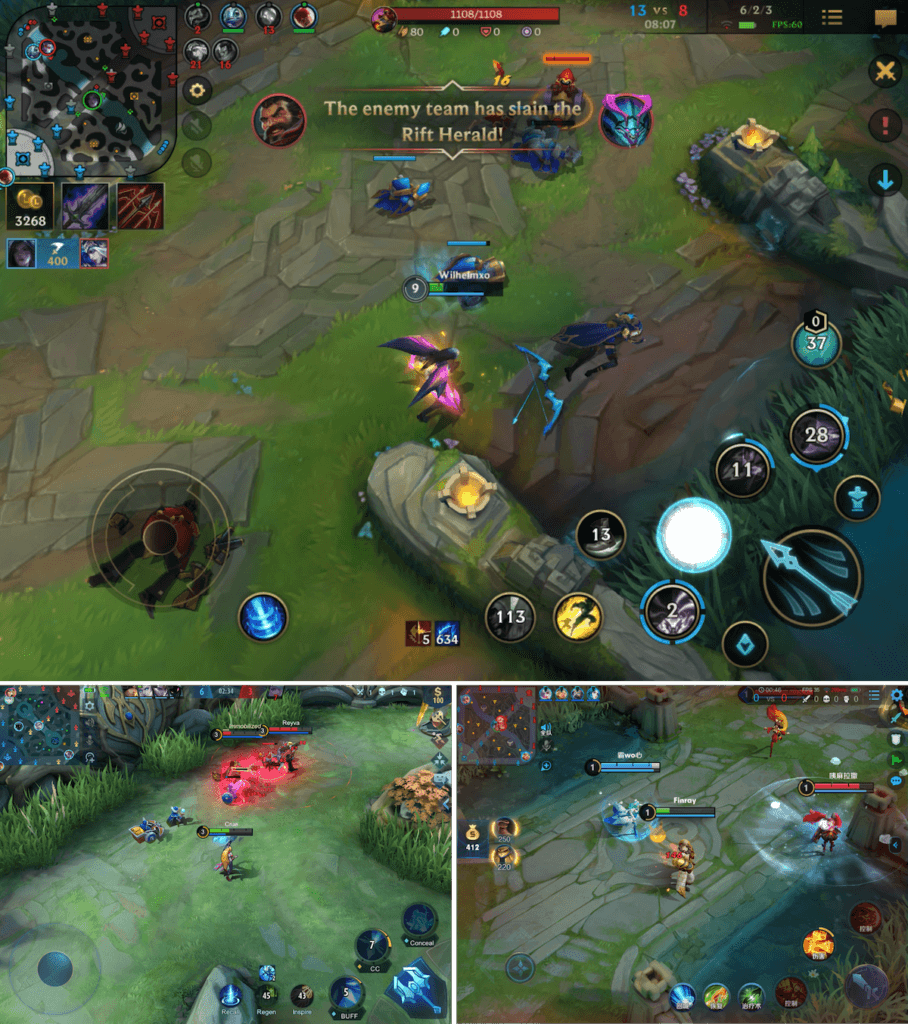 I've split this comparison to two categories: Social & PvP and Monetization.
Social and PvP Features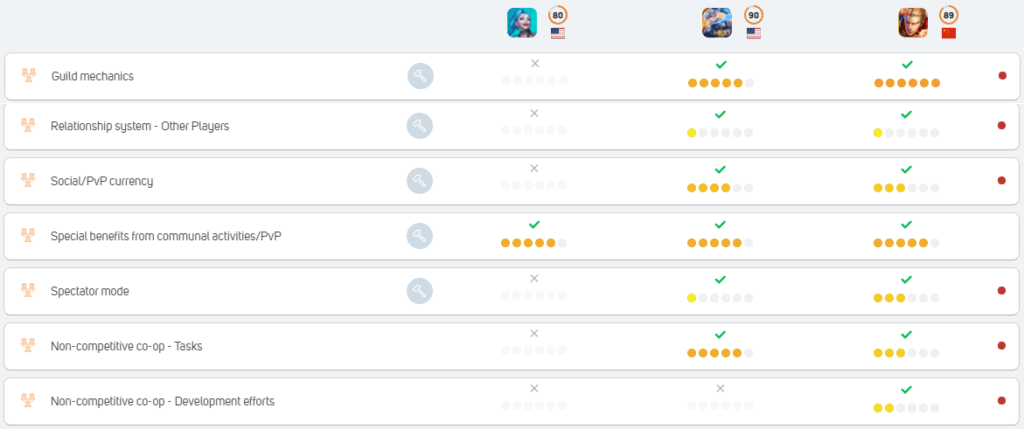 As we can see, Wild Rift currently lacks in terms of social features compared to Mobile Legends and Arena of Valor, both of which are packing loads of communal features to bring players together.


On the PvP-side, the feature-sets of these three titles look more alike. However, both Mobile Legends and Arena of Valor are extremely rich in content, offering loads of variation in PvP modes that range from regular MOBA modes to even autochess, battle royale, and tactical battler.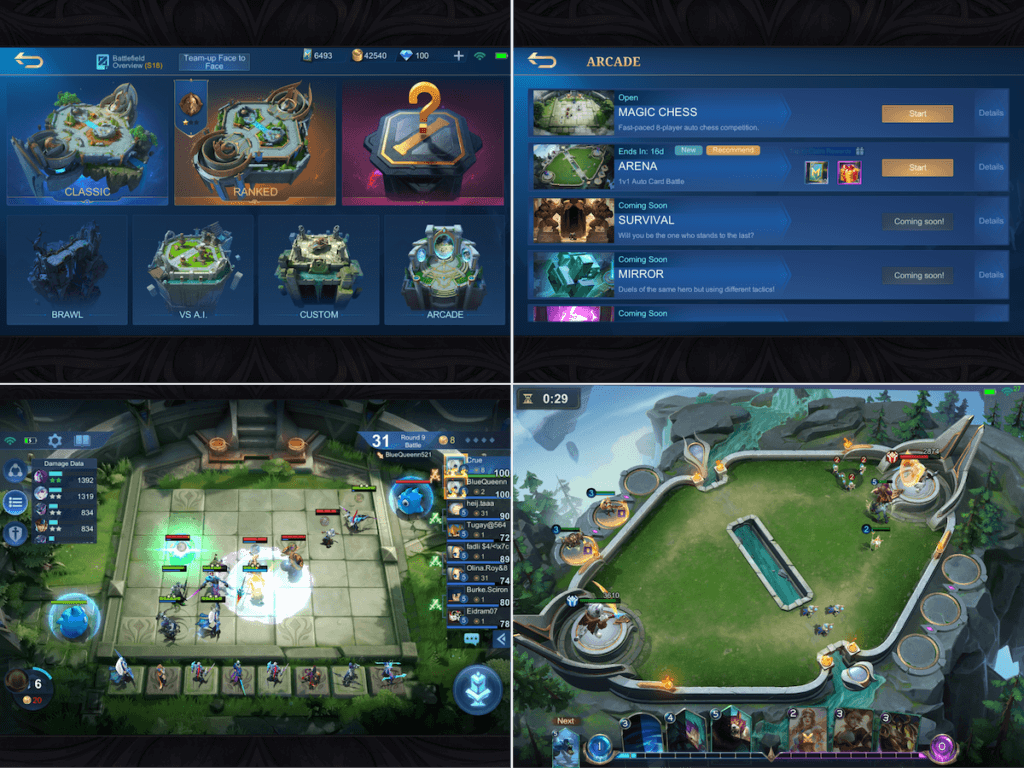 Monetization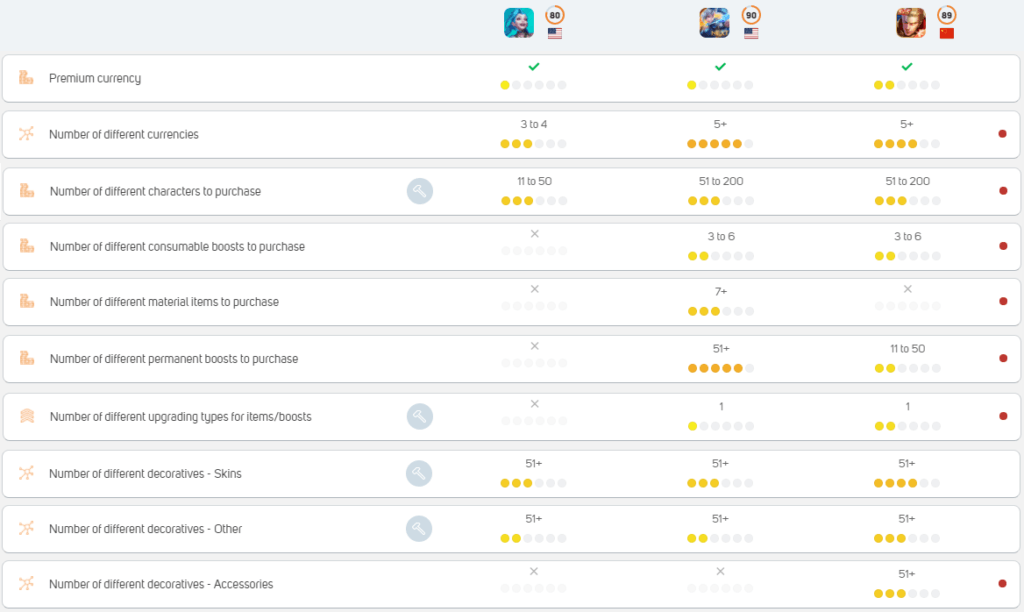 The character and decorative item monetization has been proven to work and is very similar in all three titles. However, Mobile Legends and Honor of Kings both have larger rosters to collect than Wild Rift. It can be argued that this is because Wild Rift is a brand new game still in soft launch, but for example, Mobile Legends has amped up its character collection through special game modes, such as autochess and tactical battler.

Additionally, both Honor of Kings and Mobile Legends have implemented a permanent boost system similar to Wild Rift's Runes, but unlike Runes, these are monetized and have a bit more depth thanks to the upgrade possibilities for the boosts.


Wild Rift isn't (at least yet) utilizing gachas to the extent both of its main competitors are. Mobile Legends and Honor of Kings monetize characters and skins with specific gachas, while Wild Rift has gone with direct purchases and fixed price points.

Moreover, Mobile Legends and Honor of Kings also ramp up their monetization with the heavily trending battle pass system and other special in-app purchase mechanics, such as progressive IAP-rewards.

Conclusion
It's safe to say that Wild Rift offers a truly polished gameplay experience that not only caters to the competitive gaming audience on mobile but also on PC. When comparing its feature set to some of its already established competing titles with more content, it can be argued that Wild Rift falls a bit behind in the social and monetization side of things. That said, it's worth remembering that Wild Rift is still in soft launch, and by perfecting the social elements and monetization, it'll have perfectly good chances of breaking into the top.
Once Wild Rift gets fully launched in the bigger markets such as the US and China, it's interesting to see if it's able to win over players from Mobile Legends and even the overlord of China's mobile gaming, Honor of Kings. It's worth noting that in highly competitive games such as MOBAs, the major player base is centered around the few most popular titles, so the competition inside this genre might heat up nicely. On the other hand, the total market share of MOBAs in terms of the whole market might grow to new highs if Wild Rift manages to attract more and more PC MOBA players to mobile.
If you liked this blog post, you should listen to our new podcast episode 2020 Retrospective with the GameRefinery Analysts, where we talk about League of Legends: Wild Rift and other interesting games currently in soft launch and what do we expect to see in 2021.