In this second post of our Feature Spotlight series, we take a deep-dive into a feature which – during the last couple of months – has gained popularity among US top grossing games. As always, we'll be sharing a data-driven analysis on the matter and offer you some tips you can follow to boost your next hit game's commercial potential even further.
Definition in Gameplay
Daily rewards aren't new.
Login bonuses, daily quests and vast variety of perks and freebies are well known and employed by F2P games to lure players into the game (and back and back again). However, our data shows many games are beefing up these daily appointment mechanics with progression elements, i.e. growing the pile of free goodies handed to players in relation to their efforts.
The idea behind these progression mechanics is simple: the more engaged users are in the game, the bigger their reward.
But this is not just a free lunch. More rewards encourages stickiness, loyalty and–ultimately–boosts retention, thus positioning game companies that are smart about how they use this mechanic to gain considerable competitive edge over their rivals.
Among the most common implementations of progression elements in daily rewards include:
A login calendar with different free gift for each day of the month
A daily bonus that grows in value each consecutive day you login
An extra reward for successfully completing all daily quests in the course of just one day
One big daily quest with "thresholds" – the more thresholds you pass, the bigger your reward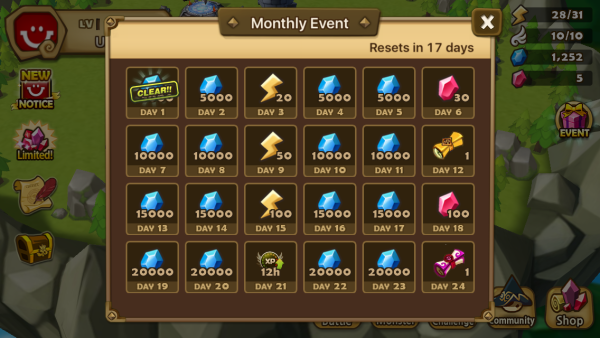 Trend in the Market
At GameRefinery we analyze the top 150+ features across to the top 200+ grossing apps, as well as another 700+ games outside the top grossing list to identify and rank an extensive list of features and improvements that can potentially–and significantly–boost the commercial potential of your game.  Our data reveals that progressive daily reward system is a feature that consistently defines top games across a variety of genres. Nearly half of all games in the iOS US Top Grossing 100 have adopted a daily reward system with progression elements.

When compared to games outside the top 100 grossing list our observation that this feature differentiates the best from the rest gets further validation. Less than third of games outside the iOS US Top Grossing list implemented this key feature.

What's more, our data hasn't just detected the undeniable and rising popularity of this feature. It leads us to conclude that this trending feature shows no signs of weakening any time soon.
So there you have it. Rewarding players based on their efforts and continuous engagement with your amazing game really can pay off. My advice: When designing appointments mechanics that drive user engagement and retention, be sure to map progressive daily rewards into the blueprint of your game.
Implementation in Top Performing Games
Now that you know the reasons why this is a feature to implement, let's take a look at how winning games are doing this right. Here's our pick of the top games where this feature has been implemented efficiently.

Kill Shot Bravo
Daily Missions: What do you get when you mix regular daily login calendar with daily tasks? Kill Shot Bravo's progressive daily reward system allows players to earn wide variety of items, gear and in-game currency by completing Daily Missions once every 24 hours. It's a smart approach that makes this game stand out from the crowd. Players can see all the great rewards waiting for them – provided they keep coming back to grind those missions every day.
Walking Dead: Road to Survival
Daily Prestige Bonus: As an addition to daily missions this game takes it one step further with a free login bonus. Every day users come back, they're given free Prestige Points, which increase their Prestige Rank. As their Prestige Rank goes up, new bonuses and rewards, (such as characters, weapons and items) rain down on these engaged players. As if this wasn't enough, the Prestige login bonus is progressive, meaning players get even more Prestige Points after each consecutive login.

Star Wars™: Galaxy of Heroes
Guild Activities: Regular daily missions with an interesting communal touch, Guild Activities are co-operative tasks that players can complete together with their guild-mates. To prove that teamwork actually pays off, all participating players are showered with rewards after a Guild Activity is completed. To introduce a progressive element to all this, the reward's value is based on the number of Guild Activity thresholds players manage to pass with their friends.
Galactic War: To add one more daily appointment mechanic to the mix, Star Wars™: Galaxy of Heroes has introduced Galactic War, a whole new playing mode that is essentially a daily quest with steroids. Here's how it works: Once a day players may gather up a group of heroes and start fighting their way through series of ever-hardening battles. Alongside all the fighting, chests with valuable gifts inside are given as rewards, but once you're defeated it's all the galactic war-waging you'll see that day. This playing mode unlocks only after you've put dozens of hours into the game, but its addicting mechanics and fiendishly challenging difficulty setting make it easily worth the effort.
The Takeaway
Recent market data underlines the upwards trend of progressive elements in daily rewards and shows it's clearly a feature that can cause a positive uplift in the commercial performance of any games that implements it properly.
As competition gets tough it's critical for games (and all apps, really) to keep customers loyal and engaged. There are many ways you can drive deep and frequent interaction with your game, but we suggest this relatively simple and easy-to-implement feature should have a top-notch spot on your list when you design a new game – or simply improve an existing one. Obviously, there's no one blueprint to follow when implementing progressive elements in daily rewards, which is why we highlight several proven examples that present different paths to choose from. The good news: no matter which path you finally decide to take, your game, your players and your KPIs will all likely benefit.