We kicked off 2020 with our reflection.io acquisition announcement and how it would help us expand our service to provide more accurate worldwide download & revenue numbers for mobile games.
Behind the curtains, our development team has worked to bring that data closer to our users. Now that work has completed its first phase, and we're happy to announce that we are revamping download & revenue figures in GameRefinery. We'll keep on rolling out new markets in the coming weeks but the new data will soon cover iOS revenue for +30 countries!
Even better, this update arrives with no extra cost and is immediately available for all our existing & new customers!
Bringing the Reflection.io data to GameRefinery was a massive undertaking, and big thanks go to our product & development team!
For even more Rev/DL insights don't hesitate to ask us about reflection.io access!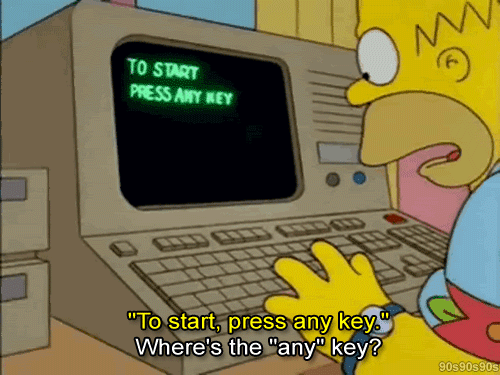 In this post, we will break down where new data is available, how it looks!
Every topic includes proper hotlinks to the service so you can immediately jump in and see the data points for yourself!
Game overview page – New tab for revenue & downloads!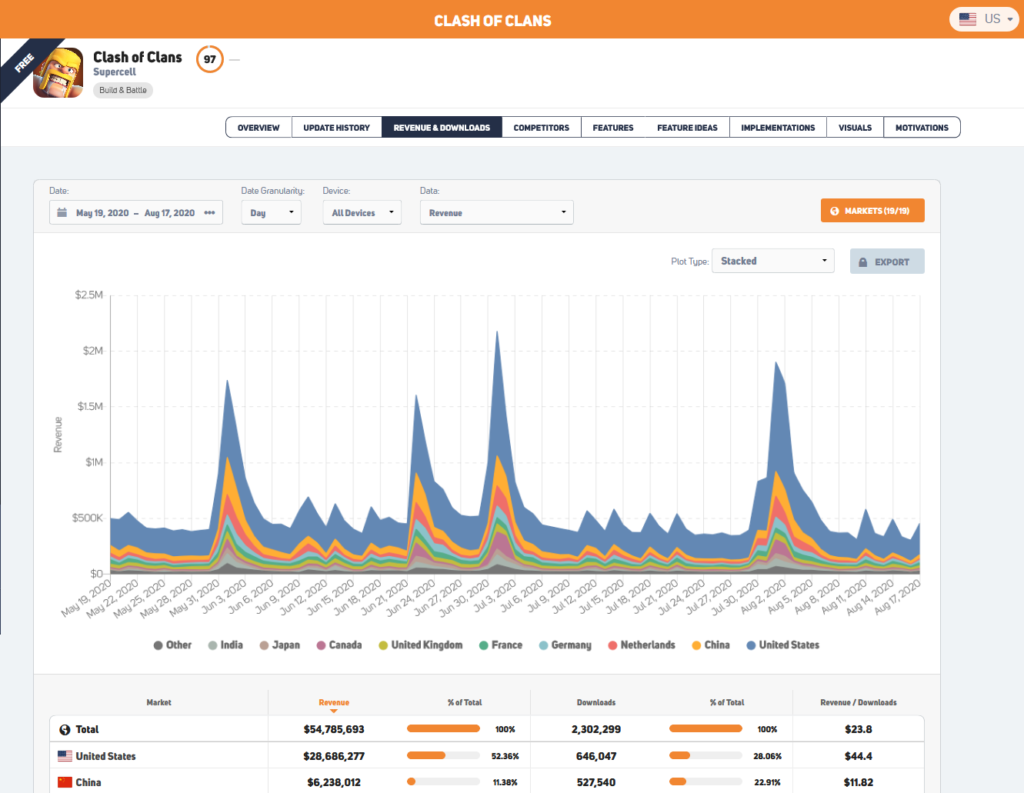 All games in the system will have a new tab named "Revenue & Downloads" added to their game overview page. In this tab, you can see and customize the downloads and revenues through four filters! Date, date granularity, device & data set (with six unique filters!).
To help with data visualization, there are four ways to visualize the data in the chart! What's even better is that you can see geo-specific breakdowns at the bottom of each page!

Main users: Designers, Product Owners, Producers and Data Analysts

Check Clash of Clans' Revenue & Downloads page!
Game overview page – Update history more data points!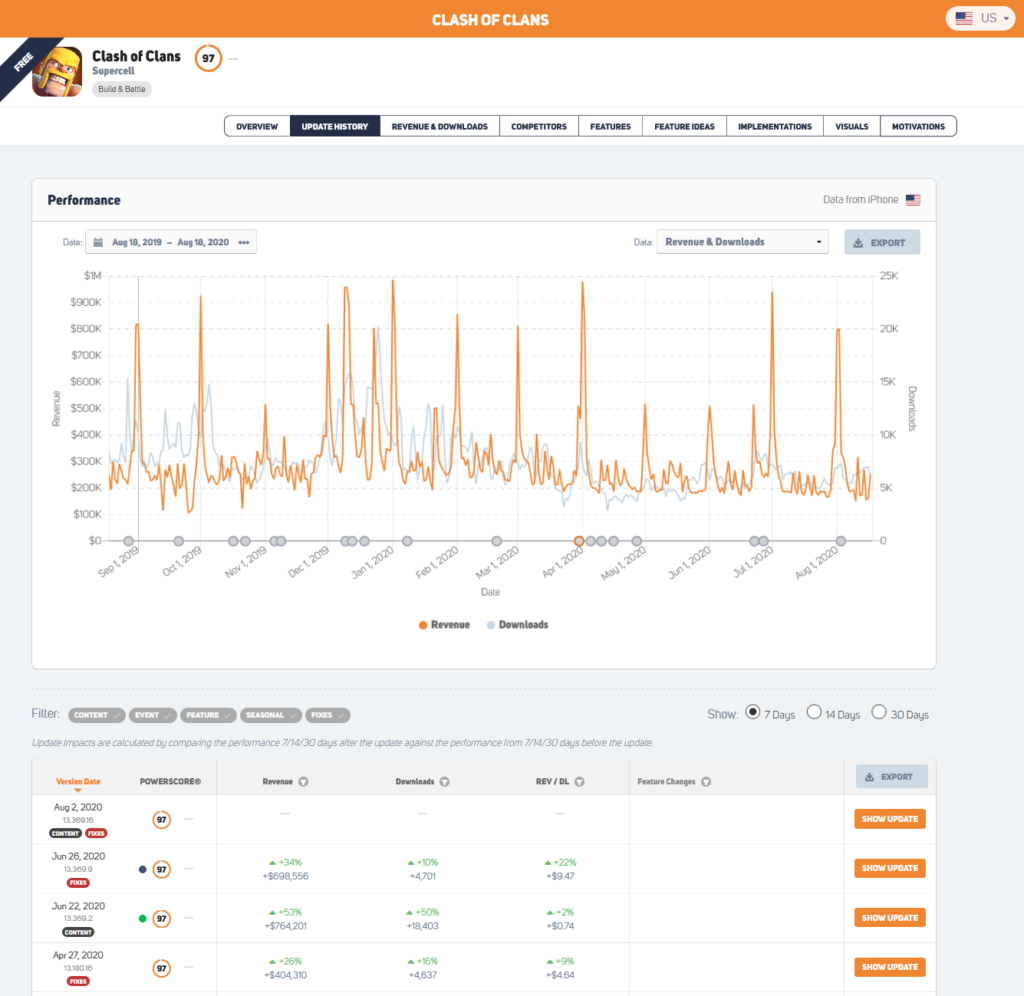 In the Update History tab, all figures are now more accurate. To help bring as much functionality as possible from reflection.io we've added tons of new filters to update history-tab: the option to select a custom range for a date, six data filters, and 7 & 14 day time frames to monitor revenue increases.
With seven and & 14 day filters, you can see more update impacts in a shorter time period compared to just the previous 30 day & 60 day options.
Users: Producers, LiveOps Designers and Product Owners
Check Clash of Clans' Update History page with new more granular numbers!
Market Share – More accurate numbers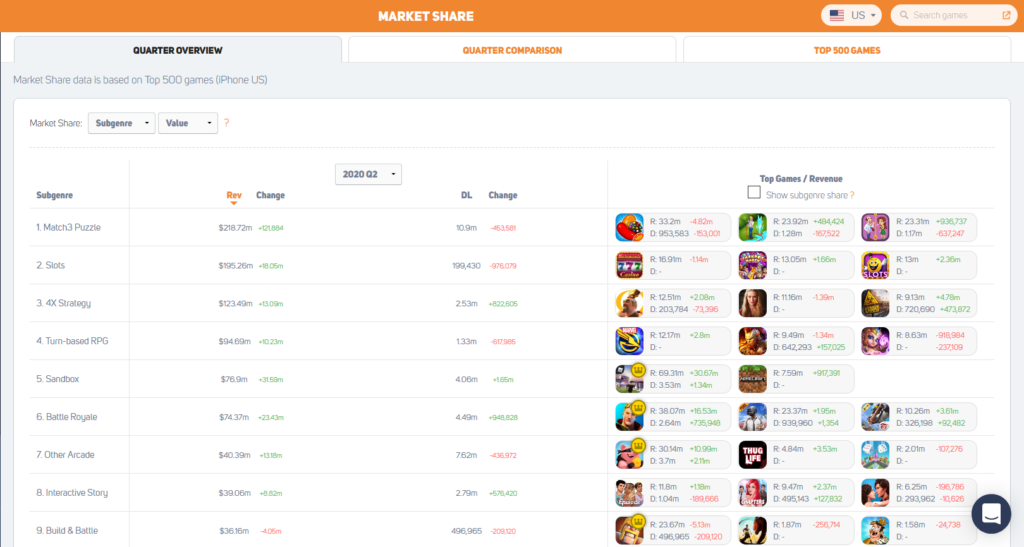 Thanks to Reflection.io data, the values presented in Market Share have become even more accurate, both percentages and values. Especially when "value-tab" is selected, you can see now more precise dollar values per genre, sub-genre, and individual game.
What is also cool is that now Market Share data covers all seven markets available in GameRefinery: US, Japan, China, United Kingdom, Canada, Australia and New Zealand! This means that you can e.g. compare Turn-Based RPG sub-genre sizes between the US and Japan and the top games per country!
Main users: Data Analysts, Market Research & Management

Check out Market Share with new more detailed numbers!
Soft launches – See specific launch markets, numbers & a bigger list of games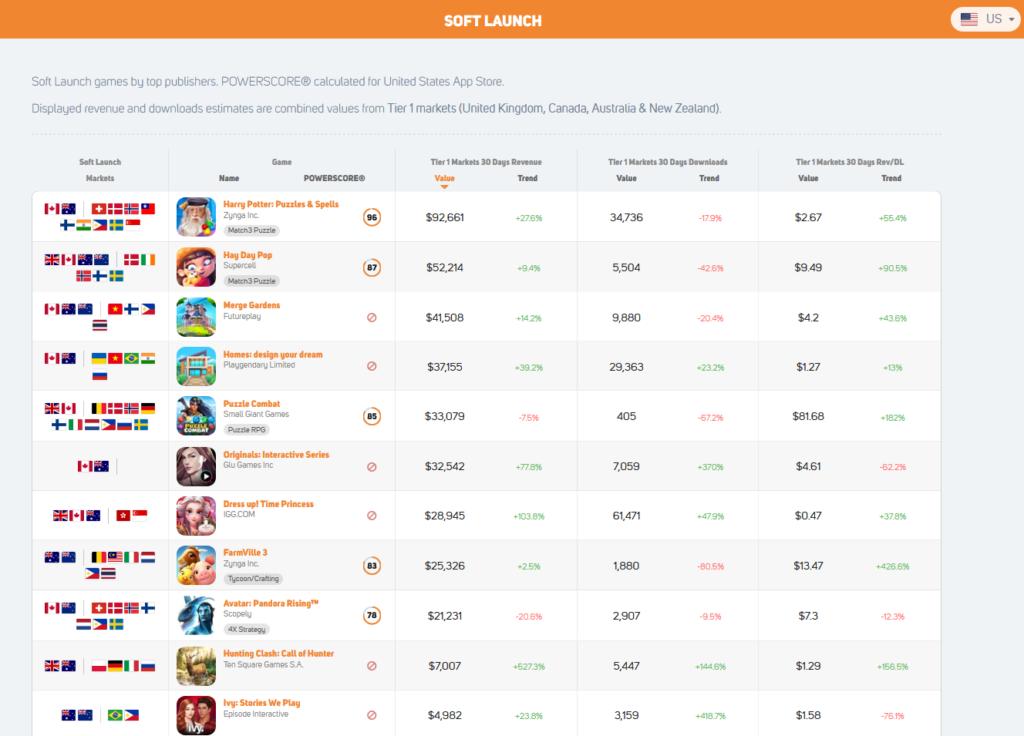 In addition to new numbers from Reflection.io we also added a couple of cool features!
The soft launch page now has more data available than ever before! You are for example able to see:
Specific markets where games were launched pointed out by the country flag.
Thirty day revenues & downloads – This data is from tier 1 countries.
An expanded list of soft launched games – The system now automatically curates new games launched across markets!
Main users: Data Analysts, Product Owners & Management

Check out the new Soft Launch page with multiple new data points to keep your competition under the microscope!
Top Grossing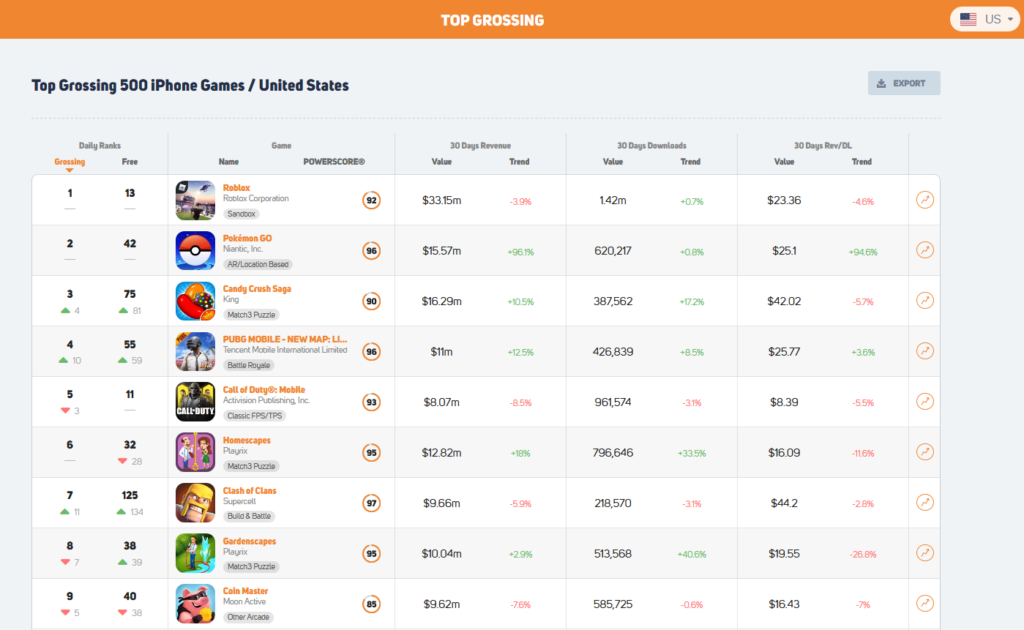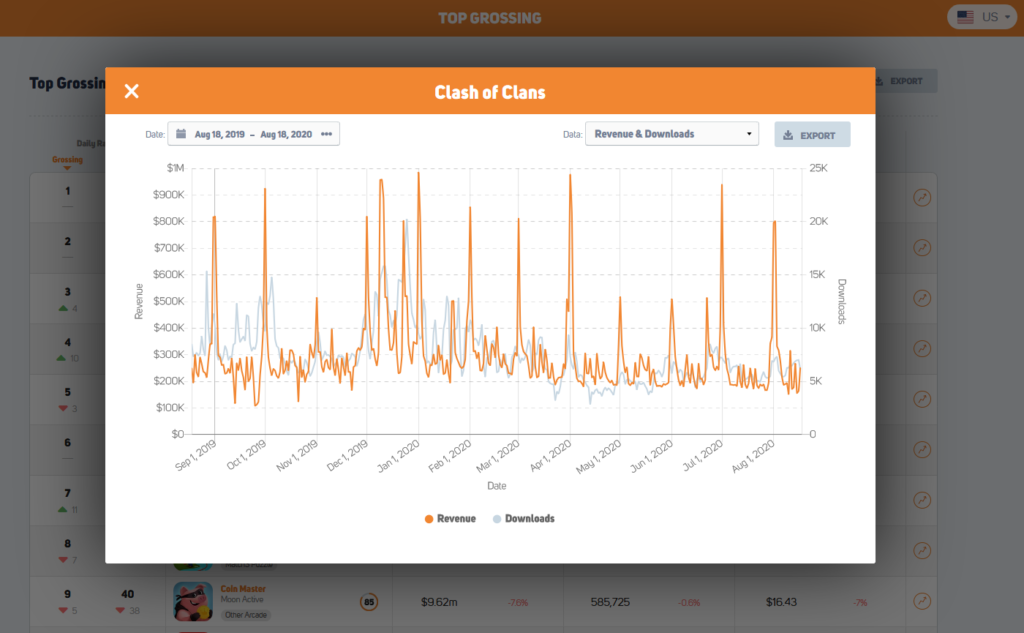 Like on the soft launch page, we've introduced 30 day revenue & download metrics to top-grossing. As an addition, on the right side of each game, you can find the little arrow-icon. Pressing the icon opens up more daily, weekly, and monthly performance metrics with additional filters.
Main users: Data Analysts and Market Research.

Take a look what it takes to make it to the Top-500 grossing list in the US!
Market Explorer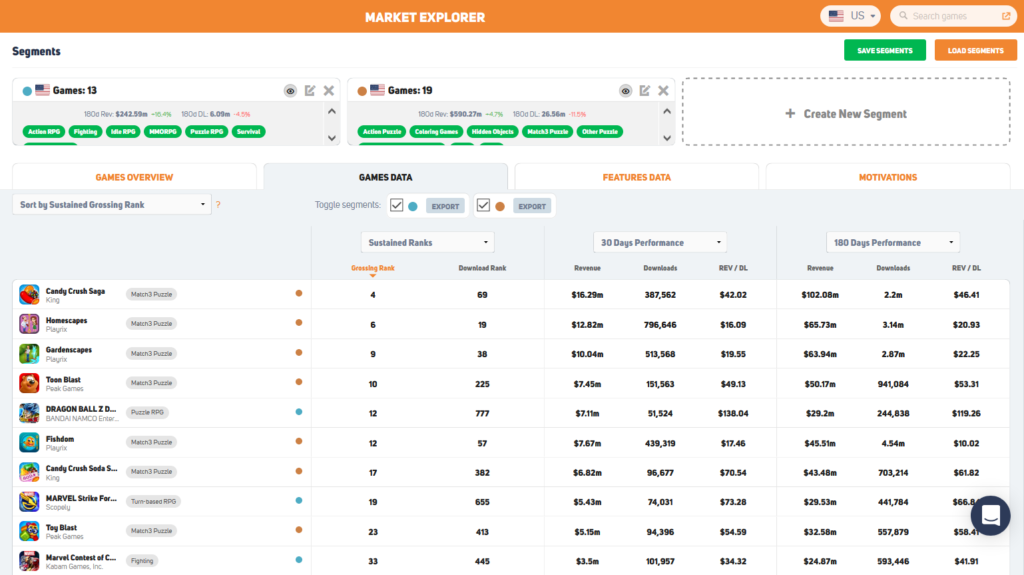 There are a few interesting new additions to Market Explorer:
When creating a segment, the system will automatically add 180d revenue & downloads inside segments boxes.
In the Games overview page, we've re-created the X & Y-axel filters by categorizing existing ones. New categories separate download, revenue & motivations filters.
30, 60 & 90 day performance metrics have been added as new filters to Games Data. This allows you to compare power score, demographics, and 30 day performance data.
When you create a custom segment the system automatically provides you with growth estimates!
Main users: Data Analysts, Market Research, Product Owners, Designers & Management.

Take a look at Top-100 grossing RPG games Vs. Top-100 grossing Puzzle games in US-market.
Game Update Impacts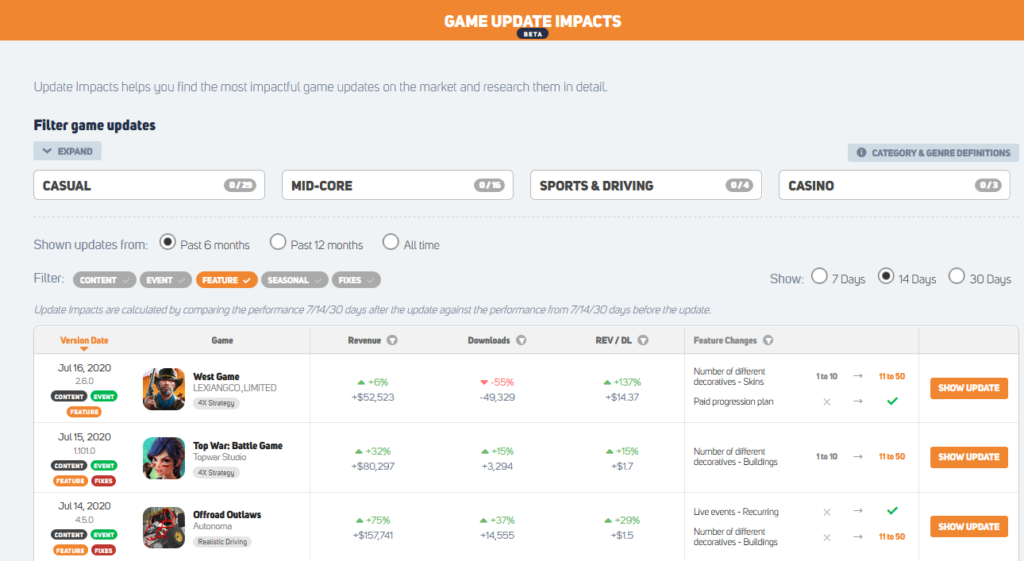 Similar functions and new filters from game overview pages and update history tab are available in Game Update Impacts: Download & revenue numbers have been improved, and result comparison has been decreased to seven, 14, and 30 days. This gives you the possibility to see the immediate results after a competitor's in-game LiveOps event!

Main users: Producers, LiveOps Designers and Product Owners.

Check out the 14 days results of latest events in Puzzle-genre games.

Final words
The Reflection.io revenue & download update was one of GameRefinery's biggest updates to date and we're happy that we can now provide you with more granular revenue insights!
This update is only the tip of the iceberg of what's coming in coming months, though. If you have any questions, comments, or wish to have a personalized training session on these new data points, don't hesitate to contact us!