Infinity Kingdom is a cartoon-styled strategy game that became available for iOS and Android in January 2021. In the game, players must defend the land of Norheim against the evil gnomes while protecting themselves from other invading players. In this blog post, we'll take a look at Infinity Kingdom's monetisation from a player perspective and how the game compares to other popular mobile strategy games.
The game has also been analyzed to the GameRefinery service for our customers who want to analyze the data further.
Editor's note: This is a guest post by Keith McCormac, Product Manager at WarDucks, and Altti Heinonen, Game Growth Dev at GameRefinery. After developing six best-selling VR titles, WarDucks is now working on an exciting genre-defining mobile title, a world-spanning location-based AR game like no other.
Immortal Battle system
To understand how Immortal Kingdom encourages early monetisation, an understanding of the battle system is needed.
Battles formation works in the following way; 2 front liners and 2 back liners.
There is also a special character which is a dragon and it triggers a special skill once or twice per battle depending on its tier and level.
Each Immortal has its own mana bar, which fills as they do attacks and triggers their special ability.
Immortals are also split by rarity (epic, rare, uncommon, common), troop type (shieldmen, spearmen, bowmen, cavalry), and element (earth, fire, water, wind, holy, and shadow)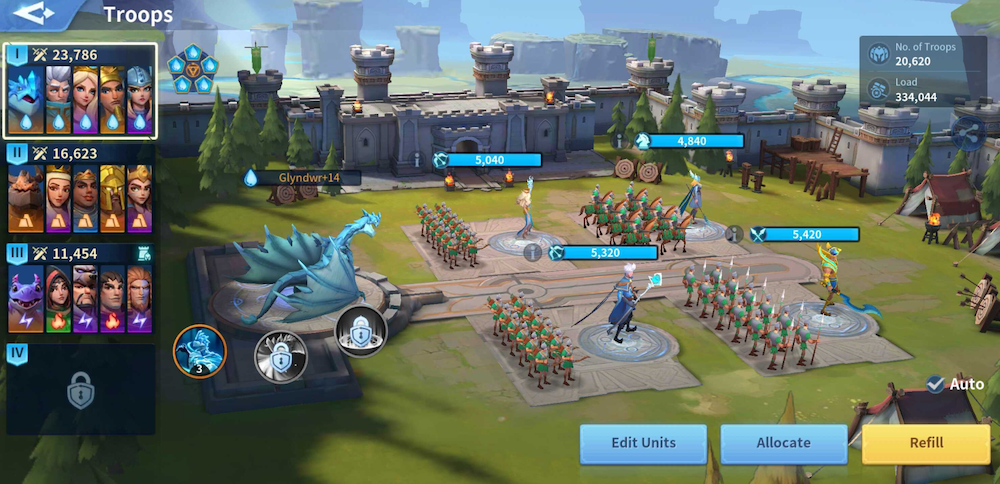 Similar to Idle Heroes, using different combinations of immortal elements will give different buffs. Below is an example of a full water team. Note this gameplay element in particular as it affects 1st-week monetisation, which we'll explain later.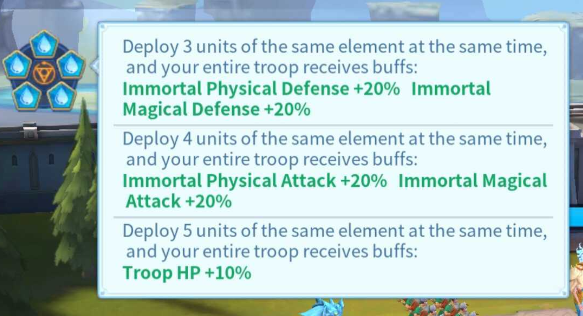 They use 6 elements. See below.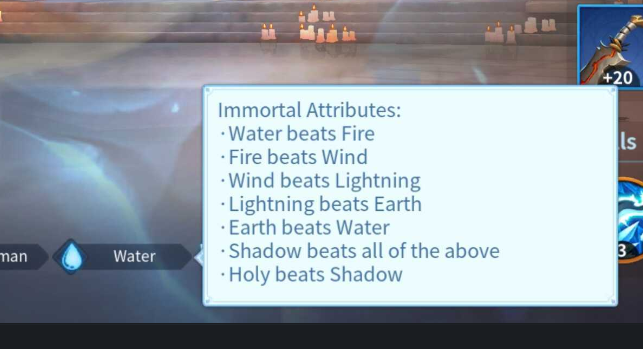 What makes heroes valuable?
Player power
In most 4x strategy games, players have a power meter. Players gain power usually from the following:
Construction
Research
Heroes
Troops
In my own player experience in other 4x games, construction and research tend to make up 50-70% of player power, and the rest is troops and heroes. In the Infinity Kingdom, developers have given more weight to immortal and troop power. It's more like 10-90 now. This increases the value of immortals in particular as it's important for a player to increase their player power as it displays their status socially within the game. In most 4x strategy games, players have a power meter. Players gain power usually from the following:

Players that want to be in top guilds will need to meet higher power requirements as this is used to judge their worth to the guild at a glance.
PVP async arena
Another way for the player to improve their status within the game is to perform well in the PVP Arena. Here players prove the worth of their immortal strength and their battle strategy (The formation and immortals they have chosen).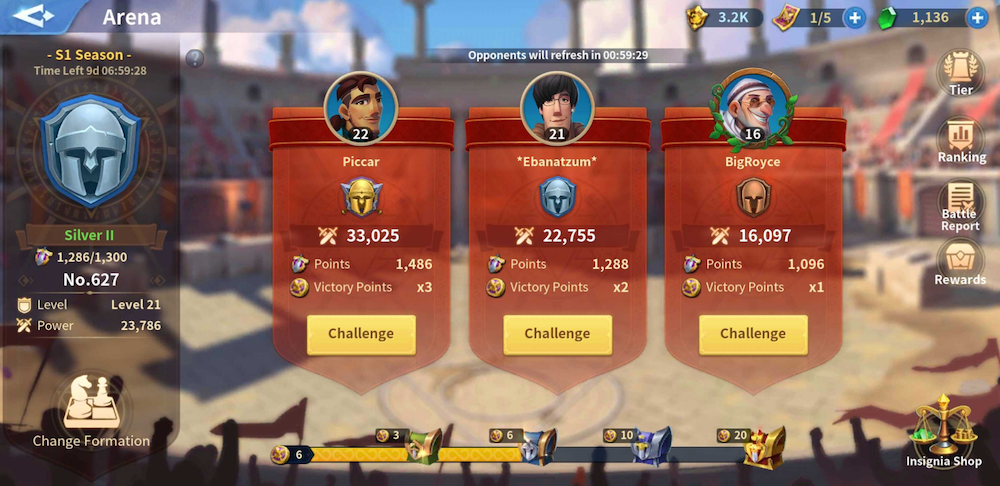 They are also given very valuable rewards for competing and progressing up the ranks. The seasonal rewards, in particular, are very valuable as it provides Epic immortal shards. This again increases the value of having good immortals.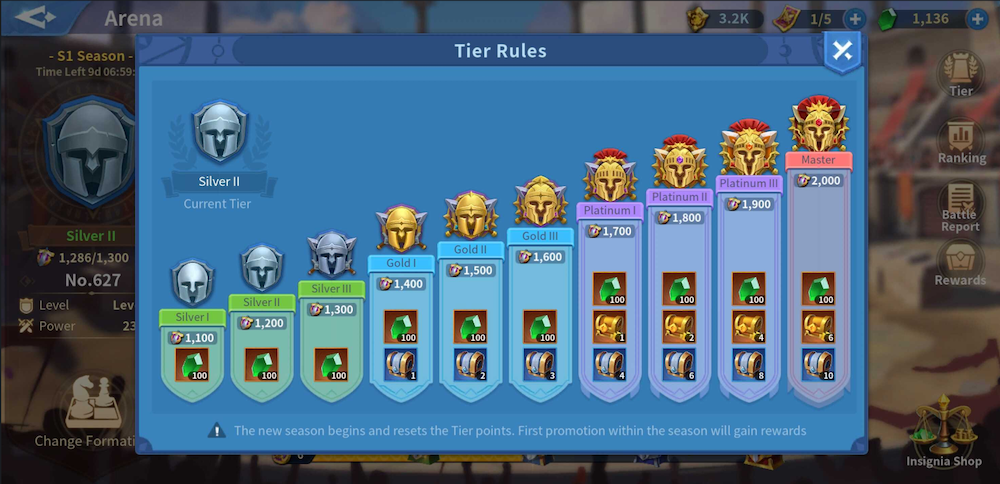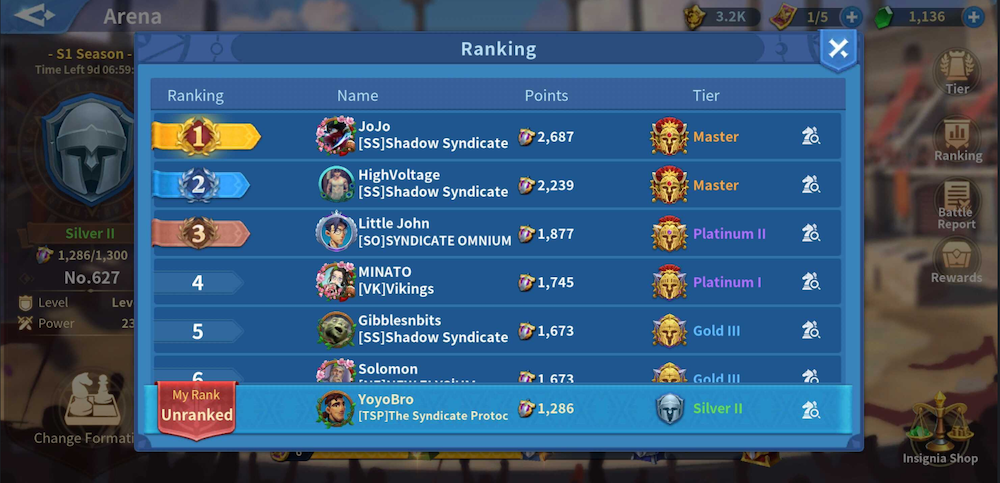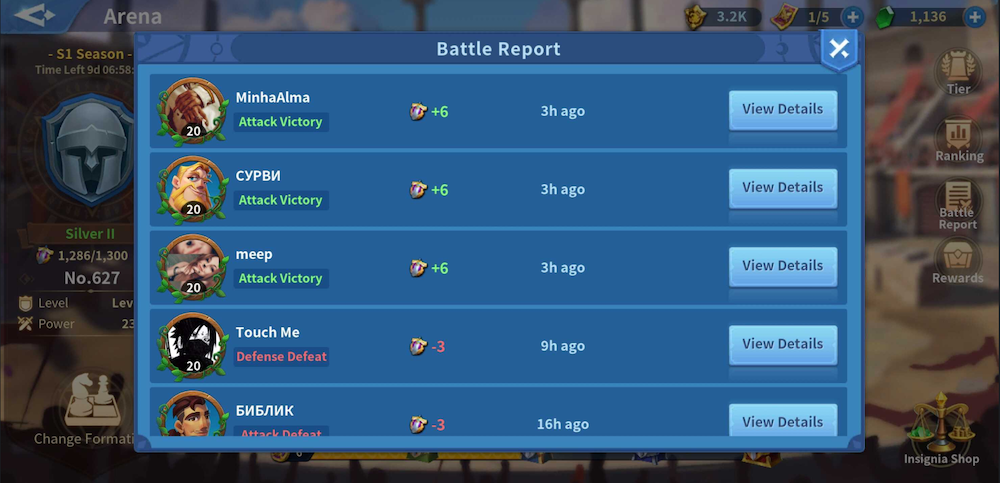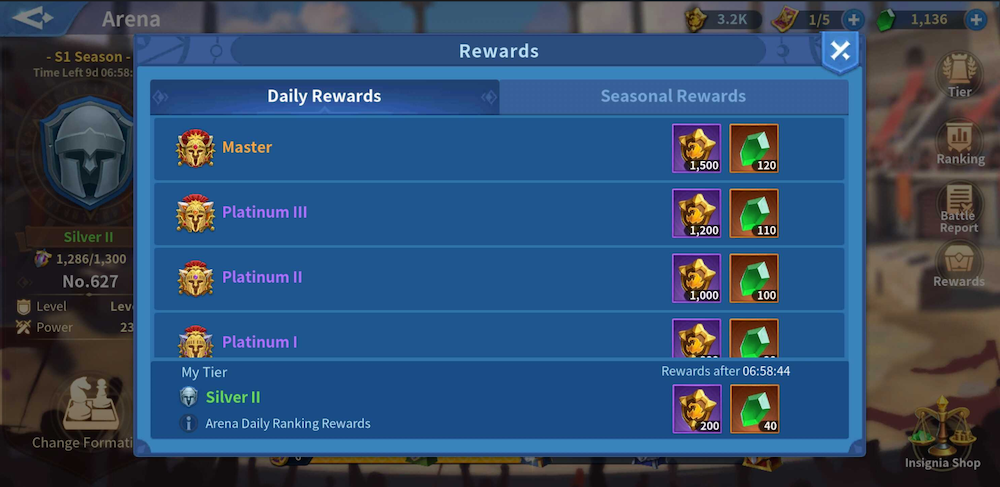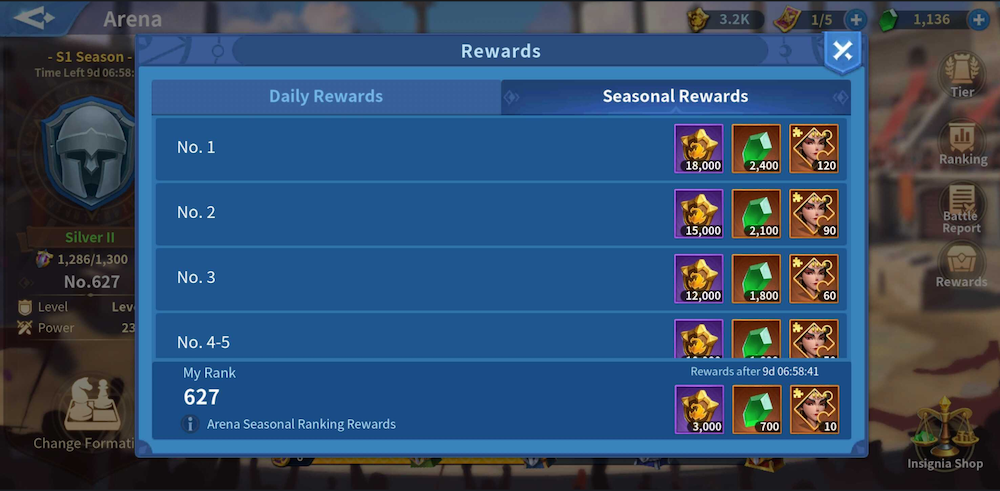 Top-notch art style and genre
Each Immortal has amazing animations, VFX, voice acting, and backstory, making them even more appealing. It is also good to note that there are many same characters in the game as is in Rise of Kingdoms. Still, where RoK is more about "historical warfare," Infinity Kingdom also brings Dragons and Wizards like, for example, Merlin to spice up the theme. Nevertheless, the similarities are there. However, Infinity Kingdom brings more to the RPG layer by focusing more on the characters, as mentioned previously. Take a look at this example below, comparing the same character in Rise of Kingdoms and Infinity Kingdom.
Player Journey to building a strong Water team
The game is set up to encourage the player to build a strong water team based early in the game. Due to the buff of having 4 water immortals and 1 immortal dragon, most players set this as an early goal.
I'll explain below how the developer encourages the player to build a water team to take advantage of the Aura Effect Bonus.
Helen of Troy
When the player begins the game Helen of Troy is the 1st immortal they will summon through the tutorial. She is a rare water, magic, bowmen, backliner.
There are 5 ways to upgrade an immortals power:
7 shard tiers (similar to our 4 star)
4 equipment slots (similar to ours except you can level up gear using a special currency)
Immortal level (increased through experience in battle)
Skill upgrade (at tier 3 the immortal unlocks their 2nd skill, at tier 7 they unlock skill 3. Skill 2 and 3 are upgradable in a different system. Skill 1 is increased 1 level per tier upgrade.
Artefact booster (these are earned through the campaign)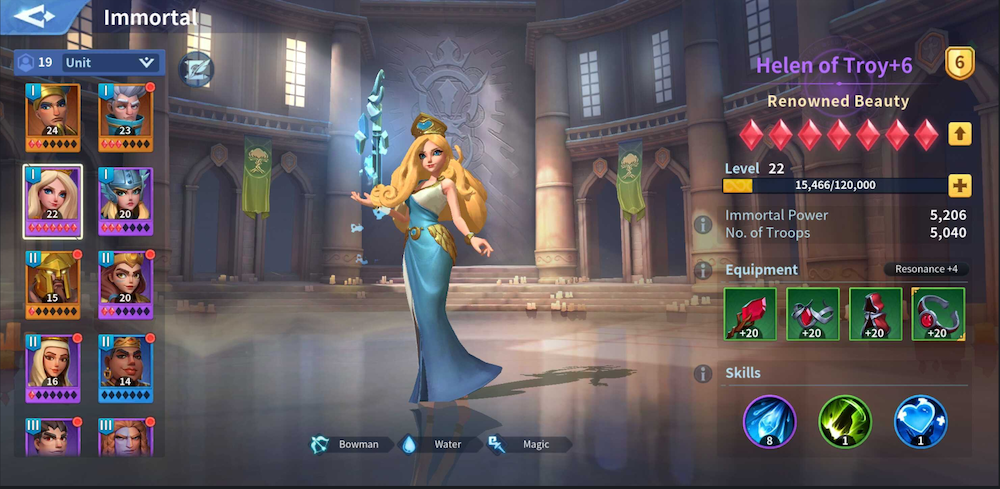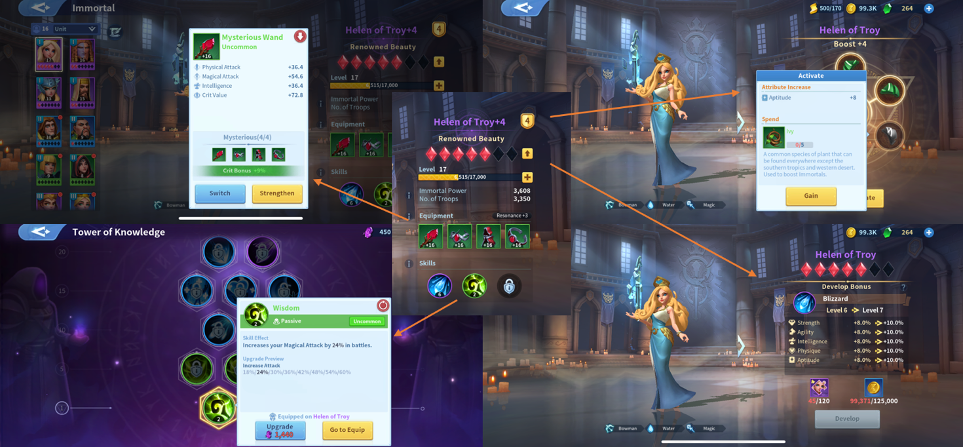 During the player's 1st week, a live event runs, which will give the player enough Helen shards to upgrade her to Tier 7. Which max levels her 1st skill and unlocks the 2nd and 3rd skill slot. This instantly makes Helen the best early F2P immortal to work on as a player.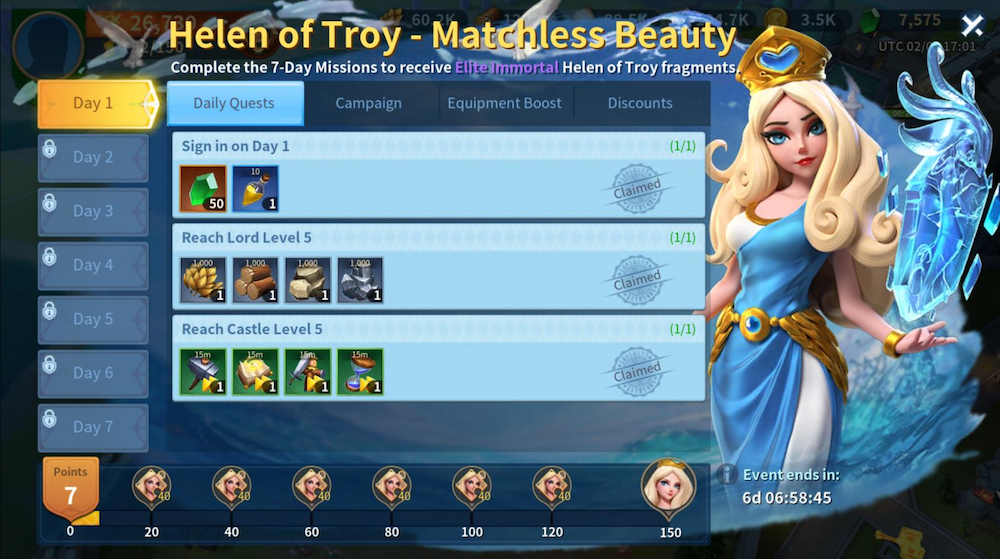 Brynhild – Philosopher Stones
So now that the player has one strong water immortal hero guaranteed, they start looking to other water heroes they can use.
The player earns immortals through various ways, but one of the main F2P methods is called philosopher stones. These are an item earned in various ways in the game, but it's basically a Gacha box.
One of the immortals that has a high drop rate at the start is Brunhild, a rare, water, cavalry, defensive frontliner. So now the player has two free water characters, a decent frontlines and a decent backliner.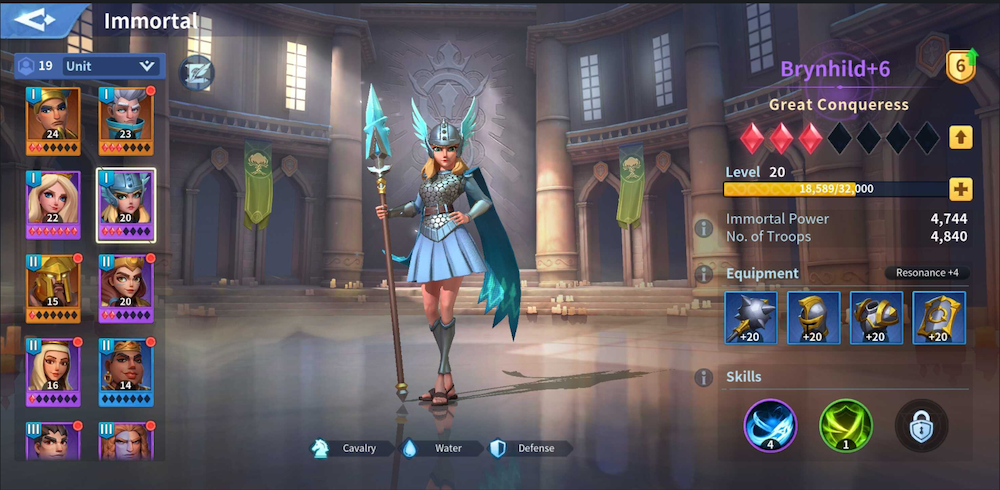 Merlin
So allow me to introduce Merlin, extremely powerful water, magic, bowman, backliner. Very similar to the F2P Helen, except Merlin is an epic immortal.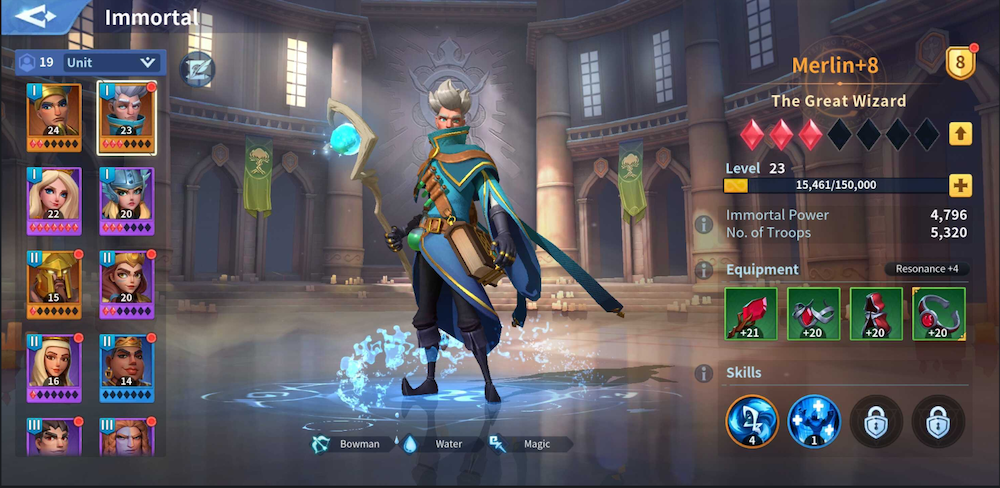 1st Time Purchase
So this is where the game encourages the player to make their 1st purchase. If the player makes any purchase in the game for the 1st time, they will summon Merlin, along with some other tempting rewards. Most in-app purchases start around the 5euro mark, so you can assume the player has spent a minimum of 5 euro at this stage.
If you go into the rankings in the PVP arena, you will see a very high % of players with Merlin in their teams early in the game.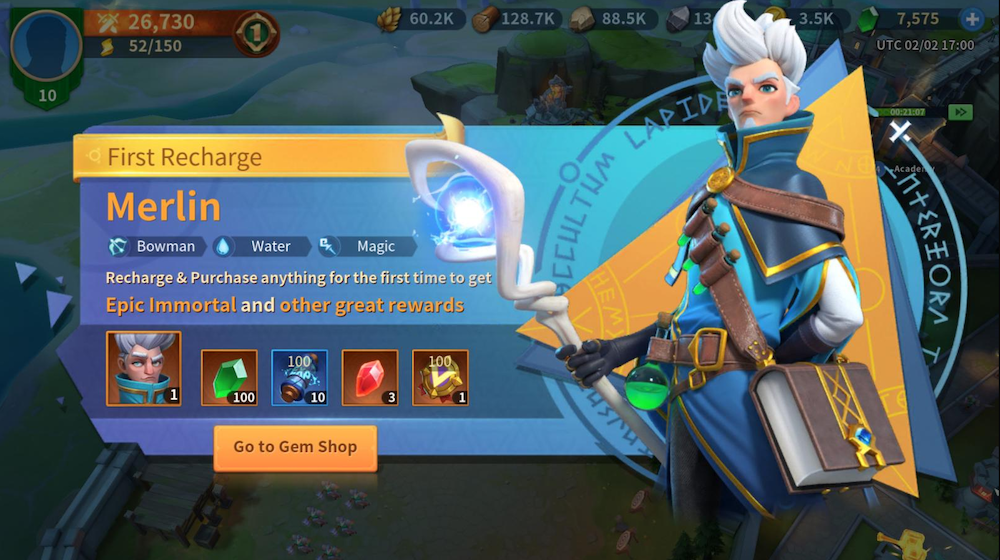 VIP Shop
So the player has now made their 1st purchase which earns them VIP points. These points are earned by making purchases or spending gems. When taking a look at GameRefinery, you can see that the Infinity Kingdom utilizes this feature as the very top 4x games have it and have found a way to make it work well.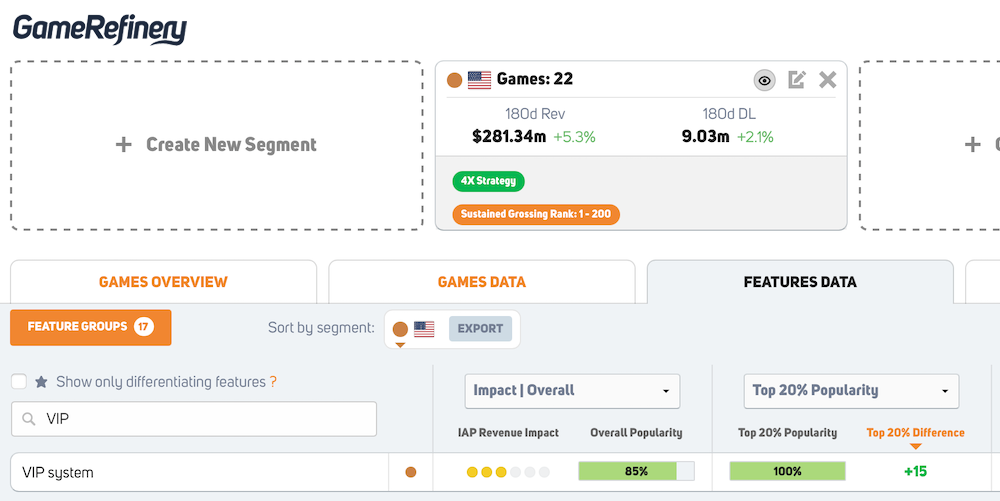 Now, each VIP level offers new buffs for the player, a daily exclusive chest, and a once-off premium chest. As the player levels up, the contents of this premium chest change. Below you can see the 1st few VIP chests that offer large amounts of Merlin shards, among other rewards. After summoning Merlin and having limited ways to tier him up, these VIP chests become very tempting. Again if you look at most Merlins in the arena rankings, a lot of them are already tier 3 or 4, which indicates players have paid for these chests. (This particular design might be familiar to you from RoK)
The Merlin VIP chests combined are about 40 euros. This brings the player's total spend to roughly 45 euro.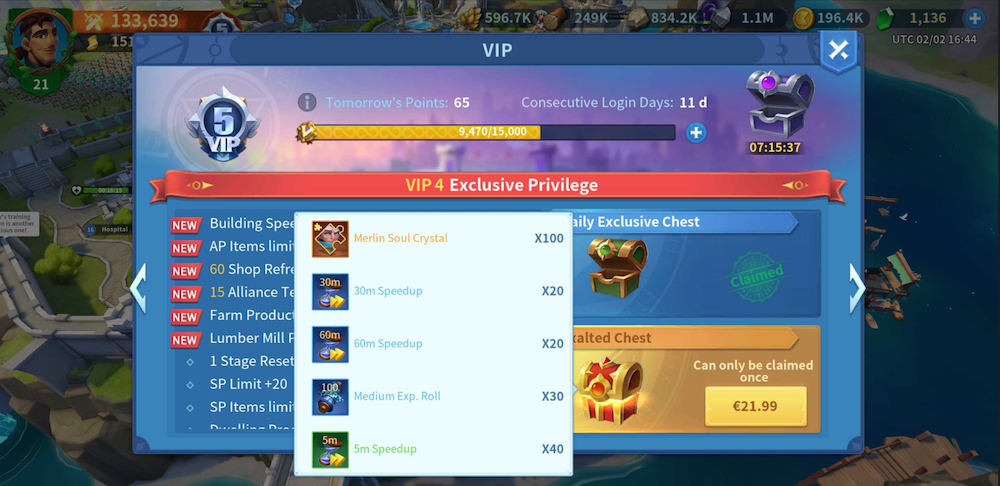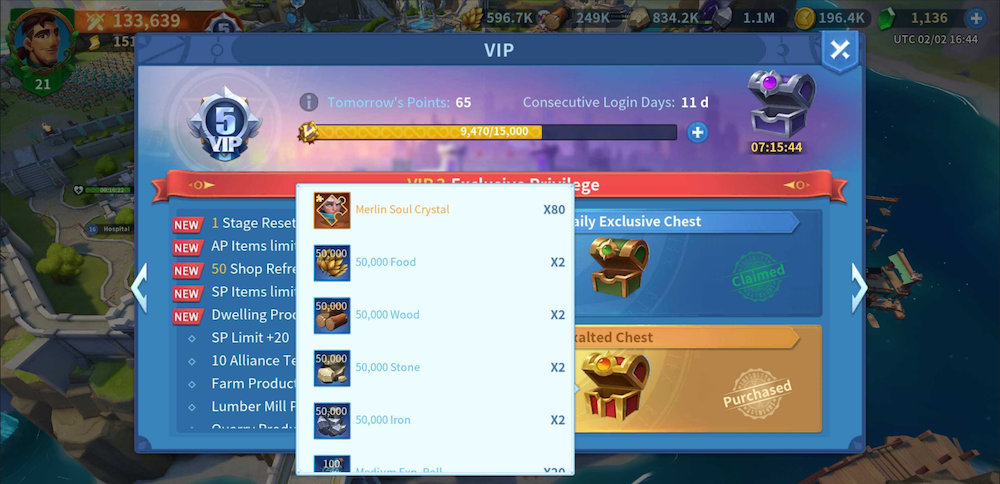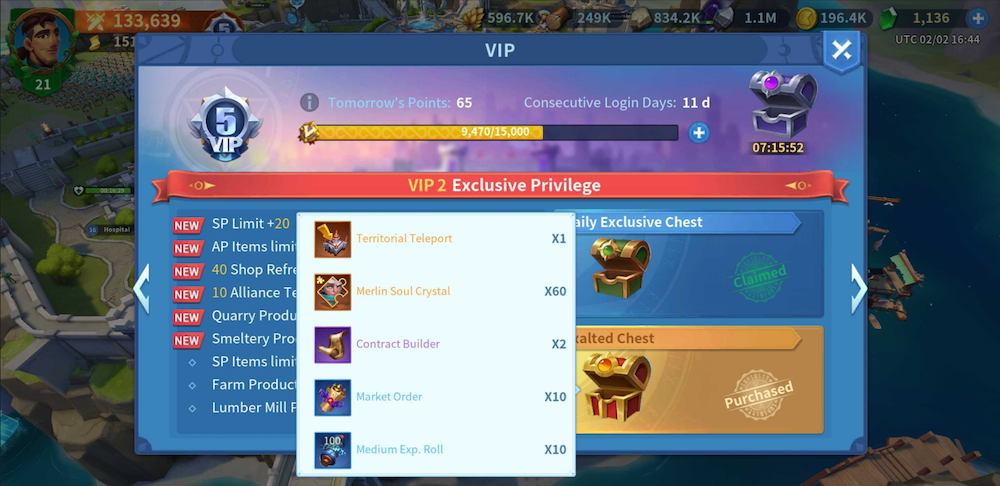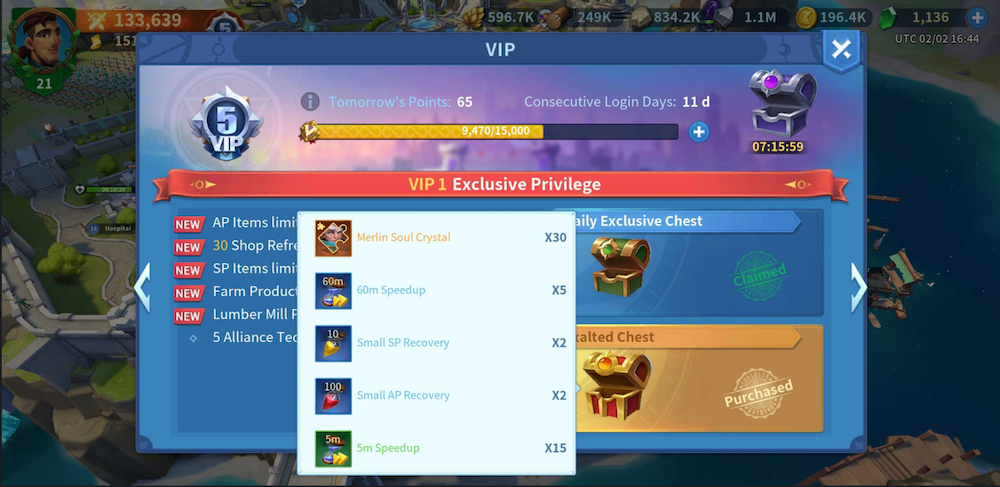 Ramesses
The player now has a water dragon, two water back liners, and one water frontliner. They are missing one more water frontliner to complete a full water team.
There are no more rare water immortals, but there are three more epic water immortals, Ramesses, Harold, and Atilla the Hun. Getting these through F2P means is difficult and will take a lot of time and patience as philosopher stones are not easy to come by. Although Harold is also available in the Arena shop, this will take time to acquire enough points to summon him.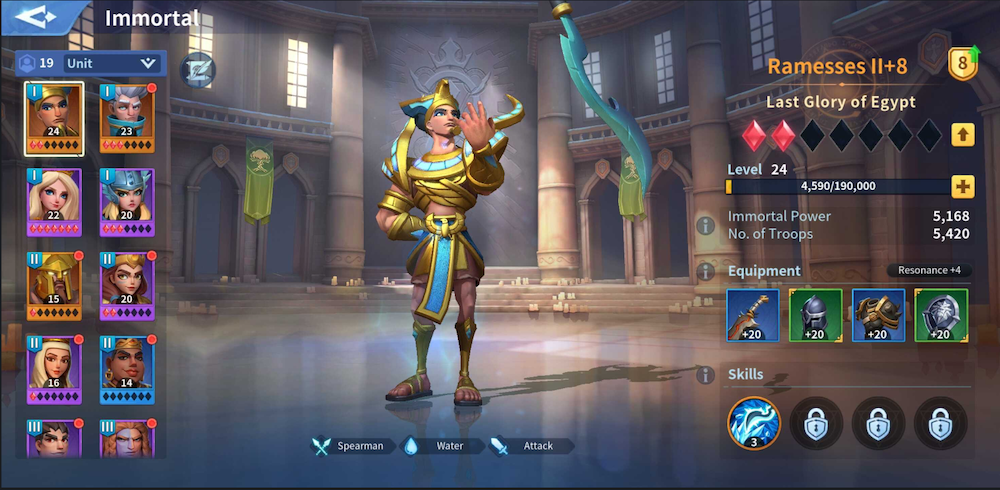 Scaling IAP Bundles
Sitting in the shop are multiple scaling bundles. A scaling bundle is an in-app purchase that starts at 5euro. Once you purchase it, a new in-app purchase replaces it with double the content for double the price. Typically it scales like this 5.49, 10.99, 22.99, 55.49, 109.00. 109.99 is usually the upper limit.
Infinity Kingdom offers two bundles in their shop that include immortal shards. One with a lightning epic immortal and the other is Ramesses, the exact immortal the player is looking for on their water team. He is an epic water, spearman, attack, frontliner.
5.49 will give the player enough to summon him. The next purchase will get him to tier 1, and the next purchase will get him to tier 2. To buy all of the Crowned King packs, the player will need to spend €205
Whales will go straight for the seven tiers, minnows, and dolphins will go around tier 3.
As a dolphin style player myself, after seven days, I have already spent 100e getting these four heroes to a decent state.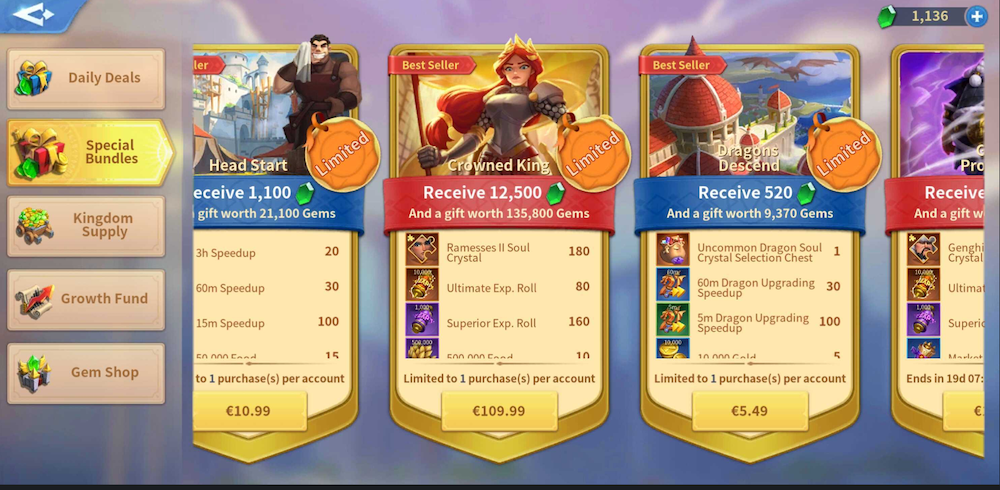 Infinity Kingdom has taken a lot of inspiration from Rise of Kingdoms when it comes to certain features like Limited Time IAPs, Progression Plans, etc. This is pretty easy to see from the examples below, where you can see that they are pretty much the same design-wise.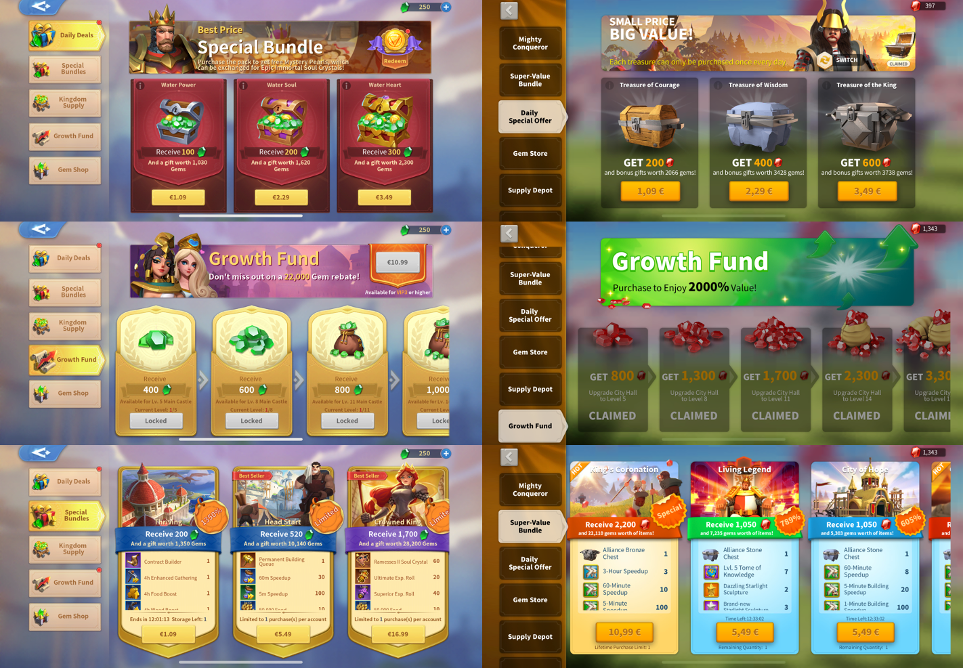 Dragon
The final thing a player may be tempted to spend money on in the early game is their dragon. It's easy to get a dragon to level 15 in 1 week of F2P but to get it to its max level of 25 and also upgrade its skills is a huge grind through PVE battles to earn a resource through dragon shards. Or the player has the option to buy these shards in a scaling bundle in the shop.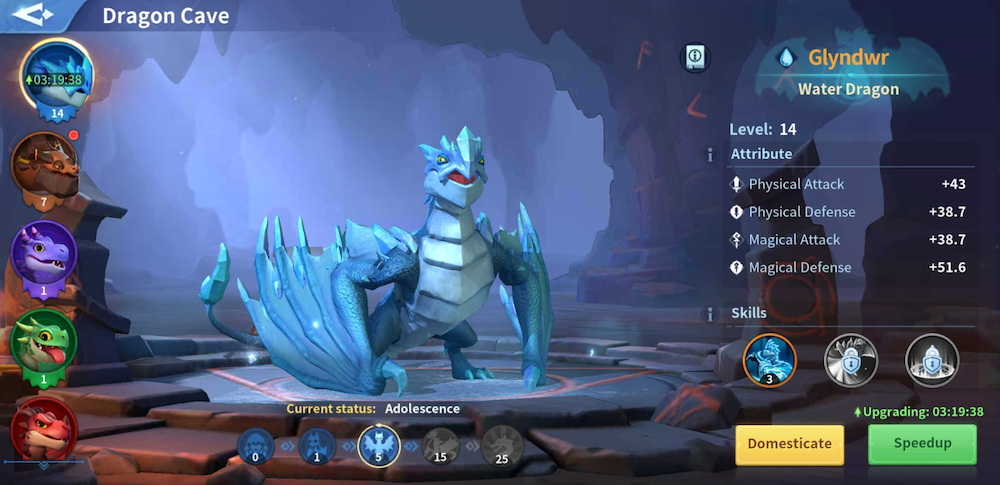 What happens next?
If you look in the PVP arena ranks, you'll see a lot of players who have gone on through this player journey of building a strong water team. It almost feels like 90% of battles are a full water team.
But if you look at who is no.1 rank, that player has a perfect Earth team that is strong against water immortals. (It is also worth noting this server is only 14 days old, and this player has nearly fully levelled a full Earth Team. Big spender.)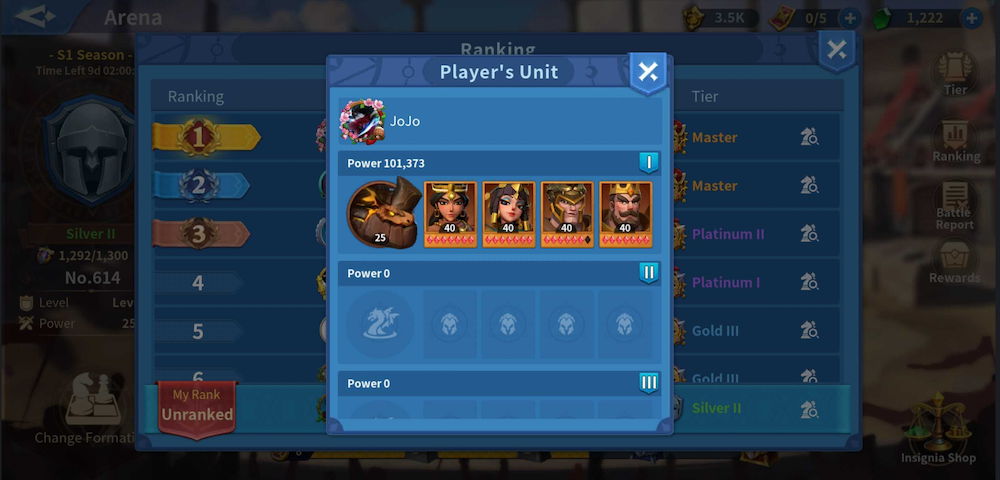 If you go into the VIP shop, the next hero they are encouraging players to buy after Merlin is an Earth hero. The 2nd dragon the player unlocks through the quest system is also an Earth Dragon.
Philosopher stones also have a high drop rate for Boudicca, who is an earth frontliner. And there is a "premium" live event, which encourages the purchase of Leonidas, another earth frontliner, through a spinning wheel.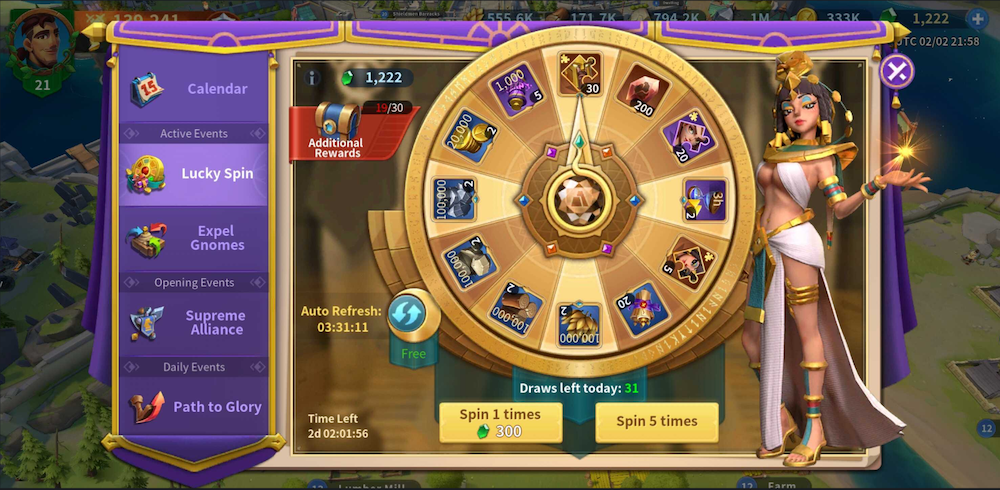 It feels like this is by design and of course, probably is.
Special notes from the writers
Altti: As mentioned quite a lot in the blog post, the game has taken a lot of inspiration from, for example, Rise of Kingdoms and Idle Heroes & focuses on a lot of the RPG layer of the game by investing a lot in the characters of the game. It does, however, miss something like Synchronous PVP/PVE, which does hurt the gameplay a little bit and would be a good addition for sure. Of course, the game is still relatively fresh and is for sure expecting some updates to enhance the strategic level and making the player feel that they are in control in real-time. You can also see this from the motivations of the game.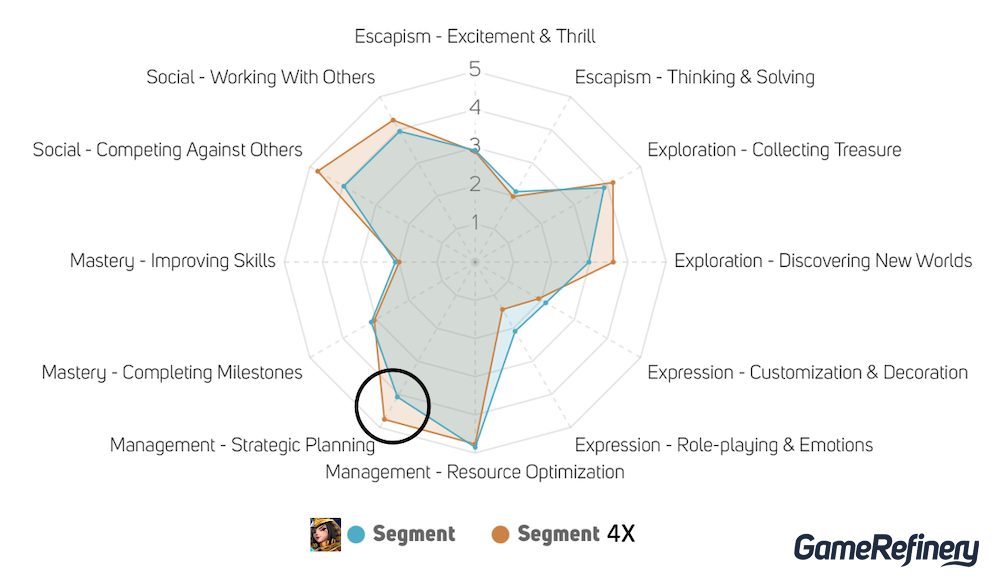 Keith: I agree. Synchronous PVP/PVE is probably the biggest thing missing. Chat features such as adding attachments are also missing, which gives RoK an edge there. At the moment, players are using discord for sharing screenshots of strategy and progress. Also, the ability to send resources to other players would be nice too to assist after large battles.