The newest Analyst Bulletin is out! Here are July's top update picks from the US, China, and Japan's mobile game markets that our analysts thought you should know.
This month's highlights include the classic zombie mode coming back to Call of Duty Mobile in a brand new format, Magic the Gathering launching a collaboration with Dungeons and Dragons, and a slew of collaboration and seasonal summer events across US, Japanese and Chinese markets.
Keep reading to find out the rest of July's market highlights. 😉
US Market Overview
At long last

Call of Duty Mobile

got its

zombie mode

back and in a brand new format BUT at least for now only for a limited time. We expect that it will most likely do well and become a permanent part of the game before long as the developers have clearly put a lot of effort into the game mode.

In the zombie mode players go into the matches in teams of 4. The mode has fully voice-acted cutscenes setting the scene and overall very high production values (what else would you expect from CoD Mobile). The game mode is based on survival. During the day players scavenge items across the map: weapons, ammo, equipment, material items for building/upgrading turrets and so on. At night, zombies attack and players have to survive/defend their base until sunrise. This cycle repeats three or five times (depending on difficulty chosen) and if the team survives that –> they win the match.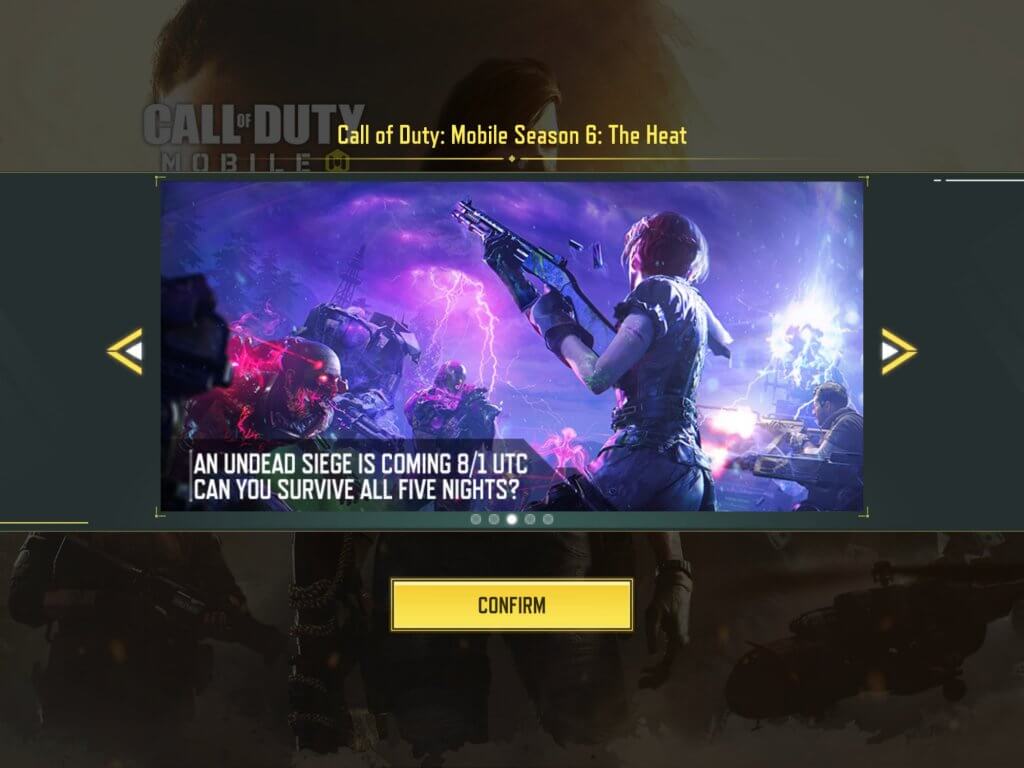 DoubleDown Casino

introduced

World Traveller

a huge season-based event that introduces several minigames and progression mechanics.

In the event, the player objective is to travel through various cities with their pet dog and

renovate/upgrade cities with a new currency, Hammers.

Once they've fully renovated a city, they get a reward and move on to the next one. Players can get Hammers by spinning Spinny, a new minislot machine. Spinny requires stars to play and you'll get stars from spinning regular slots or by playing ether of the two event minigames – Rocket Launch and Treasure Hunter. Besides upgrading/renovating cities, you get to

interact and upgrade your pet companion.

This is done with pet food that players get from Spinny.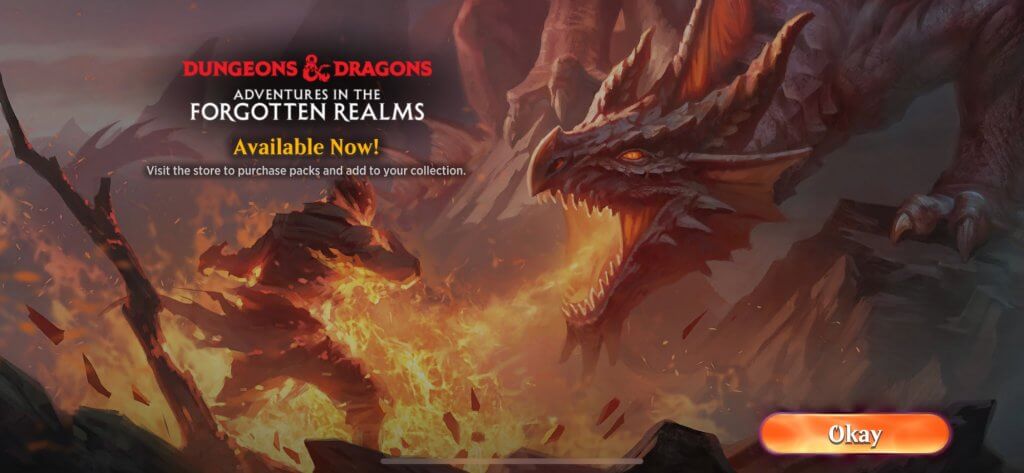 Coin Master

introduced team chest.

Team Chest brings co-op elements

to Coin Master's team system. The player goal is to collect Keys with their team mates to win the chest. Players get Keys by attacking and raiding other players.

Also,

a piggy bank system was introduced

, giving players the chance to purchase more spins at a discount by breaking the piggy. The more you spin, the more spins the piggy accumulates for purchase.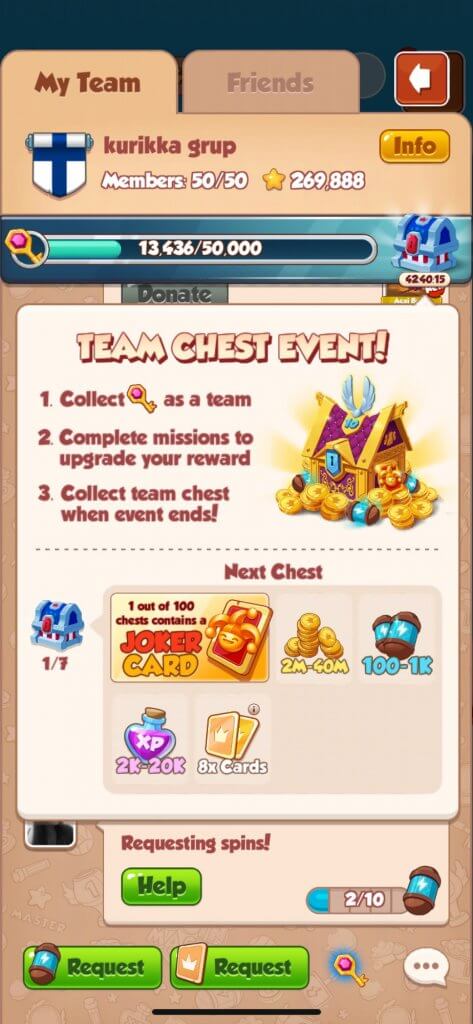 Some other noteworthy feature updates in the US top grossing charts: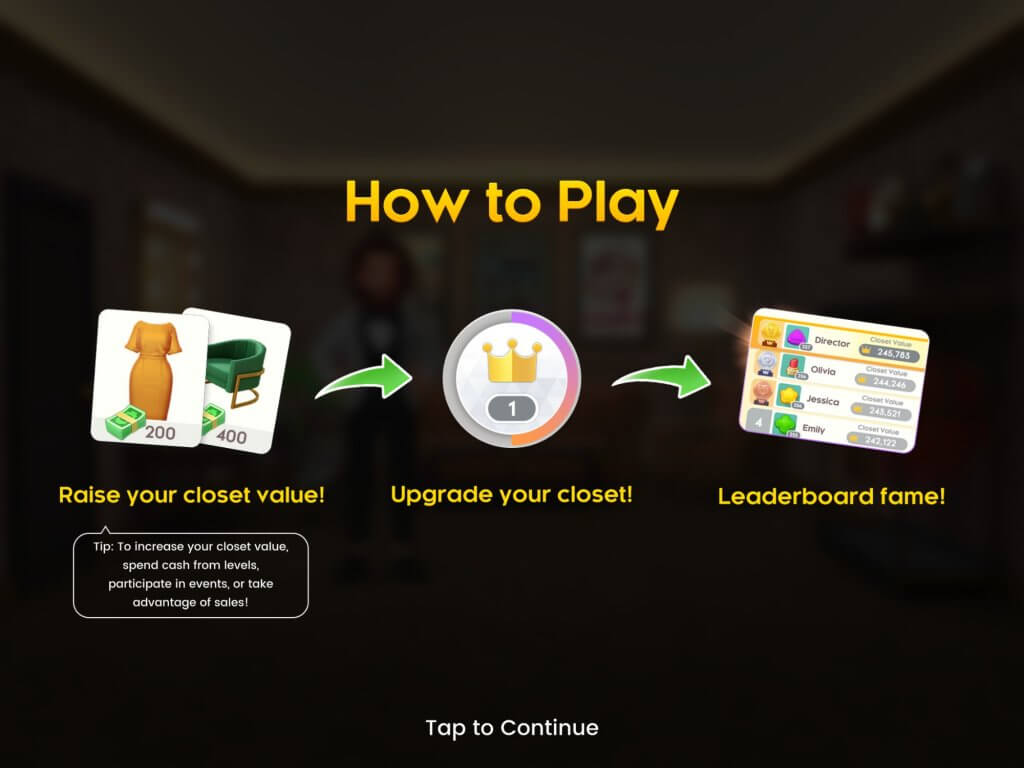 Events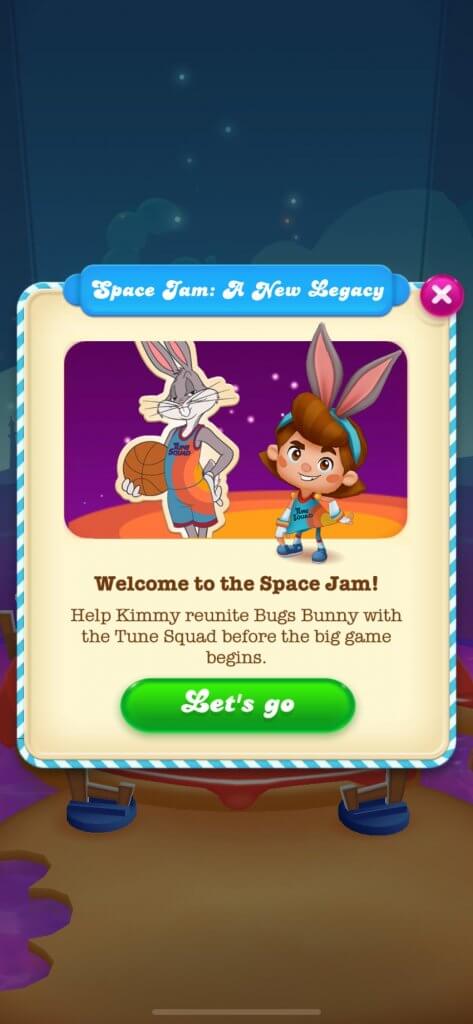 EverMerge

introduced a slew of summer events:

Tropical Beach

where players merge tropical flora and

Summer Breeze

, where players get to merge sandcastles. The biggest event of the summer so far, Midsummer Ball was also added. The 4-day event has its

own island

where there were several

mergeable strains

to discover.
State of Survival

added a Summer Games event set as well, no doubt drawing inspiration from the ongoing Olympics.
New on the market
Finally, the following top grossing 200 entrants from July are our US game analysts picks to follow closely in the upcoming months:
NieR Re[in]carnation

launched at the end of July peaking at around rank 60 in the top grossing charts. Nier: Reincarnation is a fascinating story-focused

Auto-battle RPG

from the creator of the Nier game series. (Same as in Japan).
Shining Nikki

entered the top 150 grossing. Shining Nikki is essentially Love Nikki 2 as the sequel to the dress-up game.
Punishing: Gray Raven

a high production quality action RPG peeked at top 60 grossing after its launch. (Same as in China).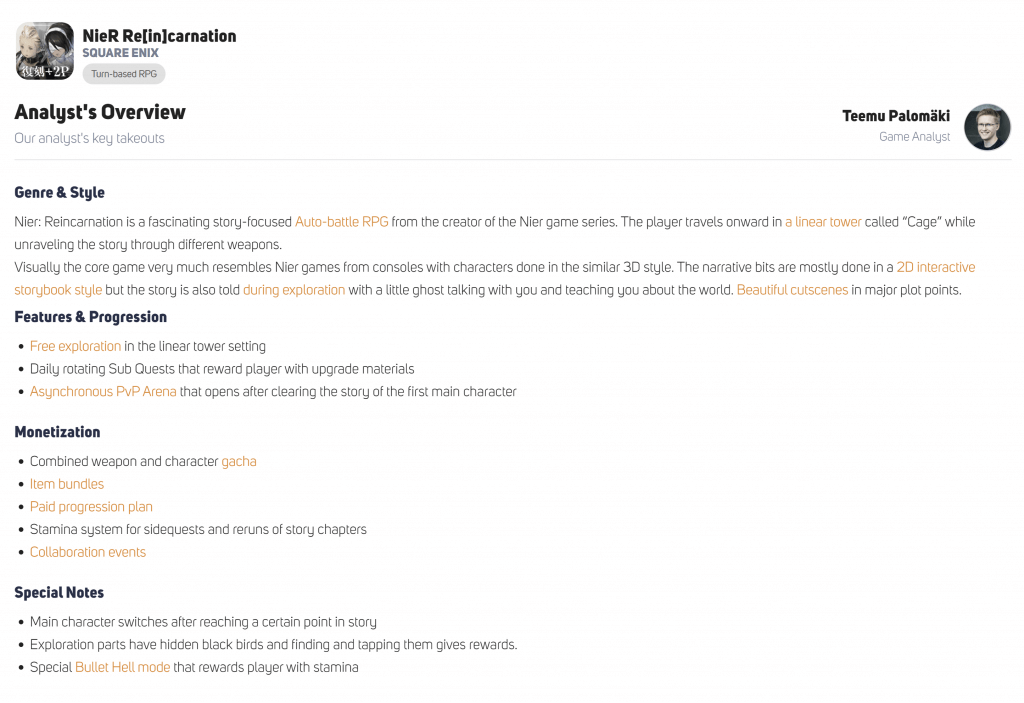 China Market Overview
Events
LifeAfter (明日之后)

held several events.

Romantic events

萤火之夜

and

双人之路

that players can play together with another player. First, the game

matches players

with a suitable co-player according to their stats in the game. Players can then do a lot of things with the player they have matched with,

like have a date

with them and

complete tasks

together.


Interesting Updates
Some of the most interesting game updates we saw in July in CN:

Sky: Children of the Light (光·遇)

further deepens its social side by adding a separate hang-out space called 共享空间, which the player can decorate with furniture and open up for everyone to join.
Jiang-nan Bai-jing-tu (江南百景图)

celebrated its first anniversary with a big update, introducing e.g. a battle pass system and a collaboration event with China Merchant's Bank.
Punishing: Gray Raven (战双帕弥什

continues its steady and very successful flow of monthly/bimonthly giant events introducing new characters and event-only gameplay content.
New on the market
China's top-grossing list saw many interesting changes last month, so let's see what top-grossing 200 entrants our CH analysts have chosen for us this month:
July finally saw the launch of

Marvel Super War (漫威超级战争)

in China, peaking at 40 top grossing and 1 in downloads. Currently hovering around the top 100 grossing.
An interesting racing game

Wangpai Jingsu (王牌竞速)

shot to the top of the charts currently within the Top 20 grossing.
An interesting RPG adventure game

Revived Witch (复苏的魔女)

entered the top 50 grossing at launch. The game focuses on dungeon exploration and puzzle solving where players build a team-of-characters by collecting anime girls. The games pretty art style combines 8-bit pixel, 3D and anime graphics.
In July Summer season bikini skin events keep racking in cash with games such as Langrisser (梦幻模拟战), Naruto Online (火影忍者:忍者新世代) and Three Kingdoms Fantasy Land (三国志幻想大陆) all holding events of their own.
Japan market overview
D×2 真・女神転生 リベレーション

added new tower-type monthly event Tokyo Abyss. In the mode players enter a single player dungeon where players can't use their own characters but have to choose from a set of characters provided by the game.

Lately modes where players need to rely on a pre-selected roster of characters appear to be becoming more and more frequent in Japan.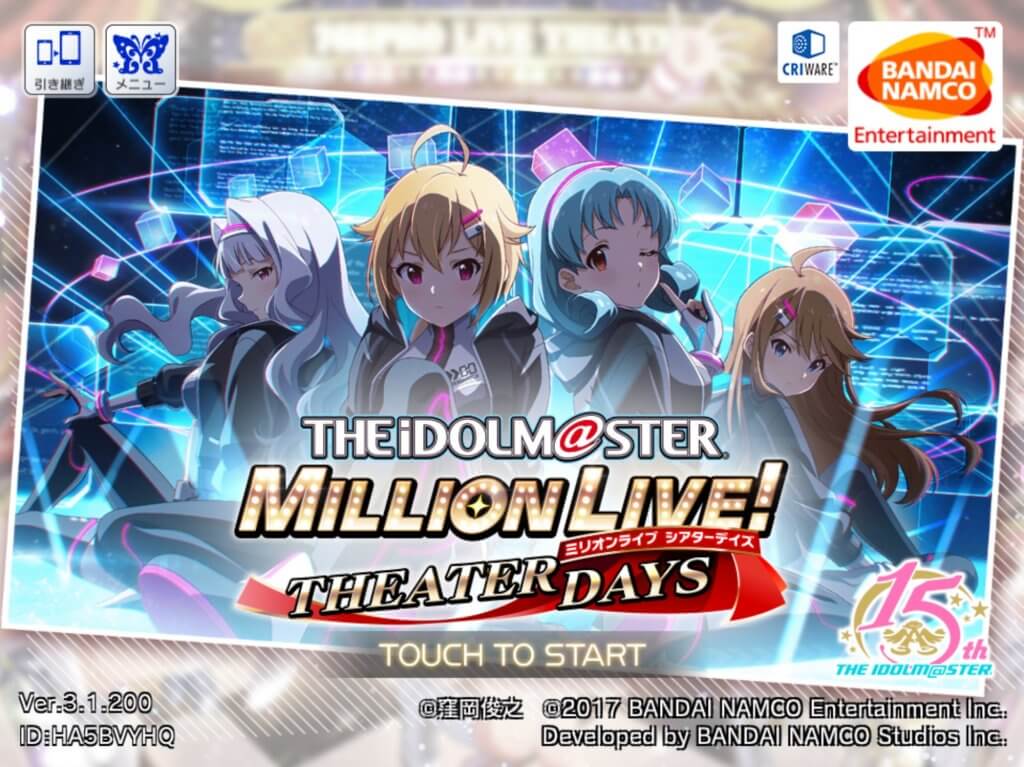 Dragon Quest Tact (ドラゴンクエストタクト )

held its 1st anniversary event combined with the DQ6 event, plenty of brush ups and modes from past events were also added with the update.
二ノ国:Cross Worlds

added a Battle Pass, guild dungeon and 'Legendary Ancient Genie Episode 01' event with an event-only skill tree. During the event players need to complete a series of exclusive

missions

to get access to the

event boss

Ancient Genie. The boss can be fought either solo or as a party of 5 players.
Hinakoi (ひなこい )

Summer Campaign boosted the game to top grossing 10, appealing with real-life prizes like boyfriend certificates and hand written love letters.
Collaboration Events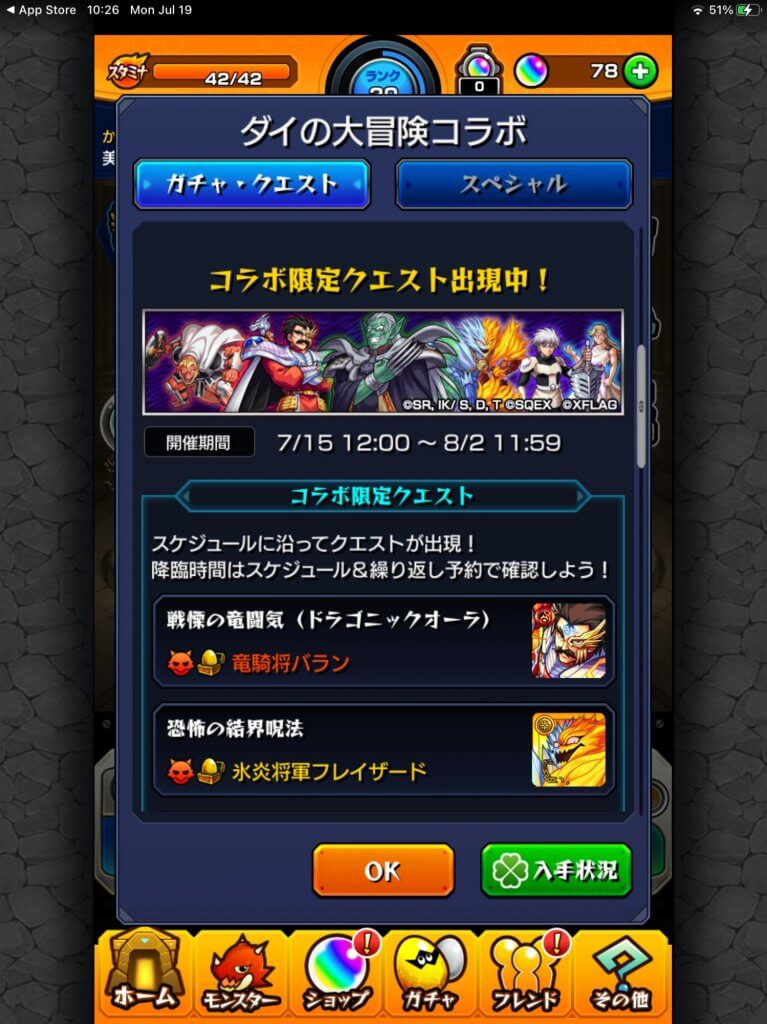 New on the market
Finally, let's take a look at new interesting games that entered Japan's top 200 grossing list in June:
Walking Dead: Survivors

entered the JP-market's top grossing 200, peaking 83rd and now ranking around 125. The 4X-game has been in the US market's top 200 since April 2021.
Summer events continue to set the theme for July with beaches, swimsuits, vacation resorts and summer festivals in Umamusume (ウマ娘プリティーダービー), 7 Deadly Sins (七つの大罪), Project Sekai (プロジェクトセカイ), FFBE War of the Visions (FFBE幻影戦争), BanG! Dream (バンドリ! ガールズバンドパーティ!).