With only a handful of titles in top grossing 200, the Shooter genre is not very crowded. Despite this, shooter games still brings in about 10% of all US iOS game revenue – mainly thanks to massive hits like Fortnite, PUBG MOBILE and Call of Duty: Mobile.
Things haven't always been rosy for shooters though. Before the Battle Royale boom the Shooter genre's market share was almost non-existent, with only a few titles appearing in the top grossing lists (mainly Snipers and Tactical Shooters). The biggest challenges for the genre to overcome have been mobile controls and attracting the shooter audience to mobile. Now the new big "PC/console-to-mobile" titles seem to have cracked the code and proven that shooters can work on mobile as well. For instance, Call of Duty: Mobile has received plenty of praise for its smooth controls.
With space in the Shooter genre market, the future of shooters looks bright and it remains to be seen if more AAA shooter ports will start appearing in top grossing lists. This would most likely attract even more PC/console audience to mobile, which in turn would be very good news for the non-IP mobile shooters as well.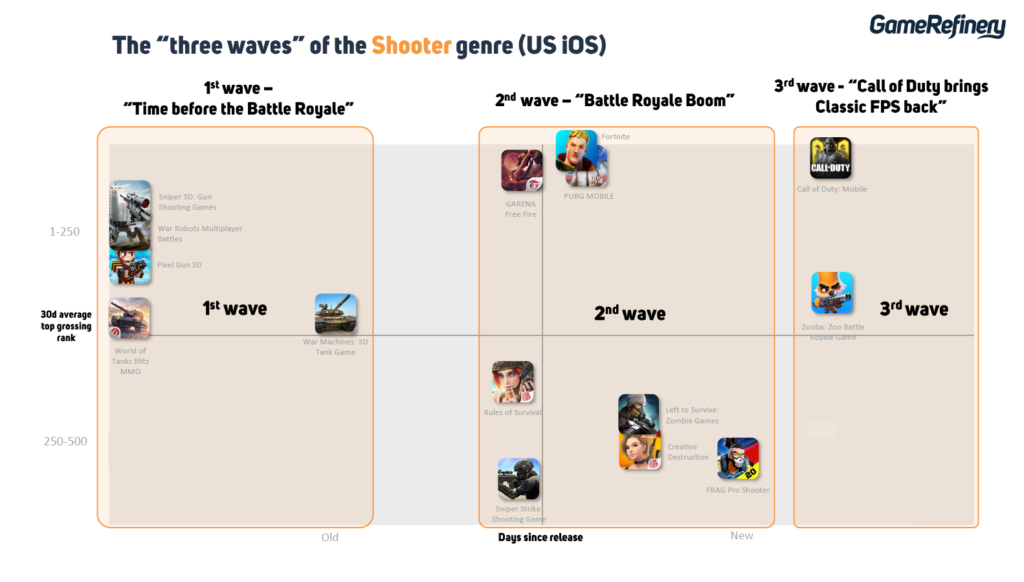 Continue reading our full Shooter Genre Snapshot Report by getting your copy below.
Get your copy!